Through the 2020/21 Victorian Budget, the State Government is investing billions of dollars to build road and rail projects across Victoria to help drive the local economy towards recovery from the recent pandemic as well as create thousands of jobs.
"By building our state, we're rebuilding economy – getting thousands of Victorians back in work and preparing our transport network for generations to come," Minister for Transport Infrastructure Jacinta Allan said.
Delivering these vital road and rail projects will provide local, long-term jobs for Victorians who are directly working on the projects as well as down the supply chain.
The projects will include the Suburban Rail Loop, a 90-kilometre rail network that will link every major rail line from the Frankston Line to the Werribee Line via the airport. This new rail corridor will provide vital connections to employment, health, education and retails centres in the heart of Melbourne.
Suburban Rail Loop will deliver three new super hubs at Clayton, Broadmeadows and Sunshine to help connect commuters to the network.
Approximately $2.2 billion has been allocated to deliver the Suburban Rail Loop through this year's State Budget and the project is expected to create about 20,000 jobs during construction – with up to 800 direct jobs – as well as opportunities for 2,000 apprentices, trainees and cadets.
Suburban Rail Loop map (source: Suburban Rail Loop)
The Victorian Government is also allocating $2 billion towards the development of the Geelong Fast Rail, matching the Australian Government's funding commitment to get works underway on Stage 1 of the project.
Geelong Fast Rail will provide commuters with better and faster connections between Geelong and Melbourne by slashing up to 15 minutes from the travel time. This new rail corridor will also have fewer stops and less crowded trains.
This significant rail infrastructure project will also be supporting more than 2,800 jobs during its construction phase.
"Through regional rail upgrades and a faster train service to Geelong – we're connecting communities, reducing congestion on busy roads and supporting thousands of regional jobs," Minister Allan said.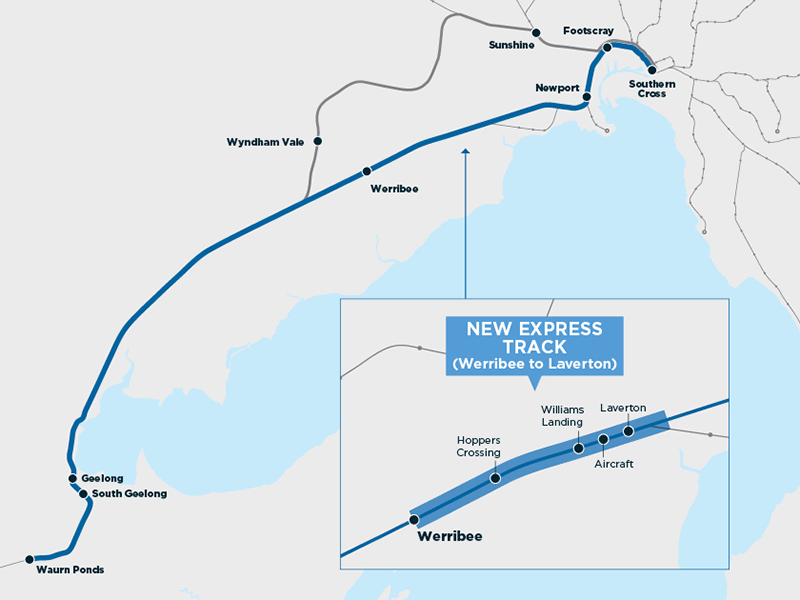 Geelong Fast Rail map (source: Rail Projects Victoria)
The 2020/21 State Budget also includes Victoria's share of $660 million for the next stages of the Shepparton and Warrnambool Line Upgrades, which will provide locals from regional areas with more reliable train services to and from Melbourne.
The Shepparton Line Upgrade Stage 3 will enable trains to travel up to 130km/h, allowing for nine weekday return services to and from Melbourne.
On the other hand, Stage 2 of the Warrnambool Line Upgrade will improve the track to allow VLocity trains to reach the State's south-west for the very first time.
"With every dollar of investment and every ounce of concrete, we'll also be able to get Victorians home to their loved ones sooner," Minister Allan said.
Over the coming months, works will get underway on critical road projects that will bust congestion and ease pressure on local road networks. In addition, works will continue to progress on the Barwon Heads Road Upgrade, Narre Warren North Road Upgrade and South Road Upgrade. Planning for the Bulla Bypass will continue as well.
The recent State Budget also highlights $48.8 million for the Murray Basin Rail Project. This significant funding will push works to begin as soon as possible – ahead of the next grain season – and bring benefits to farmers and freight operators.
Investment on smaller local infrastructure has been included in the Budget as well, making a big difference to local communities and families.
Other 2020/21 Victorian Budget highlights include:
$276.5 million for the final stages

of infrastructure upgrades

on the Dandenong Corridor

, which will allow faster train speeds prior to the launching of High Capacity Metro Trains

$5.5 million for planning works on vital track improvement near Caulfield Station

$4.4 million for the construction of a pedestrian crossing and drop-off zone for the new school in the Fitzroy Gasworks renewal precinct

$2.4 million for scholarship programs and initiatives

that will support career development for women of all ages

and backgrounds

. This aims to encourage women to join the workforce, b

oosting diversity and equality within the transport sector
These projects covered by this year's State Budget are in addition to the $70 billion pipeline of works already underway across Victoria – including the Metro Tunnel, level crossing removals and the North East Link.
Source: Premier of Victoria – Media centre; Victoria's Big Build; Victorian Budget 20/21