Plant and equipment hire rates can be volatile and unstable. They are not one-size-fits-all, rather hire rates will depend on different factors and tend to be project specific.
Based on research and insights from experts within the Felix team, we found that there are several factors that will affect how high or how low excavator hire rates will be.
Factors that affect excavator hire rates
Size DOES Matter
Excavators come in all sizes and picking the right size for your project matters.
The size of an excavator can range between mini excavators that are 0-5 tonnes and standard sized ones that can be more than 500 tonnes big.
The reason why size matters is because not all excavators will fit your project and your budget.
Smaller excavators are perfect for tight access areas and are usually utilised for DIY or home improvement projects. Hiring a mini excavator can cost you between $14 and over $100 an hour.
On the other hand, standard sized excavators are the ones that you commonly see on construction and mining sites. These bigger excavators are not only used for digging, but are also used for material handling, demolition works and even snow plowing – truly a versatile piece of equipment. Hiring a standard size excavator will cost you between $40 and more than $200 an hour.
Excavator hire rates not only depend on its size, but it will also depend on other factors such as hiring it with or without an operator, having it transported to your project site, and even the type of excavator you need – which we will be discussing in the next sections of this post.
Wet hire vs. Dry hire
When hiring an excavator, you have to consider if you will hire one with an operator (wet hire) or without an operator (dry hire).
Mini excavators are usually easier to operate compared to standard sized excavators so you can opt to hire one without an operator and handle the equipment yourself. Just make sure you learn how to operate it from an expert or read the user manual before operating the mini excavator on your own to avoid getting into accidents.
Bigger excavators, however, have a more complex system and are harder to operate due to their size alone. This is why before you can operate any heavy machinery, you are required to have a license or some sort of certification that shows you have the capability and skills to operate the excavator.
Unless you have an experienced, licensed or certified operator in your employment, wet hiring an excavator is highly recommended.

Excavators In Your Area
Like any product or service, hire rates are also affected by the law of supply and demand. To refresh your memory, the law of supply and demand explains the economic principle that when supply of a product or service is higher than the demand, prices will fall. Likewise, when demand exceeds supply, prices will rise.
This means when there is an oversupply of excavators or its substitutes within or around your jurisdiction, hire rates will likely be lower and vice versa.
Oversupply and undersupply will depend on the number of competitive equipment hire suppliers in a particular area or region.
Also keep in mind that excavator hire rates will differ from one state to another, which means hiring an excavator in New South Wales could be more expensive than in South Australia.
Let's take a quick look the table below.
The Northern Territory has a higher average hire rate of $145/hour for a 6-10 tonne excavator compared to South Australia that has an average of $95/hour. The higher rate in the Northern Territory could be due to undersupply of excavators or suppliers in the region (remember the law of supply and demand).
Category


Excavator by size

State / Territory
Average Hire Rate


$ per hour

6 - 10 Tonne
NT
145
VIC
110
NSW
109
QLD
108
WA
100
SA
95
11 - 15 Tonne
QLD
131
WA
125
SA
125
VIC
124
NSW
122
16 - 20 Tonne
ACT
158
NT
155
WA
153
VIC
142
NSW
141
QLD
140
SA
137
26 - 30 Tonne
NT
175
VIC
165
QLD
159
WA
156
ACT
154
SA
130
31 - 35 Tonne
NT
200
VIC
175
SA
169
QLD
167
ACT
163
NSW
154
WA
151
36 - 40 Tonne
WA
180
SA
175
VIC
172
QLD
164
NSW
142
41 - 45 Tonne
NSW
198
QLD
196
SA
190
WA
170
VIC
150
Mini excavator (source: Construction Review Online)
Excavator Type
Other than the mini and standard excavators, there are also different types of excavators that are used for certain site or project conditions.
The different categories of excavators you will see for hire include:
Long reach excavator – it has a longer arm that range between 39 to 95 feet in length. This makes it ideal for dredging works and demolitions jobs.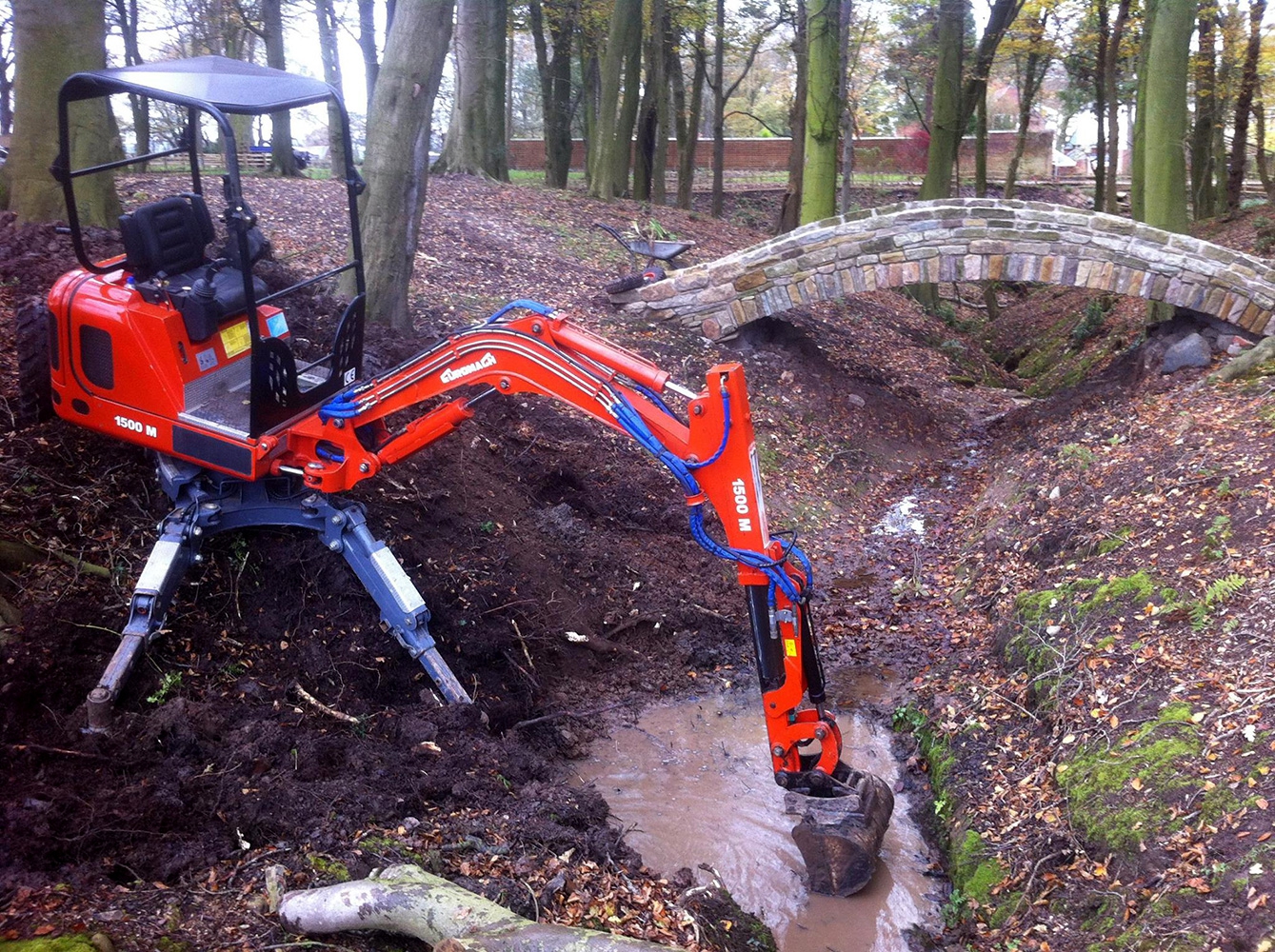 Spider / walking excavator (source: Euromach)
Time of hire
When you wet hire an excavator, the time of hire will also be factored in the rates because of labour fees for the operator.
The additional labour fees are going to be based on government regulations related to shiftwork, overtime work and public holiday pay.
Category


Excavator by size and type

Rate type


Wet Hourly

Average Hire Rate


$ per hour

0 - 1.5 Tonne Mini
Overtime
129
Night rate
76
1.6 - 2.5 Tonne Mini
Night rate
130
2.6 - 5.9 Tonne Mini
Night rate
144
Overtime
135
Public Holidays
150
6 - 10 Tonne
Public Holidays
148
Overtime
142
Night rate
147
11 - 15 Tonne
Night rate
158
Overtime
163
Public Holidays
174
16 - 20 Tonne
Night rate
258
Overtime
156
Public Holidays
163
21 - 25 Tonne
Overtime
174
Public Holidays
185
Night rate
173
26 - 30 Tonne
Overtime
190
Night rate
202
Public Holidays
227
31 - 35 Tonne
Night rate
200
Public Holidays
227
Overtime
227
36 - 40 Tonne
Night rate
245
Overtime
256
41 - 45 Tonne
Night rate
188
Public Holidays
210
Overtime
205
46 - 50 Tonne
Night rate
202
51 - 55 Tonne
Night rate
300
66 - 70 Tonne
Night rate
340
76 - 80 Tonne
Night rate
380
11 - 15 Tonne Rubber Tyred
Night rate
135
Overtime
135
Public Holidays
70
0 - 5,000 Litre HydroVac
Overtime
300
Public Holidays
300
Night rate
280
6,000 - 10,000 Litre HydroVac
Night rate
255
Overtime
329
11,000+ Litre HydroVac
Night rate
329
Transportation
One advantage of hiring a mini excavator is that it is easier to transport to and from the project site since it is lighter and more compact, making mobilisation or demobilisation costs cheaper.
On the other hand, standard excavators or bigger excavators are harder to transport due to its size and weight. Larger equipment, in general, requires an equally larger means of transport that will cost more.
Another factor to consider when transporting an excavator is the location of the project site. Longer distance travelled will usually cost more, especially if the project site is located in a rural area.
However, there are cases when the equipment supplier will waive the mobilisation cost for long-term hire agreements.
Machine Hours and Maintenance
Newer excavators tend to have higher hire rates compared to older equipment. This is due to the fact that an older excavator has already depreciated in value due to the number of hours it has been used.
Like any piece of machinery, frequently used ones get wear and tear over time and this will decrease its value and hire price.
The hire rate provided to you by the supplier could also include maintenance cost. It would be best to ask the supplier for a breakdown of the rates so that you are aware what is included in the cost of hiring an excavator from them.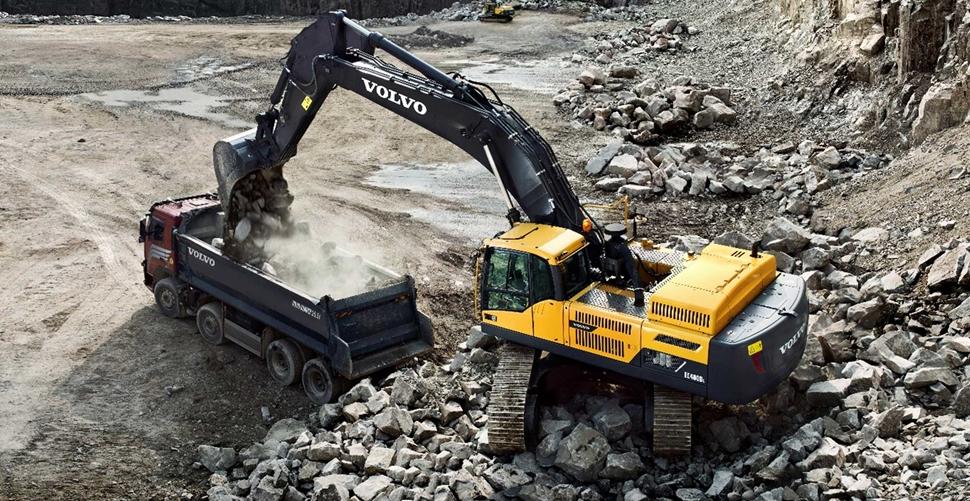 Standard excavator at work (source: Volvo Construction Equipment)
Tips and tricks to get relevant hire rates
Add specific project location
In order for the hire company to provide rates that are most relevant to your needs, you need to include the specific project location when requesting for a quote. This way, the supplier will be able to gauge fluctuations in rates based on your area.
Letting hire companies know the specific project location will allow them to check if there are access restrictions or difficulties along the way as well.
Hiring with or without an operator
As mentioned in the previous section of this post, hire prices will depend on whether you need an operator or not.
When asking for a quote, specify if you need to hire an excavator with an operator or not so the supplier can include this in the price breakdown.
Be specific with your timeline or schedule
When requesting for a quote, make sure to include your project timeline. The timeline should have the project start and end dates as well as possible breaks or down times when the excavator is not needed on site.
Delays in the project due to unforeseen events are inevitable and if this happens, make sure you keep the supplier in the loop as hire companies also try to stick to a schedule.
Also keep in mind that most, if not all, hire companies have a required minimum number of hours for both wet and dry hire. For the suppliers on Felix Vendor Marketplace, the average minimum hours is 4.
For long-term hire agreements, some suppliers could give discounts up to 10 per cent depending on their capability. However, according to insider info, with how the market is currently where availability is scarce, some suppliers will refuse to reduce their rates regardless of the duration of the hire agreement. Again, the law of supply and demand comes into play here.
Indicate additional requirements
Another important thing to note is to indicate any additional requirements you may need when sending in a quote request. This will help prevent any misunderstanding or surprises once you receive an invoice from the supplier as some fees or charges might not be included in the initial quote.
Additional requirements may include, but not limited to, fuel charges, maintenance cost, transportation/delivery/mobilisation or demobilisation fees and specific equipment features or attachments.
Disclaimer: The hire rates data found in this post is a snapshot of the market and does not guarantee the same rates at present. For the most up to date excavator hire rates, it is best to submit a quote request.
Being able to acquire the most accurate and relevant hire rates from suppliers will make the procurement process for any project a breeze and the Felix Vendor Marketplace can help.
Felix Vendor Marketplace lists thousands of equipment suppliers and subcontractors across Australia. The platform will not only allow you to request for quotes from equipment suppliers or subcontractors near you, but also allow you to compare quotes from several vendors, giving you the choice of which equipment or service to hire depending on your specifications and budget.
Our team aims to provide our readers and clients with industry knowledge that will be able to help them get relevant quotes for plant and equipment hire or subcontractor services. If you find this article helpful, please do subscribe to our blog for the latest project news and industry insights.