In order to help secure water supply for the Southern Downs as well as various Toowoomba communities, the Queensland Government has confirmed that it will fund the Toowoomba to Warwick pipeline project.
More than $300 million will be committed for water security and regional development, including the new water pipeline.
"Water security is vital for the Southern Downs and Granite Belt.
"During the drought we invested $15 million to cart water from Connolly Dam near Warwick, and $19 million for a drought resilience package.
"We know that residents and the Toowoomba and Southern Downs Regional Councils want certainty about this project and this government has always provided regional communities with critical infrastructure and services," Premier Annastacia Palaszczuk said.
Subject to consultation with councils, pre-construction works on the pipeline are anticipated to commence over the next few months and the entire project will be completed by mid-2026.
Construction on the Toowoomba to Warwick pipeline is expected to generate up to 420 local jobs in addition to the long-term water security it will provide, which is vital to jobs, economic growth and liveability of Queensland communities.
"Having certainty of drinking water supplies gives the community confidence, as well as the small businesses and industry that rely on councils' reticulated supplies.
"This is fantastic news for the future prosperity of these communities, particularly the Southern Downs region which suffered from the prolonged drought," the Premier said.
The new pipeline project builds on the State Government's strong commitment and investment in water in the region. This development is also a good opportunity for two levels of government to work together and deliver the best outcomes for communities now and into the future.
According to Minister for Water Glenn Butcher, the delivery of the pipeline will not impact the existing water supply in Toowoomba.
"This project will deliver a reliable drought contingency supply for the Southern Downs communities of Warwick, Allora, Killarney, Yangan and Stanthorpe and provide a permanent water supply for the Toowoomba satellite communities of Nobby, Clifton, Greenmount and Cambooya.
"These communities have been some of the hardest hit by drought in recent years and we know that water security is so vital. While the dams are currently in a better state after recent rain, we know it doesn't take long for supplies to deplete, particularly due to evaporation during long dry periods.
"While we've provided support to the Southern Downs through carting water and Toowoomba has been carting to its smaller satellite communities, we know locals want to see these issues fixed and this is a huge step forward," Minister Butcher said.
The Southern Downs Regional Council was recently provided projections that indicate the Leslie Dam will be depleted by August/September 2026 if there are no further inflows.
The water pipeline will help secure water supply by carrying water from Wivenhoe Dam and connecting with Toowoomba Regional Council's existing water infrastructure, which will deliver water to Warwick and Toowoomba's satellite communities along the way.
Detailed designs for the new pipeline have been provided by Seqwater who will continue working with stakeholders to progress the project towards construction.
"Having seen this region during the worst of the drought, spoken with the Mayors and local irrigators and community members, I know how important the issue of water security is to them and I really understand this as a regional member myself.
"Water is so vital to regional communities and regional development and this government understands that," Minister Butcher said.
The proposed route for the new pipeline will run from Toowoomba to Warwick, passing near the communities of Wyreema, Cambooya, Greenmount, Nobby, Clifton and Allora, and terminating at the Southern Downs Regional Council's reservoir near Leslie Dam.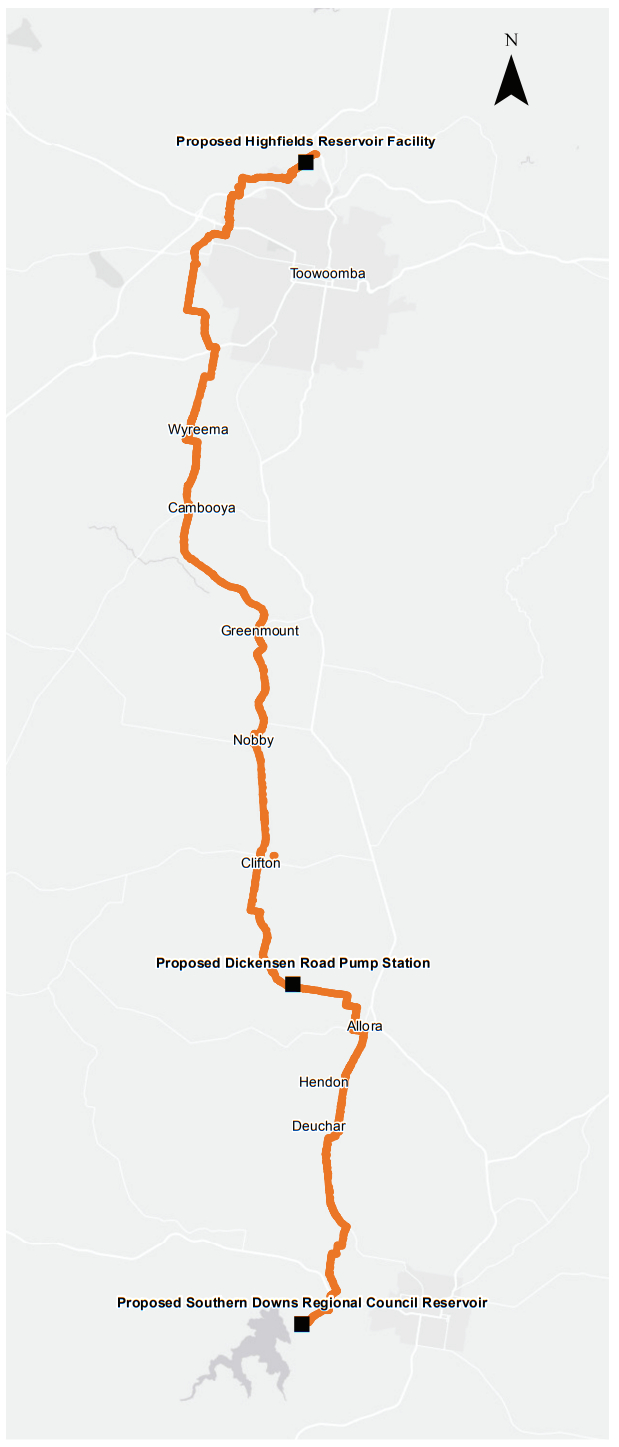 Pipeline route (source: Department of Regional Development, Manufacturing and Water)
The Queensland Government has a strong history in supporting local regions, especially through the $19.34 million Southern Downs Drought Resilience Package that provided measures to having reliable and lasting drought contingency water supply for the Southern Downs.
The package included installing new pumps at Leslie Dam to enable access to more water storage along with investigation works for the Toowoomba to Warwick pipeline, commissioning of groundwater bores, and water treatment systems upgrades.
In addition, the State Government also invested in carting water to Stanthorpe when the drought was at its worst to ensure that no Queensland community runs out of drinking water.
The regions of Stanthorpe, Warwick and Toowoomba can now thrive "beyond their current standing as major agricultural and tourist centres" due to its strengthened water security in which the Queensland Government will continue to invest in to bolster that growth.
$9 million has also been invested by the State Government in the Regional Water Assessment program that will establish a roadmap for economic growth in three of Queensland's significant food bowls such as the Southern and Darling Downs.
The Palaszczuk Government will work with local communities through these measures to support short, medium and long-term water security that will ensure regions continue to prosper.
Source: Queensland Government – Media Statements; Queensland Government – Department of Regional Development, Manufacturing and Water