Civil construction relies on a range of heavy excavation and earthmoving equipment. operator distraction is a significant danger to the safe operation of this equipment, leading to serious crash-related injuries, delays in work progress and damage to other plant and equipment on-site. As our dependency on technology increases, so does the temptation to participate in distracting activities. Unfortunately, modern construction sites present equipment operators with continuous opportunities for distraction. DID YOU KNOW: Between 15-20% of all distractions appear to involve driver interaction with technology. It has been estimated that distraction played a role in 32% of all road crash deaths and serious injuries in Western Australia between 2005 and 2007. Approximately one third of all distractions appear to be outside-the-vehicle distractions.
The act of operating a hand-held mobile phone; for example, may involve all four types of distraction: physical distraction (dialing); visual distraction (looking at the display); auditory distraction (holding a conversation with the other person); and cognitive distraction (focusing on the topic of conversation). The most common culprits are:
Eating or drinking;
Outside person, object or event;
Adjusting radio, cassette, or CD;
Other occupants in vehicle;
Moving object in vehicle; (6) Smoking related;
Talking or listening on mobile phone; (8) Dialing mobile phone;
Using device/object brought into vehicle;
Using device/controls integral to vehicle;
Adjusting climate controls;
Other distractions;
THE EFFECT ON CONSTRUCTION SITES
Even the best safety plans, personal protective equipment and training will not be effective in preventing workplace accidents, especially on construction sites, if workers aren't attentive, alert and consciously working to avoid distractions.
Although we often stress the responsibility of employers to provide workers with a safe work environment and system of work, we don't place enough attention on the responsibilities of employees towards safety. Construction professionals need to remember you have a duty of care to work in such a way that does not place their co-workers or themselves at risk.
What is the toll and prevention options for fleet managers? White Card Australia reveals:
Poor Housekeeping
One of the most common distractions that can be forgotten are those caused by bad housekeeping. Clutter can be extremely distracting, in addition to presenting a tripping hazard in themselves. Also if you are forced to pay attention to items left out unattended like tools lying around, it may distract you from the task you are undertaking, this can cause a serious injury, perhaps even fatal in certain circumstances.
One of the reasons housekeeping hazards are often ignored on building sites is because workers and employers do not perceive them as a serious enough threat to require attention. The truth is most of the injuries sustained because of poor housekeeping may not be life-threatening, they are expensive, painful and inconvenient because often they result in time off work and a drop in productivity. Also some damage caused by housekeeping hazards can be permanent which may affect the worker's ability to earn a living.
Principal contractors, employers and those in charge of site safety should ensure housekeeping is included in all work activities from planning through to start-up and completion.
Strict site safety rules must be established before work on the site begins and workers should be trained on this safety before they can begin work. These rules must include housekeeping responsibilities and everyone on site should become familiar with them.
Mental Distractions
Mental distractions are often unavoidable because if a person has a personal problem or is anticipating something big that's going on in their lives, it tends to become a mental distraction, this can be dangerous when undertaking work that requires concentration and mental alertness. For example if you are operating heavy machinery or driving a construction vehicle, if you are mentally absent, you could miss the pedestrian walking in front of you or workers behind the vehicle.
If you are going through something that is emotionally taxing like depression or a death in the family, it is important to take time off and if necessary seek professional help for depression.
If the issue is related to work such as bullying or intimidation, speak to your supervisor or the workers concerned and deal with the problem as soon as possible before it starts affecting your work and safety.
Physical Distractions – People, Equipment, Machinery and other items.
Distractions caused by the work processes and equipment used on the construction site can also be a distraction, unfortunately these are the types of distractions that you don't have much control over but the employer should consider those distractions like noise created by work processes and address them if necessary because they can become a safety hazard.
Distractions which can be controlled much more easily than those associated with the work processes are those created by phones and other electronic equipment used by workers. If these aren't needed to perform the job, they shouldn't be used.
A lot of workplaces have banned mobile phones at worker's work stations because they can be extremely distracting especially because people use them for more than just making and receiving calls. Construction workers unnecessarily checking emails, texting, instant messaging etc. can be distracted and become injured or cause an injury to others.
THE ROLE OF TECHNOLOGY TO CURB OPERATOR DISTRACTION
A lot of tech companies have recognised distracted driving as a problem and they have created solutions to help remedy this.
Aegis Mobility, a Canadian company, has a line of products called FleetSafer – it's a software that "promotes safe, legal and responsible use of mobile devices while driving".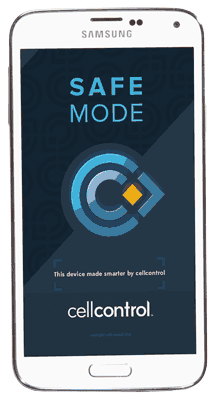 Image source: aegismobility.com
Another company is Cellcontrol, a US-based company that created a mobile application that limits the use of a mobile device while inside a moving vehicle.
Image source: cellcontrol.com
In order to prevent accidents from happening on-site due to distractions, all these issues should be included in site specific training which employers have a responsibility to provide to all workers.
Fleet managers and construction companies enforce policies that prohibit equipment operators from using mobile phones and other non-work related devices while they are operating machinery.
On-site safety is always a top priority, so talking to your team about safety measures and accident prevention should be a constant item in your meeting agenda. To help you out, we'e created the toolbox talk agenda below to guide you in listing topics to discuss with your team.