Wind energy is the fastest growing renewable energy source for electricity generation in Australia. Unsurprisingly, an increasing number of states have recognised the opportunities that wind energy offers and some of the country's largest wind farms are being built in our south-western, southern, and south-eastern regions. So with big interest in big energy, project proponents are also turning to smarter and more efficient ways to build wind farms. To learn more, we caught up with Spiro Xypolitos, General Manager of Force One Australia, to discuss the technology they've developed to clear the footings of wind turbines before form work begins.
On many wind farm projects, customers have had to deploy numerous methods, like ordinary vacuum trucks, air compressors and manual labourers, to clear the hundreds of metres of square footing for each wind turbine from loose material like soil and rocks prior to pouring concrete. It becomes a significant cost and can create lengthy delays to the project.
Force One introduced DryVac to the Australian construction market to combat this exact problem. The technology originates from Germany (known as European Suction Excavator) and harnesses the extreme power of custom made fan-turbines to create a suction equal to 20 ordinary vac-trucks of the same size. It also uses customised soil picks and air guns that penetrate soil and loosen it up, becoming an environmental friendly method as it does not create any waste. The technology has been made available in Australia via Force One and now also in Canada and the USA.
Force One partnered with PlantMiner in 2015 to introduce this new machine/service nationwide and build relationships with a broader network of contractors and builders. In the early months of 2017, Force One used PlantMiner's platform to quote on, and eventually win, work with Fulton Hogan at the White Rock Wind Farm, a $400 million energy project located in the New England Tablelands region of NSW, approximately 20 kilometres west of Glen Innes.
The excavation combo that causes delays to wind farm projects
Before Force One joined the WRWF project, a combination of two-four people, a wet-vac truck, air compressor & utility vehicle etc for two to three days was used.
The usual time for the normal vac-truck to clear one footing was roughly two to three working days because the diameter of its suction hose was 8 inches, causing blockages and an inability to suck anything heavy.
The use of high pressure water was also implemented (as the vacuum power of standard vac-trucks is 2000 to 3000 cm per hour) to dissolve and remove dirt, creating an average of 8,000 litres of sludge per load. This created down time on site to dispose the waste and refill with water.
In cases where air was used to blow away loose material, two people were assigned to manually clear the area and carry away large rocks. Material was swept to the sides of the excavation and later removed by the excavator's bucket manually and hoisted out.
How the Dryvac method more than halved the excavation time
Force One joined the WRWF project in March 2017, and used two people and one DryVac truck to complete the work in six to 10 hours.
The usual time for DryVac to clear one footing was 6 to 10 working hours. The 10-inch diameter suction hose removed all lose material including rocks and boulders up to 250mm wide, its suction power of 42000 cm per hour in combination with the arms articulation and ability to excavate (just like a digger) further ensured the removal of all material without use of high pressure water.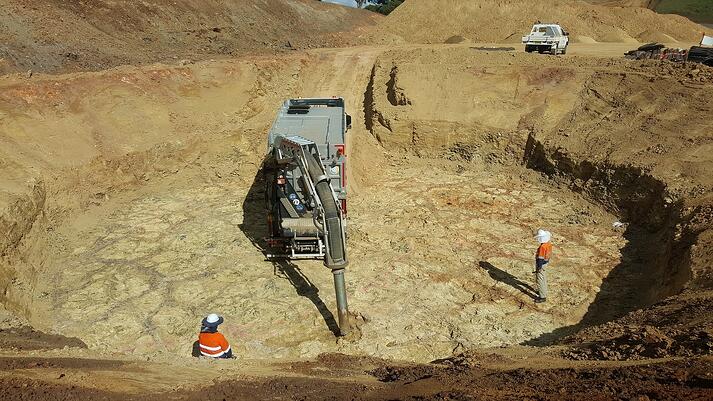 The DryVac comes with on-board 120psi air compressor and air lances for where needed. All material extracted (8 cubic meters per load) was disposed outside the excavation and reused, eliminating further costs and no downtime. Rocks larger than 250mm and up to 80Kg were removed without any manual work by suction and placed at the edge of excavation.
For further projects where access to the footing is not possible via an appropriate ramp, Force One Australia has also developed a system with a small excavator/sweeper and extension hoses. With this method, the DryVac truck remains outside the footing area. Depending on the material, the DryVac can clear up to 2 footings per day. This method is applicable in all situations of large excavations that require surface clearing or further spot excavation in a safe and productive manner.
It's great to see a PlantMiner supplier innovate to solve a problem in the construction market, especially at a time where interest in renewable energy sources has skyrocketed.
We'd love to hear your thoughts on Wind Farms in Australia or your experiences on any renewable energy projects. Just leave a comment below!