If you're an engineer, supervisor, pipe layer, leading hand or general civil construction worker, it's a safe bet that you've been required to take a traffic management implementation program. However, you might not know that the Department of Transport and Main Roads (TMR) in Queensland has restructured their materials and delivery so that accredited persons should be carrying an approved traffic management implementation card with them on TMR controlled roads. You may now be asking yourself: did my RTO include this as part of my course? and what does it mean if they didn't?
The not-so-known truth is that not every RTO is TMR qualified. In fact, less than 30 companies throughout Queensland are approved. With over 117 road projects currently under TMR Queensland's provision, I sat down with Tamara Vidal, General Manager of Civil Train's QLD Branch, to find out more about what it means to be an RTO approved training provider.
About Civil Train QLD:
Civil Train is a nationally certified Registered Training Organisation (RTO number 5708), and the training division of the Civil Contractors Federation Queensland Branch (CCF Qld); the peak industry body for the civil construction industry. "Our clients benefit from the fact that we know civil construction training; it's what we specialise in. We offer authentic industry training and believe in training by the industry, for the industry. That's why we work directly with industry to develop and deliver the best training possible; resulting in training that is relevant, efficient and cost effective."
What's more, is that because Civil Train are the training division of CCF, they have a direct link to engage in strong industry partnerships; a unique point of difference from other RTOs within the industry. Delivered both on and off-site, training includes a range of qualifications and short courses to educate and up skill your staff.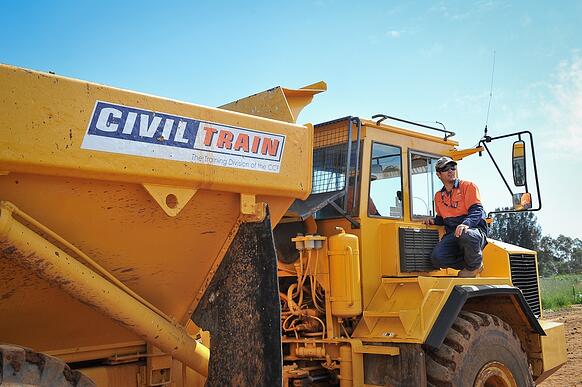 Meeting TMR's training standards:
There is a high level of commitment across key industry sectors to improve and maintain high standards of traffic management. The goal is to make roadwork sites safer places for road workers and all road users.
Improvements to the Traffic Management Implementation training program and tighter controls around training delivery are just some of the significant changes being made to positively influence the quality of traffic management on Queensland state-controlled roads.
Civil Train QLD Trainers have undergone rigorous examinations to verify their degree of relevant qualifications, ensuring the delivery of this course meets the expected TMR standards. All Civil Train QLD Trainers who participated in this excelled in every area and as a result, remain dedicated to always providing the highest quality training.
Aside from being fully TMR qualified, two Civil Train QLD Trainers are also involved with the TMR Traffic Management Working Advisory Group, representing Civil Train QLD. This group participates in reviewing Traffic Management Implementation training materials (inclusive of Traffic Control) and making necessary recommendations for changes.
How to get the necessary qualifications for Traffic Management Implementation:
To be recognised as a Traffic Management Implementation Officer (TMI Officer) in Queensland, individuals must complete the Department of Transport and Main Roads approved Traffic Management Implementation course. This course can only be delivered by department-approved RTOs like Civil Train.
The Traffic Management Implementation course consists of two parts: a theory component (delivered in a classroom environment using department-approved training resources and simulations) and practical component (minimum of three-on-the-job set ups relevant to the participant's current working situation).
Upon successful completion of both course components, the candidate will be issued with a Statement of Attainment RIIWHS302D Implement Traffic Management Plan, and a wallet-sized card (pictured).
This certification expires three years from the date of completion. To continue working on Queensland roads, a refresher course is required before the date of expiry (where you will receive a renewed Statement of Attainment and a wallet-sized card that again expires in three years).
What to do if your current providor is not TMR qualified:
In order to maintain your organisation's ability to perform traffic management, it's important that you prioritise the enrolment of key personnel in the new training.
If your current provider is not TMR qualified, please call Civil Train QLD (RTO number 5708) on 07 3360 7933 to book in to the Traffic Management Course that is fully TMR approved, or complete this Short Course Registration Form and return to brisbaneshortcourses@ccfqld.com. You can check out their course calender here - January – June 2016 Short Course calendar.
If you don't plan for your projects, you don't succeed. Accounting for tickets, licenses, certifications and more is an important step to ensure you're minimisng the risk of delays or breakdowns on your next project. We've created this free eBook to help you tick off your checklist as part of your project preparation: Project Risk Assessment Checklist.