Two vital road upgrades in New South Wales are progressing towards construction with new milestones reached in the procurement stages of these projects.
A shortlist of companies has been announced to participate in the tender process for two design and construction contracts for the M1 Pacific Motorway Extension to Raymond Terrace – one of the Hunter region's biggest infrastructure projects.
"The Government is building infrastructure that will make us as strong as possible, as quickly as possible.
"These milestones move us a step closer to completion of what is one of Hunter's biggest ever infrastructure projects.
"Extending the M1 will significantly improve journeys for tens of thousands of motorists across the Hunter region, busting congestion and providing faster and safer journeys for commuters," Deputy Prime Minister and Minister for Infrastructure, Transport and Regional Development Barnaby Joyce said.
The first contract is for the southern section from Black Hill to Tomago. Shortlisted tenderers include CPB Contractors, Acciona Infrastructure Australia and the John Holland / Gamuda (Australia) Branch Joint Venture.
On the other hand, Seymour Whyte Constructions and BMD Constructions have been shortlisted to deliver the northern section of the project that covers the Heatherbrae Bypass.
Both contracts are set to be awarded by the end of the year.
The M1 Pacific Motorway Extension to Raymond Terrace will include:
15 kilometres of dual carriageway motorway with two lanes in each direction, bypassing Hexham and Heatherbrae

Interchanges at Black Hill, Tarro, Tomago and Raymond Terrace

A 2.6-kilometre bridge over Woodlands Close, the Main Northern Railway, New England Highway and Hunter River

Minimum flood immunity along the new roadway for a one-in-20-year event
"This project is a major component of work to connect Newcastle with the Hunter and New England regions.
"This opens up Newcastle to a wider region and provides economic growth at key employment areas, such as the Port of Newcastle and Greater Newcastle, on top of supporting 750 jobs over its life cycle," NSW Minister for Metropolitan Roads Natalie Ward said.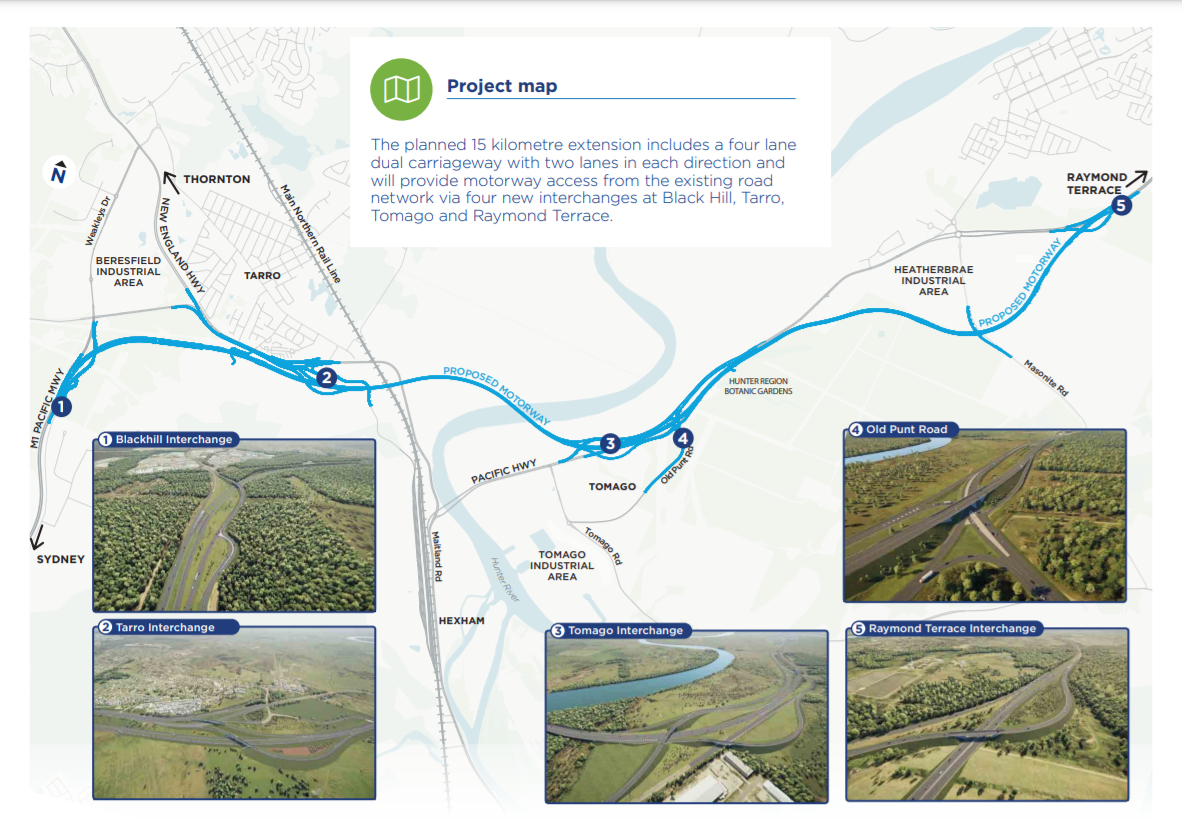 Project alignment (source: Transport for NSW)
Once completed, the extended M1 Pacific Motorway will provide improved connections between Newcastle and the New England Highway as well as M1 Motorway and the Pacific Highway. The project will also enhance safety and traffic flow for the 50,000 motorists that use this route each day.
The project is anticipated to support up to 2,700 direct and indirect jobs during construction, creating opportunities for local businesses and delivering a significant boost to the local economy.
"The Hunter region's existing transport network – the M1 Motorway, the New England Highway and the Pacific Highway – carries some of the highest regional traffic volumes in NSW.
"By removing more than 25,000 vehicles a day from key congestion and merge points between Newcastle and Maitland, we'll help keep freight, commuters and tourists moving," NSW Minister for Regional Transport and Roads Sam Farraway said.
The second project that has reached a new milestone is the Hexham Straight Widening, which is also part of the M1 Extension.
Pre-qualified contractors are now being called to participate in the Registrations of Interest process following consultation with industry. This project is going to be delivered by Transport for NSW through a collaborative approach or an alliance contract.
Shortlisted tenderers from the Registrations of Interest phase will then work with Transport for NSW through the planning stage, discussing the consideration and incorporation of innovations proposed by industry to ensure "value-for-money delivery of the project's benefits".
Contractors that make the list will be announced later this year.
The Hexham Straight Widening project is proposed to include:
Upgrades to the six kilometre section of the Pacific Highway between Newcastle Inner City Bypass and Hexham Bridge

Widening of the dual carriageway from two lanes to three lanes in each direction

Demolition of the existing Ironbark bridge and construction of two new bridges at Ironbark Creek

Minor intersection upgrades and property adjustments

Utility relocation
The two projects are jointly funded by the Australian and New South Wales Governments, each contributing $1.68 billion and $420 million respectively.
"We are continuing to deliver the infrastructure the Hunter needs as part of our $44 billion investment in road and rail projects across New South Wales since 2013.
"The Australian Government will continue to invest in and deliver the road infrastructure projects that matter to locals, tourists, businesses and freight operators," Senator for New South Wales Jim Molan said.
Source: Minister for Infrastructure, Transport and Regional Development; Transport for NSW (1, 2, 3)