Another METRONET project is moving forward as construction commences on the new Lakelands Station, which is located between the Warnbro and Mandurah stations in Western Australia.
Works are being carried out by ADCO Constructions, with early works already underway – including modification to overhead line equipment as well as earthworks along the rail corridor.
"It's an exciting milestone today with work commencing on our thenth METRONET project, Lakelands Station.
"The southern suburbs are booming, with the Mandurah Line the busiest on our rail network, so this station will alleviate pressure on the nearby Mandurah and Warnbro Stations.
"We have another eight METRONET projects currently under construction, supporting thousands of local jobs, with our METRONET Bellevue Railcar Facility project already completed," Premier Mark McGowan said.
The Lakelands Station project will feature:
Station entry building with standard facilities including ticket and information machines, as well as passenger toilets

Pedestrian overpass with lifts and stairs, providing access to platforms on either side of the rail line

Passenger car park with around 400 bays, plus drop-off, short-term, motorcycle, and accessible parking. Access to the car park will be off Ashwood Parkway

Sheltered, eight-bay bus interchange. Buses will access the station from Lake Valley Drive

Secure bike shelters with space for more than 90 bikes

Universal access through the station precinct

Cycling and pedestrian connections to streets immediately adjacent to the station

Modification to nearby sections of Lake Valley Drive and the existing roundabout to enable bus movements

Landscaping and public art
"It is very exciting to see work commencing at last on Lakelands Station.
"This station is a long-held dream for many people in the north Mandurah community – some residents have waited a decade for it to arrive. The works happening today prove what's possible when locals work together and refuse to give up.
"The Morrison Government's investment in targeted infrastructure projects like METRONET is helping reshape Perth and providing a boost to local jobs and the economy," Federal Member for Canning Andrew Hastie MP said.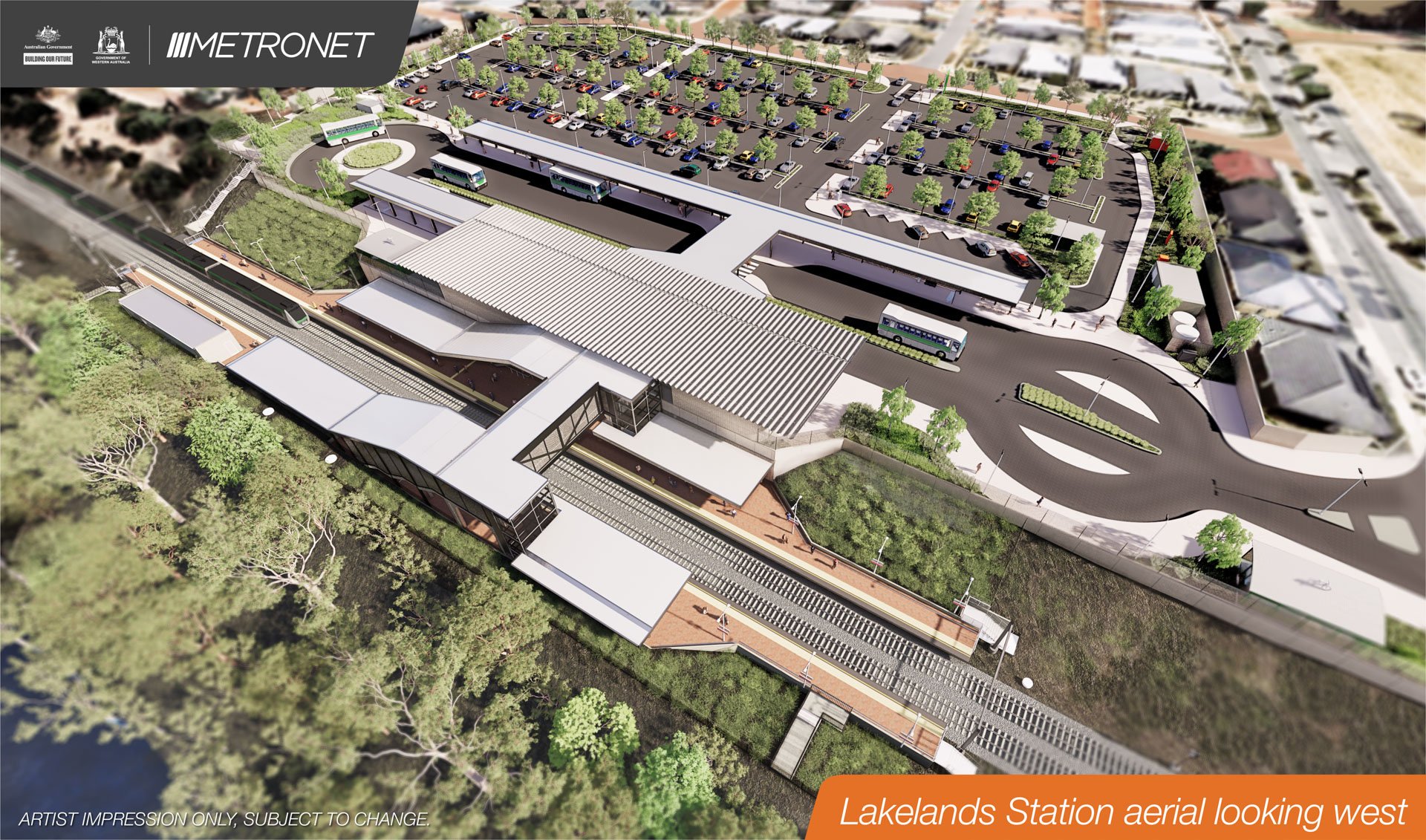 Source: METRONET
In addition, the new station will be 'future-proofed' to enable the addition of facilities to accommodate future demands – including escalators, more lifts, a kiosk, fare gates and a customer service office.
Construction of the new Lakelands Station is anticipated to support up to 200 jobs.
"Lakelands Station, combined with our METRONET Mandurah multi-storey carpark, will make it easier for people in our southern suburbs to catch the train.
"We are working to implement our two zone fare cap, which will save commuters from Mandurah, Lakelands and surrounding suburbs thousands of dollars each year.
"We anticipated more than 200 local jobs will be supported through construction on this project," Transport Minister Rita Saffioti said.
The new station is located about seven kilometres north of Mandurah Station – off Lake Valley Drive. Lakelands Station is expected to cater to the region's growing suburbs such as Lakelands, Madora Bay and Meadow Springs, and provide a 50-minute travel time to the Perth CBD.
The METRONET Lakelands Station is projected to have an initial 2,300 daily boardings and will increase to approximately 3,500 by 2031.
This project is jointly funded by the Australian and Western Australian Governments, with 80 per cent provided by the former.
"The Morrison Government is getting on with delivering infrastructure projects that improve congestion and safety for commuters across Australia, making it easier for them to move around our capital cities and ensuring they get home quickly and safely.
"This is just the latest example of us delivering on our commitment to progress critical infrastructure projects across the country under our record $110 billion, 10-year infrastructure investment pipeline, which is helping drive Australia's world-leading economic recovery," Federal Minister for Communications, Urban Infrastructure, Cities and the Arts Paul Fletcher MP said.
Source: Government of Western Australia – Media Statements; Minister for Communications, Urban Infrastructure, Cities and the Arts; METRONET (1, 2)