The first sod has been turned and construction is now officially underway on a second liquefied natural gas (LNG) train at the Pluto LNG onshore facility on the Burrup Peninsula, near Karratha in Western Australia.
This project is part of the approximately $16 billion Scarborough and Pluto Train 2 development by Woodside Energy.
"The Scarborough [to] Pluto Train 2 development will deliver decades of benefits for WA, through jobs, economic stimulus and domestic gas.
"The commencement of construction at the Pluto Train 2 site is another great milestone for Woodside Energy, its partners, and for WA.
"I congratulate them on progressing with this significant project and look forward to working together to deliver opportunities and benefits to Western Australians," Premier Mark McGowan said.
Earlier this year, Woodside Energy appointed Bechtel to undertake engineering, procurement and construction of the Pluto Train 2 Project. Bechtel's scope of works will include the construction and commissioning of the second LNG train as well as domestic gas facilities, common utilities and general facilities at the Pluto LNG Park.
The Pluto Train 2 Project alone is expected to generate up to 2,000 jobs at peak construction in 2024, with a big portion of the workforce drawn from within Western Australia. Bechtel has already engaged with local and Indigenous businesses for opportunities to support the delivery of this significant project, and more contracts are set to be awarded as work progresses.
"We are proud to do our part to invest in local communities and improve the quality of life where we work by creating jobs and opportunities, while also bringing greater energy security for the region," Bechtel Energy President Paul Marsden said.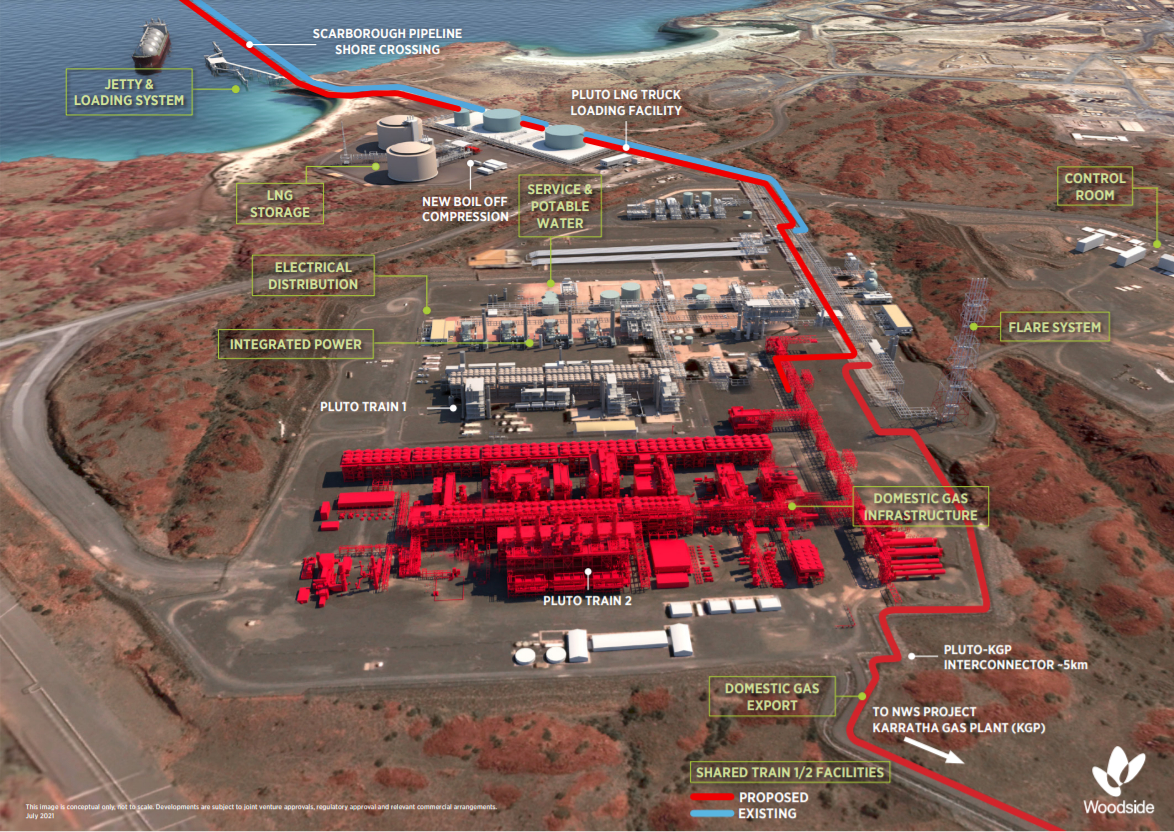 Pluto Train 2 project plan (source: Woodside Energy)
Bechtel will now begin site preparation which includes the establishment of an office, crib hut and other facilities. Initial earthworks as well as activities in the laydown and storage areas will commence before the year ends.
"The development of the Pluto Train 2 project will reap benefits throughout the Pilbara, boosting local jobs for both development and upon completion.
"Not only will the project boost the Pilbara's economy, but it will also establish a strong position for WA as one of the world's largest LNG exporters," Pilbara MLA Kevin Michel said.
The Pluto Train 2 Project will deliver a new LNG facility that will process gas from the Scarborough offshore operations and have a capacity of 5Mtpa. The project will also provide additional domestic gas infrastructure to help increase capacity to up to 225 Terajoules a day.
In addition, Pluto Train 2 will support the export of about 8Mtpa of LNG and the delivery of up to 1,00 petajoules of gas to the Western Australian market via a new domestic gas production facility at the Pluto LNG site.
"Woodside is proud to build on the economic contribution that it has made over 35 years to communities in Western Australia. Many opportunities will be realised in Western Australia, providing a boost to long-term investment in education and training, growing jobs and bringing work through the supply chain. Scarborough gas processed through an expanded and efficient Pluto facility will support the decarbonisation goals of our customers in Asia," Woodside CEO Meg O'Neill said.
The Scarborough and Pluto Train 2 project will include the development of the offshore Scarborough gas resource in the Carnarvon Basin – approximately 375 kilometres off the coast of Western Australia – that is going to be connected through a 430-kilometre pipeline to the Pluto Train 2 facility.
The overall development is estimated to create up to 3,200 new jobs over its four-year construction phase and support about 600 jobs once operational, including 230 jobs in the Karratha region.
"Western Australia is the main contributor to Australia's LNG exports, accounting for 56 per cent. By itself, WA is the world's third largest LNG exporter, with 12 per cent of global LNG supply in 2021.
"Right now, we have significant opportunity to further position the State as a safe and reliable supplier of LNG to the world, while strengthening our economy and delivering new local jobs," State Development, Jobs and Trade Minister Roger Cook said.
The Scarborough and Pluto Train 2 development is still subject to all necessary approvals, including environmental approvals.
Source: Government of Western Australia – Media Statements; Bechtel (1, 2); Woodside Energy; Creamer Media's Mining Weekly; Offshore Energy