Powerlink Queensland is now in search for local companies that employ locals to engage with for the delivery of a new transmission project that will enable the supply of renewable electricity to North Queensland.
With works commencing soon on a transmission line that will link to Genex Power Limited's Clean Energy Hub, Powerlink recently hosted a virtual contractor briefing session along with the project's principal contractor, UGL Limited.
The virtual briefing session was held on 9th August, but a recording is going to be made available for those who missed the session. The presentation slides are also made available on Powerlink's dedicated page for the Genex Kidston Connection Project.
Businesses from Charters Towers, Hinchinbrook and Townsville are encouraged to get involved and take advantage of the State Government's Buy Queensland procurement approach.
"A key part of our COVID-19 economic recovery plan is Queensland Government investment in renewable energy and the local jobs that come with it.
"For Genex's Clean Energy Hub to safely and efficiently provide clean energy to the North, we're looking for a range of trades and professions to support construction of the new transmission line.
"From road building to vegetation management, all the way down to snake bite training, it's going to take entire towns to get these 340 towers off the ground to connect this 186km line from Mount Fox to Kidston," Minister for Energy, Renewables and Hydrogen Mick de Brenni said.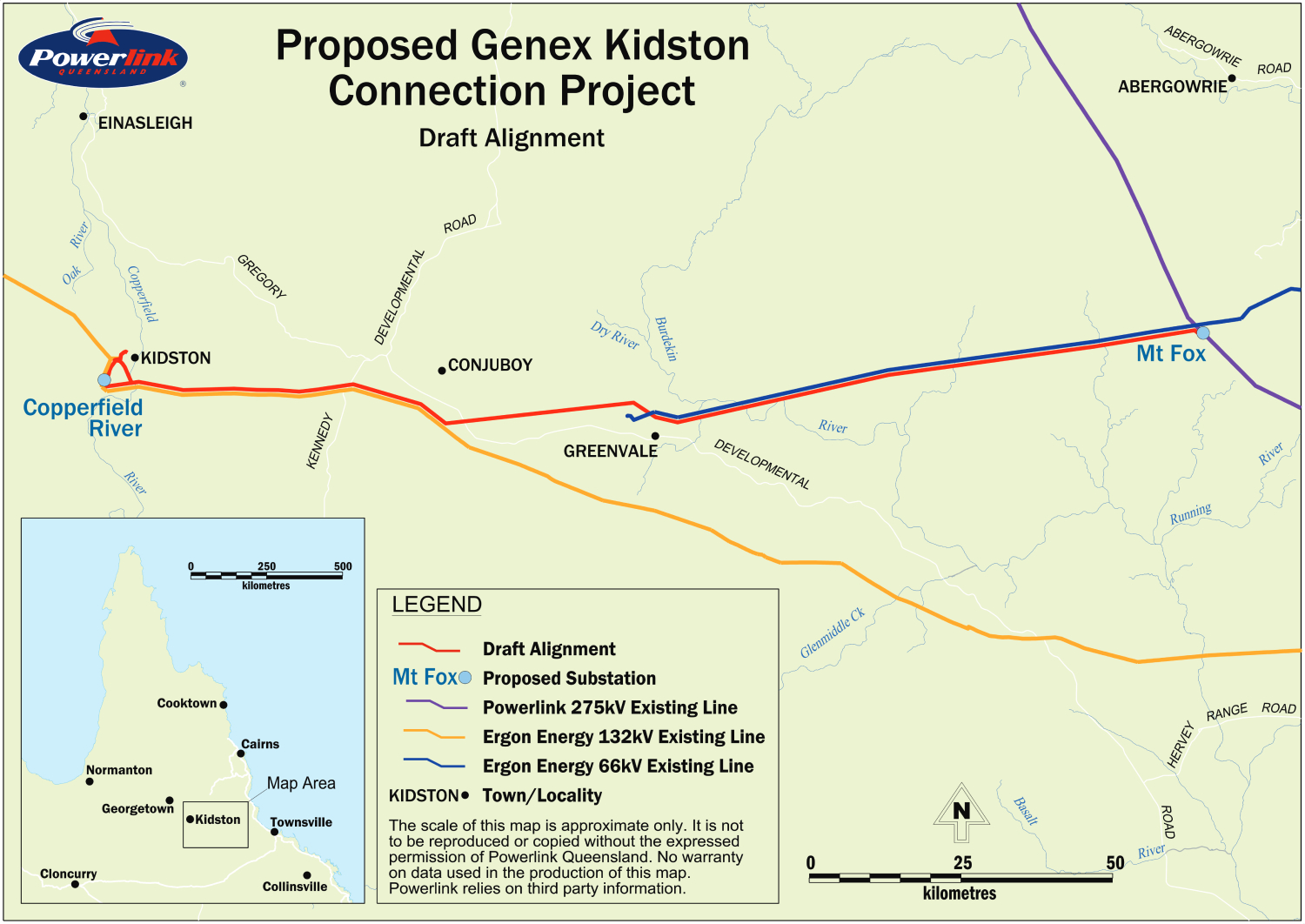 Source: Powerlink Queensland
Queensland will soon see works commence on three Renewable Energy Zones, beginning in the north. These works will also open training opportunities for those who want to work on the State's renewable energy revolution.
"I'm pleased that Principal Contractor UGL will create opportunities for apprentices and Aboriginal and Torres Strait Islander workers on this project, consistent with our Buy Queensland procurement approach.
"Construction of this new 275kV transmission line from Mount Fox to Kidston really marks a new era of transmission for North Queensland and the jobs opportunities that come with it.
"Our $147 million investment will support publicly-owned Powerlink to build the transmission line and create 400 local jobs in the process, which is terrific news for North Queensland," Local MP for Thuringowa in Townsville Aaron Harper said.
Powerlink will be working closely with UGL to maximise local employment and procurement opportunities for this project wherever possible.
"With construction expected to begin in the first half of 2022, we are keen to start the conversation with local businesses on ways they could support the project.
"We hope to talk to North Queenslanders in person later this year once the situation with COVID-19 is more stable," Powerlink Chief Executive Paul Simshauser said.
According to UGL's Managing Director Doug Moss, the company looks forward to engaging with local suppliers, contractors as well as employees that could potentially help in delivering the new transmission project.
"This contractor and supplier briefing is a fantastic opportunity for local vendors to get to know UGL and for us to meet with them, albeit virtually for now. We're committed to engaging with local contractors, suppliers and employees to help deliver this critical infrastructure for the region.
"We'll provide information about the types of contracts we'll be looking to award, and how we can help potential suppliers and vendors in preparing for the tender process," Mr Moss said.
Weather permitting, the Genex Kidston Connection Project is due to be completed in early 2024.
UGL utilises Felix to support its supplier management and procurement processes and will leverage the platform for this development. The CIMIC Group company is encouraging all suppliers to register in Felix and be pre-qualified. Suppliers that have successfully qualified will be invited to tender on appropriate packages of work related to their services. As per the industry briefing session, some of the key trades and services will include:
Accommodation providers

Fuel suppliers

Vegetation management and site clearing

Civil works (earthworks, formwork and concreting)

Water supply

Skilled labour hire

Engineering support

Construction materials

Waste management and recycling

Security services

Plant hire

Cranes and access equipment

Cleaning services

Heavy transport

Car hire
Source: Queensland Government – Media Statement; Powerlink Queensland (1, 2)