We highlight your great work. You get more business.
Our goal here at PlantMiner is to show off your business to our more than 15,000 thousand hirers so you can spend more time doing what you love and less time worrying about where that next job is going to come from.
Why become a PlantMiner supplier?
We know there's a lot of other companies out there promising to send you leads and help you grow your business. So, what makes us different?

1. We're dedicated to quality
The best suppliers are on PlantMiner, and construction companies know it. We put your profile at the top of search results based on your location and services. The more detail you provide, the higher you'll rank on our site.

Include information like typical projects you've worked on, specialties offered, safety information, awards and certifications that you hold, minimum hire terms, suitable work/job site for your services, licenses required to operate, fuel types, attachments available and more.
These short unique descriptions ensure unparalleled relevance to both ends of the hire spectrum; finding capable suppliers for the hirer, and qualified work for the supplier.
Suppliers are able to list on active site.
2. Your work takes centre stage
When you join PlantMiner, we set you up with a detailed online profile where you can showcase your company, fleet or services and experience.
Then we send customers your way.
We send qualified leads to PlantMiner suppliers every day with thousands of items for hire requested - customers who've seen your profile and are expecting your call because you have what they need to complete the project.That's enough to build a business on.
3. We're the most popular website in Australia for plant, equipment and subcontractors
Your chosen platform should help you attract targeted traffic to your business.

We're the best ranked platform for plant, equipment and subcontractor hire. And we can prove it.
Alexa provides a benchmark of any website to know if it's winning audience and mindshare over it's closest competitors.
The lower your ranking number, the better (more popular your site is). If you're looking to join Australia's most visited hire website, compare our rankings through Alexa today!

These are high quality leads from hirers who are ready to get started with their mining and construction projects, and you'll get access to them as a PlantMiner supplier.
4. You'll gain market exposure to Australia's largest construction marketplace
Since launching in 2013, we've quickly become a destination for Project Managers, Site Foreman, Estimators, and Procurement managers alike, to come to for all things plant, equipment and subcontractor related.
We've been growing rapidly and over 2,500 suppliers have joined, with over 600,000 items for hire.
This is Australia's leading range in two ways;
most listed suppliers,
most items and packages listed for hire.
We're dedicated to helping people everywhere complete their projects with ease and for you, the supplier, this means that you'll have access to these high quality hirers to start generating new business.
5. We've got the resources to help you optimise your chances
Most tender platforms operate as a noticeboard. You can find a job title and basic project information, but are left to spend valuable hours to access any sort of decision making contact or specific project requirements.
If efficiency is an important metric to your business, you need a strong team to support you.
Our Business Development teams are industry professionals on a state and national level. They comprise of tender specialists, on the ground experts and confirmed work facilitators who are trained to target opportunities on your behalf. If you want to see a specific type of work, or have a piece of gear that's gathering dust, you now have a skilled and dedicated employee to help put your business at the forefront.
For each opportunity, your BD manager sources the project's actual decision maker and uncovers all of the project information you need to price competitively and effectively.
You're given the opportunity to close the deal rather than waste resources trying to find them.
6. We openly list the transactions awarded to our suppliers
PlantMiner is more than just a noticeboard for projects - with over $100 million in hire work awarded to our suppliers, we're proven to win work for plant, equipment and subcontractor companies.
So while our competitors may report on site visits, equipment searches and even social reach, we're the only marketplace that openly lists their transactions in dollar value. And we can do this because it's true, we're getting the traffic and turning it into work.
PlantMiner's proud of our efforts to help suppliers and subcontractors, and you can read some of our success stories by simply clicking an image below.
7. We've got the features needed for you to succeed
Every month, 120,000 people search online to find plant, equipment and subcontractors for their projects. Through the PlantMiner platform, we help you to connect with these hirers like never before. These tools include:
search function:

PlantMiner's listings were built from the ground up around changes that Google made to their search results and upcoming trends in the industry including social search and responsive design. Your profile is tightly integrated with the search and quote request functions.

qualified leads:

algorithm that matches search requests to your service radius and capability to complete the project (whether you list the required services/machinery and have availability)

relevant profile:

Using PlantMiner's profile tool, users can easily add to their company information and images, machinery specifications, service information and branch locations. The profile information can be personalised with recent projects, awards, certifications and more.

site pages:

PlantMiner is automatically responsive to all screen sizes. Use your laptop, iPad or mobile without disruption.

timely notifications:

You can elect to receive leads to your account, email or phone. In a few lines, find out the job location, project parameters and response due date.
8. Our thriving community and educational resources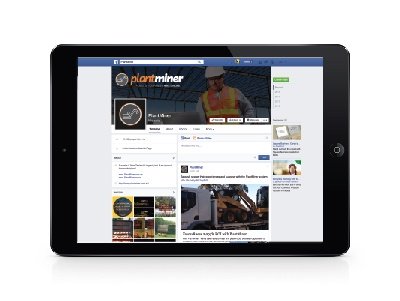 Learn, connect and interact with other suppliers in our thriving PlantMiner community. We're creating a community of the best suppliers so we can highlight their stories, expertise, tips and advice with other professionals.
We also have a team of Industry Experts, Business Development specialists and Account Managers dedicated to training and education.

From social media guides to quoting checklists, the PlantMiner community's got the information you need to grow your business the right way.