The Queensland Government has announced that it will build and own CopperString 2.0 after purchasing the project for approximately $5 billion.
Early works on the massive transmission line project will commence this year and major construction is planned to begin in 2024.
CopperString 2.0 will deliver a 1,100-kilometre high-voltage transmission line that will connect Mount Isa and the North West Minerals Province to the National Electricity Market near Townsville.
Following its purchase, the project will now include the delivery of a 500kV transmission line from Townsville to Hughenden as well as 330kv from Hughenden to Cloncurry and 220kV from Cloncurry to Mount Isa.
"Extension of the Queensland transmission grid across North and North West Queensland is a game changer for Queensland and the rest of the nation with long lasting social and economic benefits through increased production of critical minerals that will feed the $75 million critical minerals processing facility the Palaszczuk Government announced recently for Townsville and provide connection opportunities for the vast world class solar and wind resources in this region.
"These two opportunities – critical minerals production and high-quality renewable energy – are vital to Queensland and the world's transition to Net Zero and deliver important strategic social and economic policy objectives for Townsville and the entire region," Project proponent CuString's Managing Director Joseph O'Brien said.
The CopperString 2.0 project was developed by Townsville-based business CuString. The State Government and the company have signed an agreement that ensures the project is going to be owned by Queensland "for the benefit of Queenslanders" – which is consistent with the Queensland Energy and Jobs Plan.
Powerlink – a publicly owned transmission company – will now be responsible in leading the delivery of CopperString 2.0.
"The pressures on Australia's energy system in recent years have once again proved the benefits of Queensland's public ownership of our electricity assets.
"Our Queensland Energy and Jobs Plan makes clear that we will own 100 per cent of our transmission assets," Treasurer and Minister for Trade and Investment Cameron Dick said.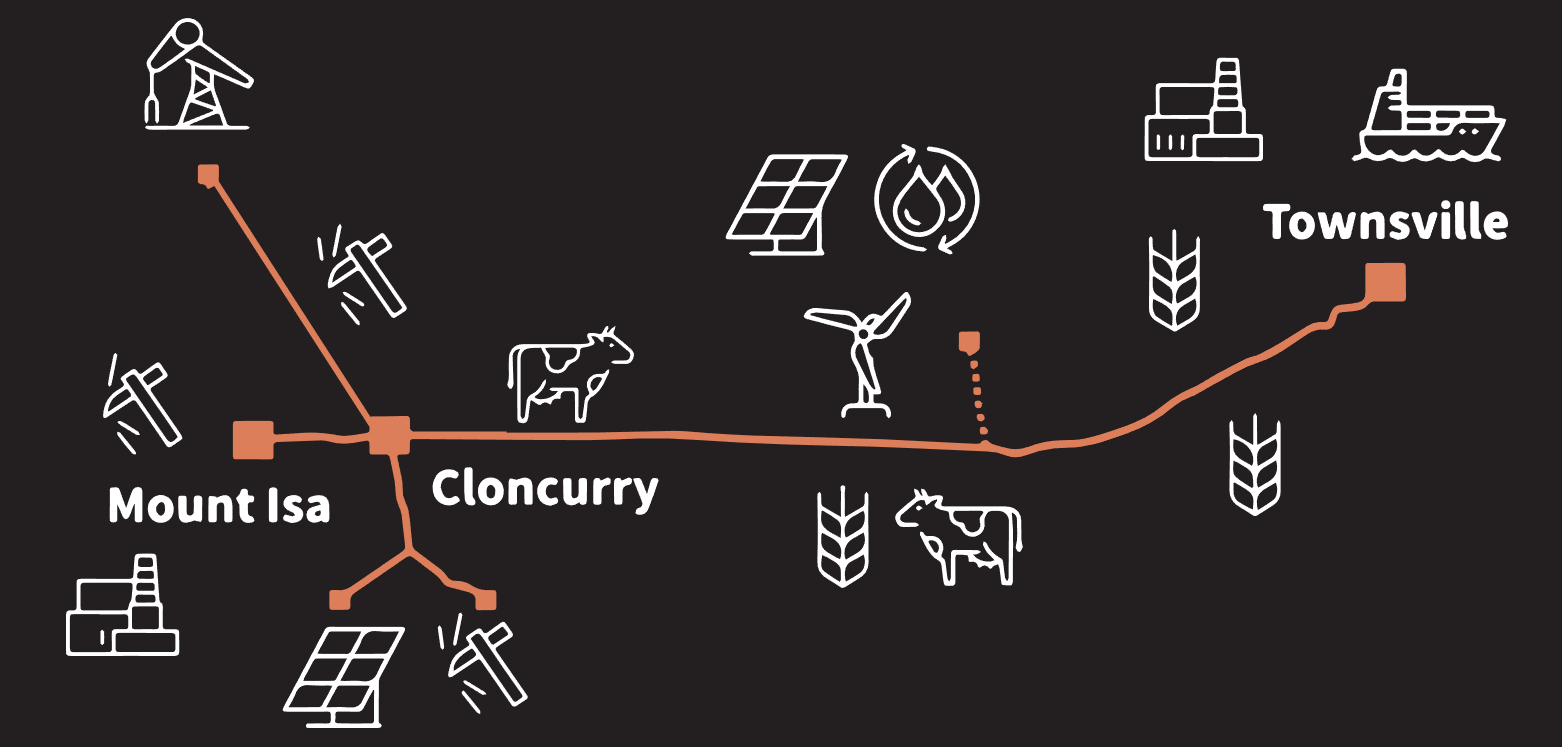 Source: CopperString 2.0
Building CopperString 2.0 will help unlock the nation's largest renewable energy zone as well as over $500 billion in new critical minerals in North Queensland.
Construction of CopperString 2.0 is expected to take up to six years to complete, supporting 800 direct jobs and thousands of new jobs in critical minerals mining, manufacturing as well as construction of renewables.
"CopperString is the most significant investment in economic infrastructure in North Queensland in generations. Unlocking affordable renewable energy and our critical minerals will benefit Townsville, Mount Isa and every town in between – unlocking thousands of jobs and billions in investment.
"CopperString ensures that Mount Isa will continue to be the heart of the North West Minerals Province.
"CopperString and the Townsville critical minerals demonstration plant will act as a magnet for investment into North Queensland during the clean energy industrial revolution and that means good secure mining and manufacturing jobs for Queenslanders," Premier Annastacia Palaszczuk said.
To date, CopperString 2.0 has marked several major milestones including the approval of the Environmental Impact Statement (EIS), approvals granted under the Environment Protection and Biodiversity Conservation Act and reaching an agreement with all Traditional Owner groups – through the Cultural Heritage Management Plans – that will be impacted by the project.
The early works package for the project is going to be carried out by the UGL-CPB Contractors Joint Venture, which was previously engaged for the early contractor involvement (ECI) phase of CopperString 2.0.
"Building this transmission line opens up to 6,000 megawatts of potential renewable energy in the North Queensland Renewable Energy Zone, creating more jobs than our state has ever seen in a new, decarbonised resources sector stretching from Townsville to Mt Isa – and they're starting right now, with early works packages to be rolled out almost immediately," Energy Minister Mick de Brenni said.
"CopperString 2.0 will help create opportunities for resources companies to develop critical minerals projects and the broader North West Minerals Province," Resources Minister Scott Stewart said.
Source: Queensland Government – Media Statements; CopperString 2.0 (1, 2); ABC News; Energy Matters