One of Victoria's transformational public transport projects, the Melbourne Airport Rail Link, marks a new major milestone with the announcement of an agreement between the Australian and Victorian Governments regarding the route of the new airport rail line.
The agreed-upon route will provide connections to the whole metropolitan as well as regional rail networks. This includes five new inner city stations to be built as part of Metro Tunnel, a modern fleet of High Capacity Metro Trains and trains every 10 minutes.
Once the new rail link is up and running, the State's regional and metropolitan rail network will be connected to the airport for the first time. Victorians will be able to catch a train from the CBD to Melbourne Airport starting in 2029.
"The airport link is a nationally significant project and Victorians have been waiting a long time for it to become a reality. With construction to start in 2022, the agreement will support up to 8,000 jobs during construction.
"When complete, the link will slash travel times, bust congestion and be a major boost to the economy," Prime Minister Scott Morrison said.
Melbourne Airport Rail will be running through the Metro Tunnel which means communities in the south-eastern suburbs will be able to get to the airport without changing trains. Majority of Victorians will also be able to travel to the airport with just one interchange from the nearest station to them.
The announced route will enable tourists and visitors to reach regional Victoria from the airport hassle-free.
"This project has been talked about for a long time, its key to our recovery and this design means it will benefit all Victorians.
"As we continue our recovery, we need a long-term plan. We need a pipeline of jobs for Victorians looking for work now, and for those who will need jobs in the future. We said we'd deliver this project, and we're keeping our promise," Premier Daniel Andrews said.
This new airport rail link will provide a 10-minute turn-up-and-go train service that will run from Melbourne Airport, through the heart of the city and into key sites such as Melbourne University, the Parkville medical precinct, Melbourne Central and Flinders Street stations as well as the St Kilda Road business precinct.
This vital transport infrastructure project will transform how people travel to and from Melbourne Airport.
"The aviation industry is so important to Australia's economy and by investing in this rail link, we're making it even easier for Victorians to travel to and from Melbourne Airport.
"This investment is an important part of the economic road back – it will be a job-creator for Victorians and a huge boost to so many local businesses across the construction industry," Deputy Prime Minister and Minister for Infrastructure, Transport and Regional Development Michael McCormack said.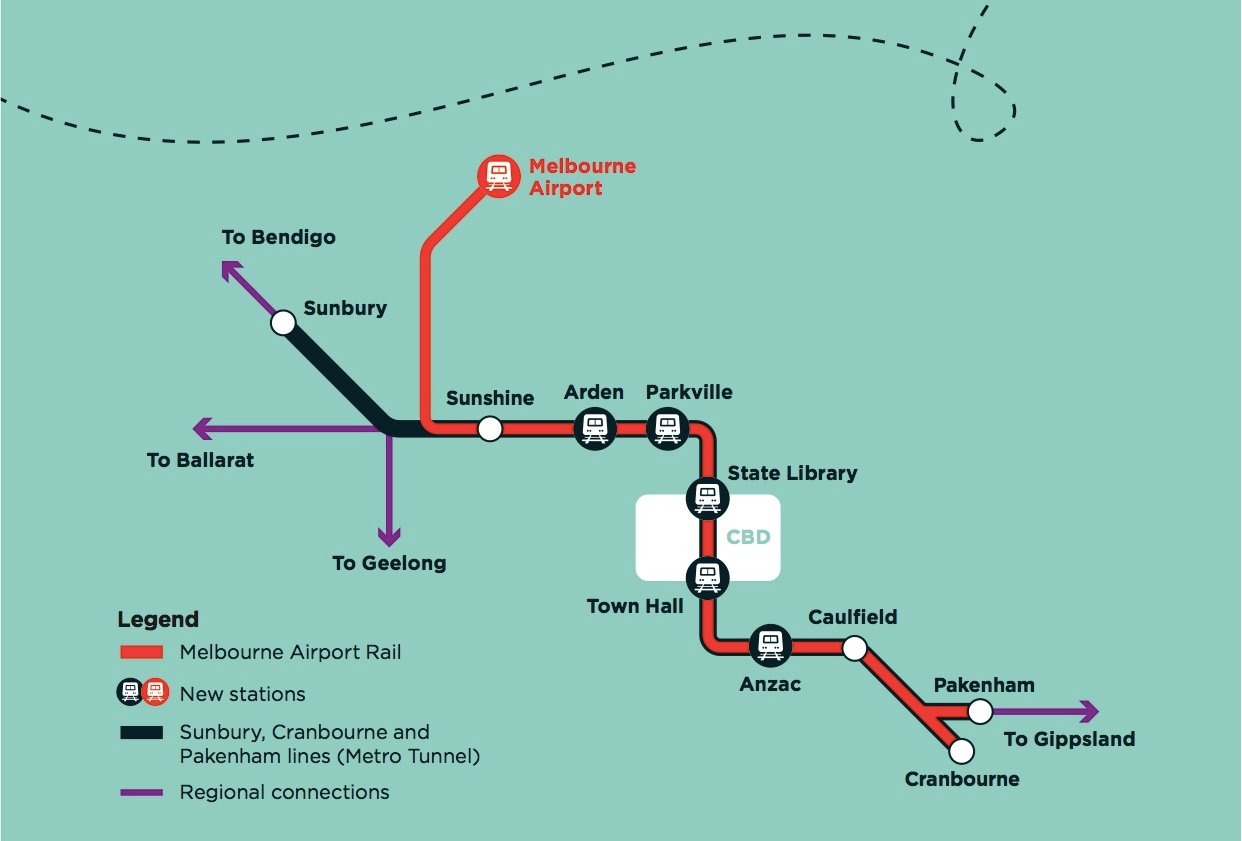 Project route from Melbourne Airport Rail brochure (source: Melbourne Airport Rail)
Melbourne Airport Rail will be running from the airport, pass through Sunshine Station then into the Metro Tunnel and the heart of Melbourne CBD before it continues to the Cranbourne and Pakenham lines.
"Our objective has always been to deliver a rail connection that is fast, affordable and built as quickly as possible.
"For those in the south-east it will mean a trip to the airport without changing trains, and for others just one change," Federal Minister for Population, Cities and Urban Infrastructure Allan Tudge said.
This transport infrastructure project will deliver new dedicated tracks along the existing Albion-Jacana freight corridor – between Sunshine and Airport West. These tracks will then veer off the freight corridor crossing the M80 and head towards Melbourne Airport following the Airport Drive route before arriving at a new premium train station at the airport.
This project will also include the construction of a new rail bridge across the Maribyrnong River Valley and an elevated rail over the M80 freeway.
"This will give Victorians the fastest, most direct trip to the airport through the Metro Tunnel which will deliver more trains, more often," Minister for Transport Infrastructure Jacinta Allan said.
Communities in Melbourne's west will also be able to have direct access to the airport via a single interchange at Sunshine Station. Werribee and Williamstown passengers will also have this benefit via Footscray Station.
On the other hand, commuters using any of the city loop trains can connect to the airport trains at Flinders Street and Melbourne Central.
Passengers coming from the regional centres of Geelong, Ballarat and Bendigo will also have an easier access to the airport via a single interchange at Sunshine while commuters from Gippsland can connect to the airport line via a single interchange either along the Cranbourne or Pakenham lines.
To date, the Australian and Victorian Governments have invested approximately $5 billion each to deliver Melbourne Airport Rail.
Major construction is expected to commence in 2022 and is due to be completed by 2029, subject to relevant approvals.
Works to refine the project scope will now continue along with community, stakeholder and market engagement, and obtaining of relevant planning approvals for construction.
Source: Minister for Infrastructure, Transport and Regional Development; Minister for Population, Cities and Urban Infrastructure; Premier of Victoria – Media centre; Melbourne Airport Rail (1, 2, 3); ABC News