Construction is a $10 trillion global industry but productivity - the total economic output per worker - in the industry has remained flat. This is partly because of the slow adoption of new technologies. The following are the top six technology advancements changing the face of construction.
1. Laser scanning:
Laser scanning, specifically terrestrial laser scanning, can be used for a variety of functions including 3D mapping and engraving where you require extreme precision. Whilst laser scanners offer a variety of functions, they are valued at a high cost and involve a high level of complexity.
Laser scanners create a detailed three-dimensional model of a structure called a "point cloud." A point cloud is data intensive and can have thousand to millions of points. It is often labor intensive and costly when creating the point cloud for complex structures.
Laser scanning is an ideal tool for creating a 3D model of an existing structure such as stadiums, power plants and other complex structures.
The scanners can be combined with technologies such as drones in order to capture data that would be difficult to collect such as if you're looking to generate a model of an existing bridge with hard-to-reach areas. As a result, the massive amounts of data generated in scanning must be stored and that level of cost makes laser scanning out of reach for many smaller firms.

2. 360 degree photo documentation:
360 degree photo documentation and laser scanning are two technologies that provide builders, engineers, and architects with the ability to capture the specific details of as-built projects.
Photo documentation with a 360 degree camera does not offer the same level of precision as laser scanning but it is significantly faster, cheaper and easier, making it more effective for use in smaller firms.
360 degree photos are useful when you have a holistic view of your project and want to get an overall impression of the space. As they capture everything within a space, 360 degree photos are used for documenting as-built projects during the construction process.
360 degree photos can be combined with standard photos to achieve greater detail as the standard photos offer close-up views of specific details. 360 degree photo documentation is user friendly as you only need a camera and tripod if required, with additional software used for the organisation and editing of photos which is often mobile friendly for convenience.
3. Drones:
Work sites often span large areas and buildings can be multiple stories high into the sky therefore inspecting an entire site by foot can take days and often requires a large crew.
With the implementation of drones, the same information can be gathered and compiled by a single pilot in only a few hours. Many companies have adopted the use of drones to survey stockpiles and conduct site inspections.
John Davenport, a surveyor at American company Whitaker Contracting Corporation, who uses a drone system has remarked that he was able to accurately measure the volumes of stockpiles at one of the quarries in just 20 minutes, where it previously took him about two days of strenuous GPS work to cross-section.
According to a PricewaterhouseCoopers report in 2016, the use of drones for business services such as checking inventory on a construction site or monitoring the health of crops on a farm, has an addressable market estimated at $127 billion.
Construction projects make up more than $45 billion of this market whereas by contrast, delivery by drone has an estimated market value significantly less at $13 billion. This can be attributed to national regulations which are still being written, that would permit autonomous drone delivery.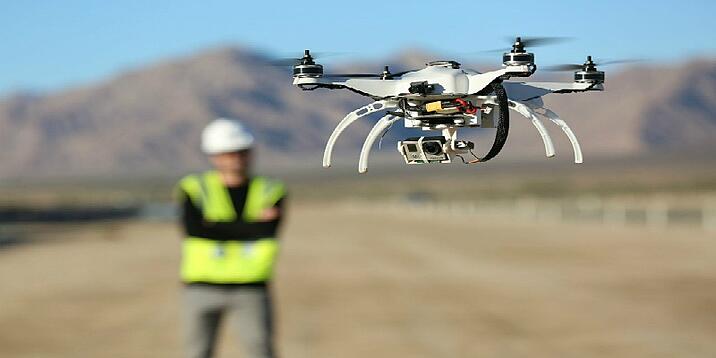 4. 3D Printing:
3D printing started out as a niche technology and has been around for a long time and talk of how this technology could transform the construction industry has long circulated too. Due to Silicon Valley-based entrepreneurs Chris Kelsey and Fernando De los Rios, it can be expected that 3D printing robots will be used on building sites rather than hundreds of masons around the world. Consequently, Dubai has set a target for 25% of building to be 3D-printed by 2030.
The use of 3D printing robots will drastically cut labor and material costs and time in both large-scale developments and small-scale developments such as constructing low-rise buildings. The technology is still being tested for the construction of skyscrapers.
3D printers were once used primarily as a means to quickly render miniature model versions of products, the technology has reached a point where large-scale printers are now capable of making life-sized working creations in mere days. One Chinese company Winsun have claimed to build houses with 3D printers.
5. Robots:
It's not just drones and 3D printing influencing the construction industry. Builders are starting to move into prefabrication, where homes and buildings are constructed on factory floors by robots. According to the Wall Street Journal, factory-built homes are far more popular in Sweden and Japan where 40 percent and 16 percent of residential buildings, respectively, are built with prefabrication.
Masonry is also being roboticized with Construction Robotics, a New York-based startup, inventing a bricklaying robot called the SAM100, which is already being used on job sites across the Australia and the U.S. The robot is able to lay around 2,000 bricks per day which is a substantial increase from the 400 bricks a day an average mason can lay, ultimately generating a 400 percent increase in productivity.
BHP has become the latest company to up the ante on autonomous haulage with plans to double its autonomous fleet at Jimblebar in Western Australia's Pilbara region to 50 Caterpillar 793F autonomous trucks.
6. Wearables:
Wearable technology is changing the face of the construction industry with new technologies having the potential to save many lives.
SolePower has recently released a prototype of a work boot that features a normal looking boot.
The difference in these shoes is that after a few steps, rectangular sections in the heels illuminate a bright orange, reminiscent of the lights inside a traffic tunnel. This is the first "self-charging, industrial wearable" invented.
This unplugged technology could play a role in efforts to improve safety and efficiency in the building, construction, and oil and gas industries.
Inside the SolePower boots are a variety of sensors, including those for temperature detection, GPS, Wi-Fi electronics and inertial measurement units, which track location and motion. The boots are powered by a kinetic charger that harnesses the untapped energy produced by walking.
A growing number of industrial devices are equipped with safety indicators such as equipment product Cat's Link technology, which allows a company to track its fleet of backhoes, excavators and compactors.
There's a potentially sizable market to capture with Construction being one of the least digitized sectors in the world, according to research from The McKinsey Global Institute.
Triax is selling a network safety device called spot-r, which is about the size of a pack of chewing gum and easily fastens to a belt. Inside sport-r is a small sensor that tracks workers movements, indicating when slips and falls occur. There is an additional button workers can press to point out a safety concern- whether that's a hazardous spot in the field or an incident that occurred.
This form of tracking has received many controversial responses as consumers and workers alike have pushed back against wearable sensors due to potential privacy infringement. A study released by PwC revealed that 82 percent were concerned that wearable technology would invade their privacy and 86 percent were concerned that it would make them more vulnerable to security breaches.
At Triax, the problem is already being engineered out of the system. After finding it was nearly impossible to get workers to wear devices with GPS tracking, the team developed a closed, secure network that is set up on site.
Though SolePower uses GPS tracking, it has an advantage when it comes to battery life - the boots never die, while Triax wearers must replace the battery in their device annually. For construction workers who currently pay for their own work boots, an employer-subsidized pair that keeps them safe may look like an attractive option.
These six trends are just the tip of the iceberg, and proof that it's an exciting time to be part of the construction industry!
Sources:Sourceable, Recode, Forbes, Phys Org.