More works are set to get underway on the Western Sydney International (Nancy-Bird Walton) Airport in New South Wales with the award of a major contract for airside pavement works to the CPB Contractors and ACCIONA joint venture.
"Today's announcement is yet another major milestone in the delivery of one of the most significant infrastructure projects in Australia.
"The Morrison Government is getting on with delivering this once-in-a-generation infrastructure project which, together with the surrounding Aerotropolis, will be a driver of jobs and economic growth and reflect the pride and aspirations of the people of Western Sydney.
"We've spent several years preparing the airport site, including moving 18 million cubic metres of earth to date, and the awarding of this contract means from next year construction on the new airport runway and taxiways can begin," Minister for Communications, Urban Infrastructure, Cities and the Arts Paul Fletcher MP said.
Following the award of the airfield design and construction contract, works can ramp up further at the Western Sydney Airport site.
Works will include building a 3.7-kilometre runway and rapid-exit taxiways that features a cutting-edge technology and design that will help reduce taxi times as well as prevent delays on the tarmac.
"Our airfield's design means we'll safely get planes in the air or to the gates faster.
"At Western Sydney International, we'll get passengers on their way sooner, whether that's getting to your meeting on time of arriving home to loved ones.
"Passengers and airlines will love using Western Sydney International because the experience we deliver will be seamless, safe and reliable from start to finish," Western Sydney Airport CEO Simon Hickey said.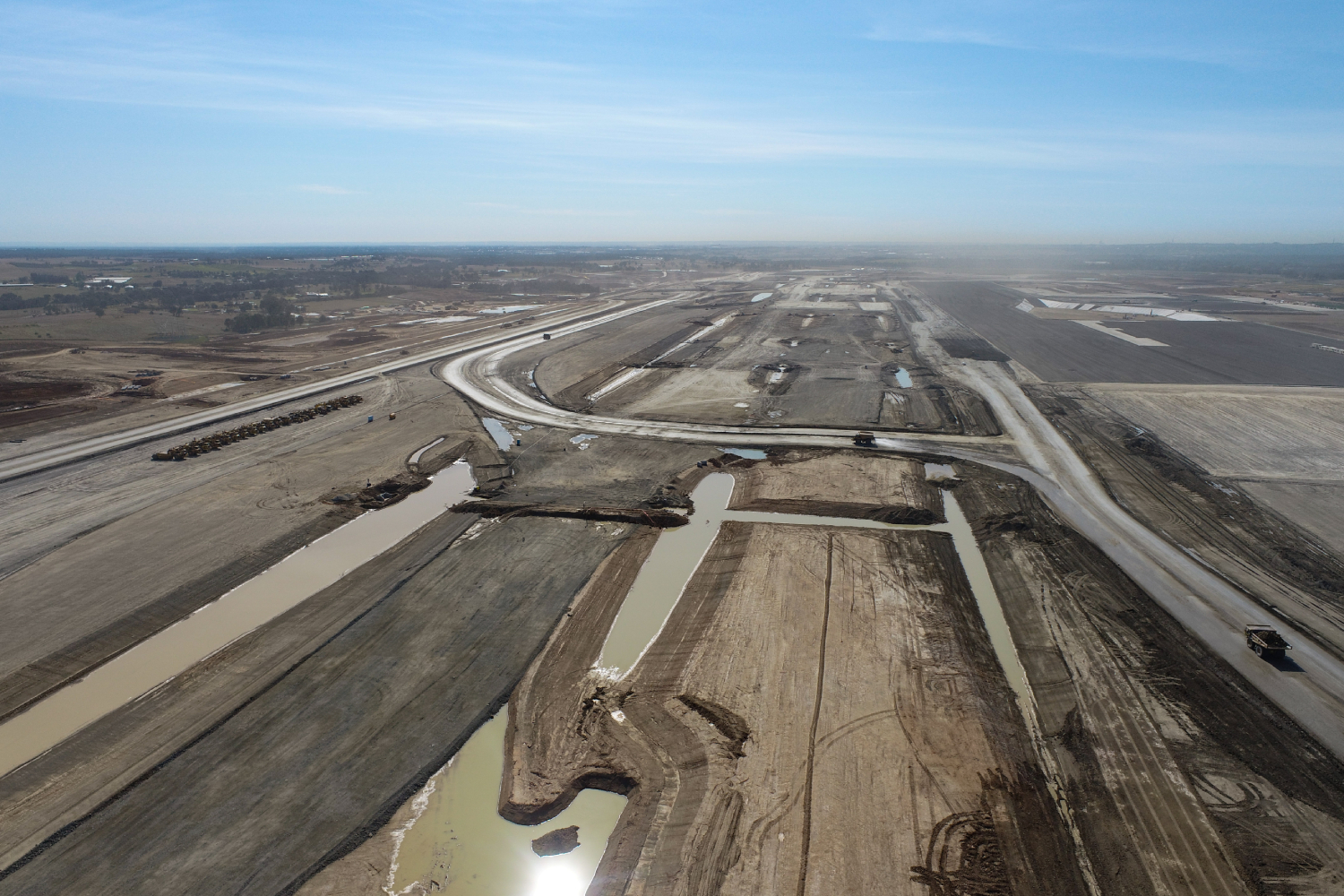 Project site (source: Minister for Communications, Urban Infrastructure, Cities and the Arts)
Sustainability will remain a key focus in the construction of the airfield and terminal to help reduce fuel burn and emissions. LED lighting is going to be utilised along with recycled content where appropriate during the construction stage.
Crushed sandstone taken from tunnelling projects across Sydney is going to be reused as a "high-strength foundation" for the construction of the runway, taxiways and roads.
In addition to runway and taxiways construction, more than 40 kilometres of roads and the installation of 3,000 aeronautical ground lights are included in the airfield works.
Other works will include the installation of 90 kilometres worth of power and fibre optic cables to electrify the airport as well as "enable the delivery of tomorrow's technology to what will be Australia's new gateway to the world".
"With the contract for these major pavement works now locked in, billion in economic activity can continue to progress and many more of the thousands of direct and indirect jobs set to be created from the project can flow at a time when stimulus in Western Sydney is more critical than ever.
"We are also on track to begin construction of the integrated passenger terminal at the end of this year, which will have the capacity to handle up to 10 million passengers a year when the airport opens in 2026.
"This project is a vote of confidence in Australia's future, providing a reminder that we will return to a world of air travel for both business and pleasure," Minister for Finance Simon Birmingham said.
Scope of works under CPB Contractors and ACCIONA's contract include airside services and utilities such as aircraft pavements, aircraft isolation pad, airside roads, landscaping and aeronautical ground lighting system – including substation buildings – and other specialist systems.
Works will commence in 2022 and are estimated to take two years to complete.
Airfield construction is anticipated to create approximately 1,200 direct jobs and support more indirect jobs through flow-on benefits to subcontractors, suppliers as well as the local economy.
"CPB Contractors will work closely with our client to deliver these aviation facilities for the millions of passengers who will be using the new Western Sydney International Airport. We will leverage our experience in delivering major projects in Western Sydney to maximise training and jobs for local people and economic opportunities for local suppliers," CPB Contractors Managing Director Jason Spears.
"We are thrilled to continue our work for WSA to deliver critical public infrastructure that will provide jobs and economic opportunities for Western Sydney. This award is testament to our strong partnership with CPB, whose experience in delivering Brisbane's new runway complements our pavements expertise for this job perfectly," ACCIONA CEO in Australia and New Zealand Bede Noonan said.
Source: Western Sydney Airport; Minister for Communications, Urban Infrastructure, Cities and the Arts; CPB Contractors; ACCIONA Australia