Simply putting it, employment is growing, and not in our 'traditional' centres (i.e. CBD).
General Manager Queensland of MacroPlan Dimasi, Mark Courtney, discussed the employment patterns and future trends that help identify opportunities and risks for the region, saying that there is an "increasing tendency for employment growth in non-central locations".
Recently Queensland's growth has been underpinned by the energy and resources investment boom, with drag on growth from mining expenditure reducing, while exports are supporting growth.
For the Moreton Bay region, the largest growth in sectors between now and 2019 will be in the following industries: retail; construction; health care and social assistance; accommodation and food services; and professional, scientific and technical services.
It's not only great to see a direct impact on the construction industry, but growth areas of the future (eg, health and social, professional) are reliant on proximity to their markets, which provides an additional opportunity as infrastructure needs to be built to support this growth.
2. Queens Wharf Project Opportunities
David Edwards, Projects Chief Executive, Special Projects Unit, Department of State Development discussed the opportunities for SEQ on the much anticipated Queens Wharf Project.
Not only is the project focused on driving tourism and increased incremental interstate and international tourism spend, but the benefits of the project will deliver significant capital investment stimulating the Queensland construction sector over an eight-year period (2017-2025) with long-term supply chain and regional development opportunities in sight.
This $3b development is one to get excited about. Proposed showcase dates can be found below: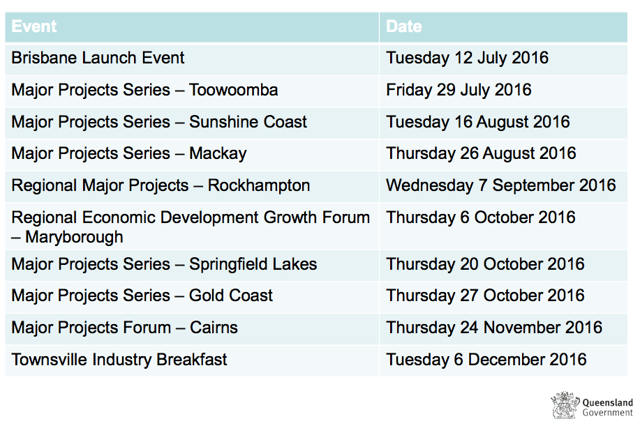 3. Moreton Bay Region Developments and Business Transformation Strategy