The Andrews Labor Government will partner with Transurban to build the $5.5 billion Western Distributor Project, which includes the Monash Freeway Upgrade and upgrades to Webb Dock.
Premier Daniel Andrews, Treasurer Tim Pallas and Minister for Roads Luke Donnellan released the Victorian Government's reference business case, which shows the project stacks up financially, delivering a benefit of $1.30 for every dollar invested.
"This represents value for money, it is a strong proposal creating thousands of jobs," Mr Andrews said.
"This project stacks up, it will save time and create jobs … we are going to build this road and work will begin next year."
Value: $5.5 billion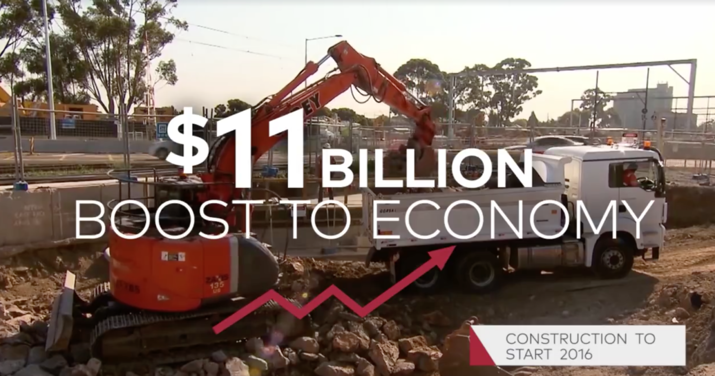 Image source: Department of Economic Development, Jobs, Transport and Resources, State Government of Victoria, Australia
Client: Transurban
Opportunities for contractors and suppliers: Transurban chief executive Scott Charlton said work on the Webb Dock access would begin soon, with a contract for the Monash upgrade to be signed next year, before contracts and final plans for the Western Distributor in 2017.
Image Source: Department of Economic Development, Jobs, Transport and Resources, State Government of Victoria, Australia
Funding: The project will be funded through a combination of tolling on the Western Distributor, an extension of Transurban's CityLink concession, and State and Commonwealth contributions.
The state already has $1.5 billion worth of federal funds from the dumped East West Link, Mr Andrews said, and he hopes the Turnbull government would be a "strong partner".
The Premier indicated the state would make a contribution similar to that of the Monash upgrade, which is expected to be $400 million.
Western Distributor Project Scope: The Western Distributor will deliver immediate travel time savings of up to 20 minutes a day, take 6,000 trucks off the West Gate Bridge, and create 5,600 new jobs. The project includes the following works:
Webb Dock Access improvements: an early works package of the Western Distributor project, with upgrades to Cook Street and the West Gate Freeway-to-Bolte Bridge ramp to complement VicRoads' nearby port-related works already underway and improve safety and access from Webb Dock. At a cost of approximately $60 million, improvements will be delivered as part of the existing CityLink Tulla Widening project.

Western Distributor: a tunnel and elevated motorway connecting the West Gate Freeway with the Port of Melbourne, CityLink and the CBD. This will ease pressure on the West Gate Bridge, feature managed motorway technologies and increase the river crossing capacity by up to 60 per cent.

West Gate Freeway widening: two additional lanes in each direction between the M80 Ring Road and the West Gate Bridge, which will also incorporate managed motorway technologies. Capacity of this corridor will be boosted by 50 per cent.

Monash Upgrade: in partnership with VicRoads, improvements to safety and travel time reliability along 44 kilometres of road, including an additional lane in each direction for 17 kilometres. It includes widening of the freeway in both directions from four to five lanes between EastLink and the South Gippsland Highway and from two to three lanes between the South Gippsland Highway and Clyde Road. In addition, roadside technology upgrades will be installed between Warrigal Road, Chadstone and Koo Wee Rup Road, Pakenham.
The final scope and design will be confirmed in consultation with the community, local government and industry during a comprehensive planning process to be undertaken during 2016.
Image Source: Department of Economic Development, Jobs, Transport and Resources, State Government of Victoria, Australia
Expected Project Timelines: Transurban will now work with the Victorian Government to finalise the scope of the project, including the design of the Western Distributor tunnels and the exact locations of connections to the Port of Melbourne and CBD.
The project scope and construction costs for the project will be confirmed following completion of a statutory planning process, which will commence in 2016.
Webb Dock Access improvements
Delivered with CityLink Tulla Widening works to minimise disruption to motorists

Late 2015: Construction commences

Early 2018: Works complete in line with CityLink Tulla Widening project
Western Distributor and West Gate Freeway widening
To be delivered through a competitively procured design and construction contract

2016: Planning and procurement processes begin

2018: Construction commences

2022: Works complete and open to traffic
Monash Upgrade
Expected to be delivered in partnership with VicRoads
Late 2015: Expressions of Interest go to market
Late 2016: Construction commences
2018: Works complete
"Whilst we will break ground on the Webb Dock Access improvement package later this month, significant capital expenditure from Transurban is not expected until major capital construction works commence on the West Gate Freeway/Western Distributor corridor, which would occur in FY2018," said Mr Charlton.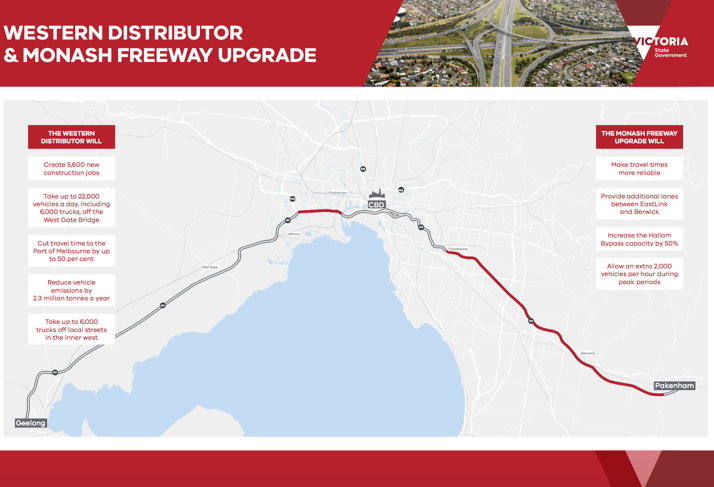 Image Source: Department of Economic Development, Jobs, Transport and Resources, State Government of Victoria, Australia
The Western Distributor project is certainly an exciting development for VIC and suppliers looking to work on the project need to invest time into the project now.
For those looking to put their bids forward, we've created a free eBook on 10 tips to successful tendering. The content of this eBook was developed from a QLD Government tendering workshop so be sure to download it below to get a thorough understanding of what's going to help your business stand out from the crowd.
If you need to procure equipment quotes for your project, get in touch and we'll dig you up rates for free.