We take a look at five landmark building projects that are planning proposals or have recently lodged Development Applications with the Brisbane City Council.
Proposal stage: 76 storey skyscraper at 545 Queen St
Property Development Systems Australia lodged a Development Application in late February to build a billion dollar skyscraper known as Queen's Tower that will encompass luxury residences, premium short-term accommodation and a new shopping and dining precinct on Queen St in Brisbane's CBD. The DA number for this development is A004333299.


"As the Brisbane urban landscape changes [with the Howard Smith Wharves precinct expected to open in mid-2017 and Queen's Wharf to follow in 2022] and the population increases, Queen's Tower will respond to that future need for quality inner-city living," says PDS Australia executive chairman Sameh Ibrahim.
A current ten storey commercial building would be demolished to make way for the new 76 storey Queen's Tower
Queen's Tower will have Brisbane's deepest basement – diving 17 levels below the surface. Because of this, the car park is only accessible by four car lifts
2,735m2 island site at 545 Queen Street, Brisbane (sits
between Queen, Adelaide and Macrossan Streets at the north eastern end of the Brisbane CBD)
250-metre, 76-storey building featuring 891 luxury residential one, two and three-bedroom apartments (including 14 sub-penthouses) and three four-bedroom penthouses
100 serviced apartments, including 80 one-bedroom and 20 two-bedroom apartments
Private open-space podium roof deck with swimming pool and lush landscaping
Four ground level retail tenancies (approximately 2,500m2) as well as commercial space, including shopping, dining, a podium-rooftop café, gymnasium and function space
853 car parks, 71 motorcycle parks and 752 bicycle parks, with designated car park spaces for residents, their guests, serviced apartment guests and retail/commercial visitors
Project team includes PDS Australia, Woods Bagot, Urbis, EMF Griffiths, TTM, Bornhorst + Ward,Certis, Bennett + Bennett and Butler Partners
Proposal stage: 25 and 32 storey towers at 97 Elizabeth Street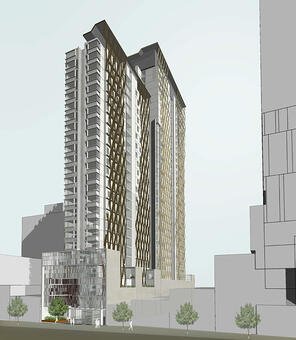 El Camino Priority I Pty Ltd submitted a new Development Application in December to build two towers (25 storey and 32 storey) for premium student accomodation on Elizabeth Street. The DA number for this development is A004280556.

towers would have combined total of 919 rooms

features of the proposal include ancillary areas such as level 24 outdoor terraces with barbecue, yoga and pool deck, recreational media and games rooms, multi-function rooms, and study space

proposal incorporates an internal laneway network with ten retail tenancies which has the potential to adjoin the laneway currently only used for servicing for the adjoining sites to the west on Elizabeth Street
retail component of development will be of high calibre and cater to

the surrounding employees, permanent residential community of the Brisbane CBD and general visitors to Brisbane

development incorporates a proposal for the redevelopment and revitalisation of the Elizabeth Arcade

project is the CBD's fourth purpose build student accommodation project after the Brisbane City Council's
Proposal stage: 91 storey skyscraper at 240 Margaret Street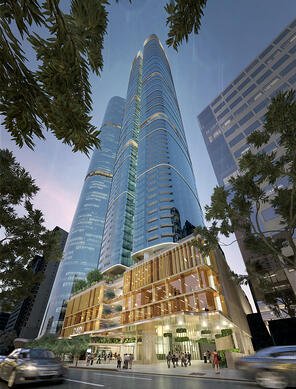 World Class Land, a leading developer in Singapore, has lodged a initial documentation to build a 91 storey residential building on Margaret Street. The tower would reach the maximum-height limit of 274 metres and would, in effect, be a twin to the adjoining Brisbane Skytower. The DA number for this development is A004329531.


World Class Land was approved for another 91 storey tower at 30 Albert Street last December

The development would feature 783 units, mostly one, two and three bedroom apartments

The development would be divided into three precincts, determined by low rise, high rise and sky rise
These precincts would be separated by community spaces that would feature pools, dining and kitchen rooms

The maximum-height restrictions are in place due to shadowing, which would interfere with planes using Brisbane Airport

A Brisbane City Council spokesman said initial documentation had been lodged by World Class Land, but a full application had not been formally received
Proposal stage: 80 storey skyscraper at 171 Edward Street
Brisbane-based Aria Property Group has proposed it's first 80-storey residential tower in the Brisbane CBD, located at 171 Elizabeth Street. Soaring 80 storeys high, the new tower is planned for the corner of Elizabeth and Edward Streets, which currently the site of several luxury retail boutiques. The DA number for this development is A004280600.
Comprises of a 4 storey podium and 76 storey tower above
The development proposes 653 units throughout the tower and 1,950m2 non-residential Gross Floor Area (GFA) with retail and commercial tenancies at the ground and podium levels
Reaches Brisbane's current maximum height (274m AHD) due to Brisbane Airport radar shadowing issue
6 level basement car stacker and 7 level podium car stacker system planned (384 car spaces)
The proposal comes just after the Brisbane City Council's announcement for a $11 million upgrade to Edward Street which aims to create an internationally renowned luxury high street
Planning stage: $400m Brisbane Entertainment Arena
A private c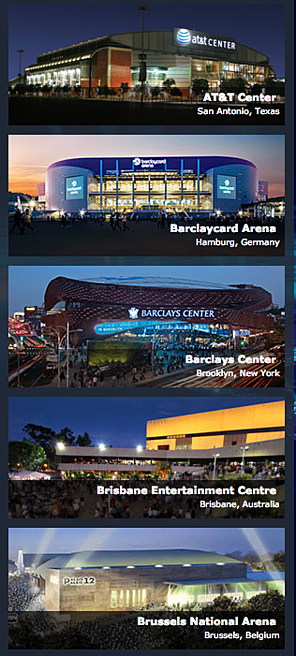 onsortium lead by AEG's Australasian arm AEG-Ogden, the world's largest entertainment venue operator, is planning a new $400 million entertainment venue in the heart of the city. AEG is responsible for venues like the Barclays Center in New York, the 02 Arena in London, "Brisbane, a city with a metropolitan population of 2.3 million and a regional population of 3.4 million has no dedicated CBD or inner city based entertainment arena and is seen as a huge potential money cow" says Brisbane Development.
Brisbane-based chairman and chief executive of AEG-Ogden Harvey Lister said it's time for Brisbane fans to be provided with the next generation top level facilities, building on an international trend for inner city locations with easy public transport routes
Several sites are being considered for the venue but the Sunday Mail reports the frontrunner is the Riverside Parmalat dairy factory in South Brisbane, adjacent to South Bank's existing cultural facilities QPAC, Queensland Museum and GoMA. "The Parmalat site would be walking distance from the new $3 billion Queens Wharf Integrated Resort, effectively creating a ring of state-of-the-art entertainment facilities around South Bank and the CBD" says Brisbane Development
The State Government is currently investigating a market-led projects scheme proposed by the Brisbane based consortium
The privately funded project has received unanimous support from Brisbane political figures with Lord Mayor Graham Quirk saying he "welcomes investments for projects that will add to the lifestyle and leisure opportunities for Brisbane" and competing Labor candidate Rod Harding confirming "Brisbane deserves a world-class entertainment venue in the CBD."
With projects like these in the pipeline, it's important to know you've got the collateral that best represents your business capabilites. Check out our free guide, created from a QLD State Planning Tendering workshop, that helps local businesses prepare for valuable project opportunities.