Value can mean different things to different people in construction. To most contractors, procurement is driven by value for money. However, it's important to remember that the lowest price is not the only indicator of value, and an offer can represent serious non-cost benefits like fitness for purpose, quality, delivery, service, support and sustainability impacts. I caught up with Ben Brown, Business Development Manager of H2flow, South East Queensland's leading water services carrier, to ask some questions about the hire industry and the direction it's heading in.
About H2Flow

H2flow started in 2001 as a two truck business and expanded to a fleet of 28 various sized water trucks and nine trailers. They're a 100% Queensland family owned and operated business and has steadily grown through contracting to the civil and construction industries, horticultural industry, private sector and Government.

Covering everything to do with potable and non-potable water transportation, delivery and services, H2flow's success has seen them very recently acquire Harrisons Hire. With 130 additional pieces of equipment, H2flow now offers dry hire mini tippers, mini water tracks, mini vacuum trucks, water trailers, trailer mounted pressure cleaners and vacuum trailers.
Image: H2flow's yard in Sumner Park, QLD
S: What is H2Flow doing now that it wasn't doing 5 years ago?

B: The hire market has changed, and any hire company that plans to stick around must adapt with it. In recent times, we've applied a greater focus on four major areas of our business; our people, systems, quality of equipment and adherence to compliance. In our experience, nothing beats 'shoe leather' marketing and so we've appointed a dedicated BDM resource to follow up on both PlantMiner leads and our own organic reach, focused on building business opportunities and relationships through having a greater presence in the field. We've also strengthened our quality assurance systems, with our Operation Supervisor overseeing major projects, reporting back to clients and maximising efficiency. H2flow's company capabilities now include:
National Heavy Vehicle Accreditation which recognises operators who have robust safety and other management systems in place. This means we're recognised by the Department of Transport and Main Roads as competent to self-regulate the Maintenance Management Systems relating to compliance and servicing of heavy vehicles.
Upgrades to our vehicle technology, with In Vehicle Monitoring Systems (GPS tracking and communications) installed into all trucks for both driver safety and full accountability of work performed.
Diversification of our fleet, especially in the dry hire arena, acquiring specialised trucks for both civil and horticultural works. This expansion is the result of organic growth and acquisitions such as Harrison Hire. With 130 pieces of new and specilaised plant and equipment, H2Flow has never been in a better position to supply water services. We're now working towards expansion outside of South East Queensland.
In a nutshell, we'll continue to focus our energies on providing the best equipment and operator for the specific project.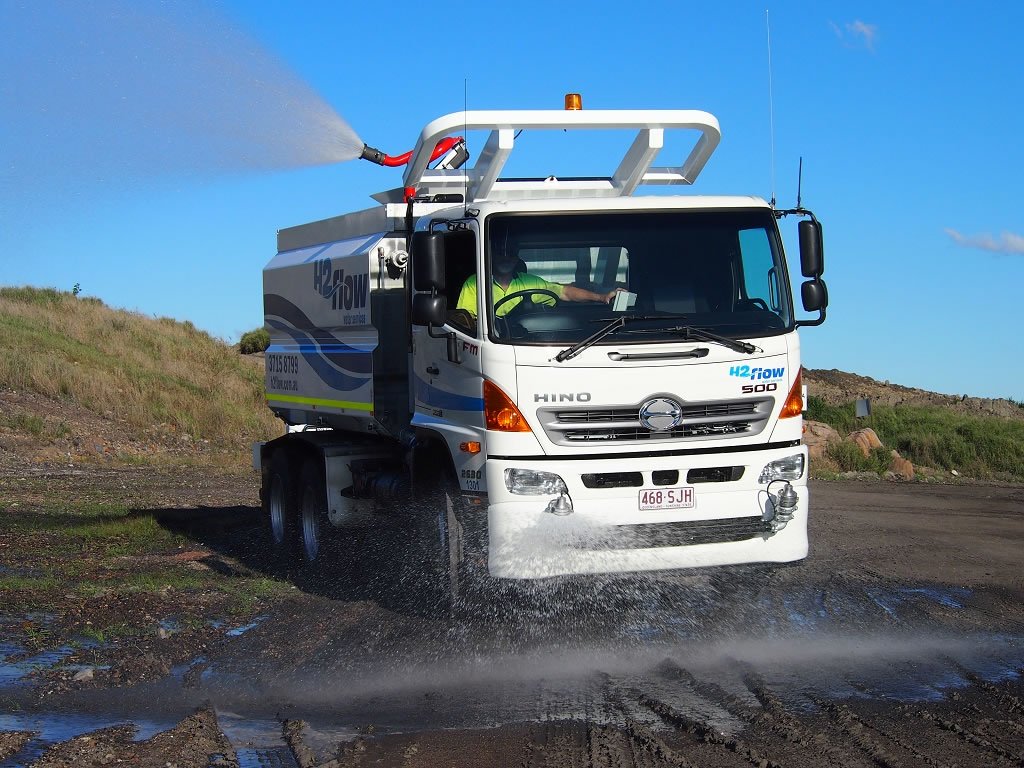 Image: One of H2flow's civil water truck using front sprayers
S: How are needs changing in the hire market?
B: The lack of infrastructure projects throughout Queensland often means that the cheapest operator will be awarded work, and the market has seen some really poor safety standards on-site as a result. The hire market is very competitive, and often allows the client to dictate the price.

With the return of El Nino, weather conditions, and a number of major projects finally getting the nod in South East Queensland, the supply of plant and equipment will become an issue. Whether it be dry hire water trucks, wet hire water trucks, or even one of H2flow's water trailers, it's important to forecast supply and book early! Past experience has shown us at H2flow that when these trends occur, especially during extended periods of dry weather, water trucks are rarely available for the last minute inquiry.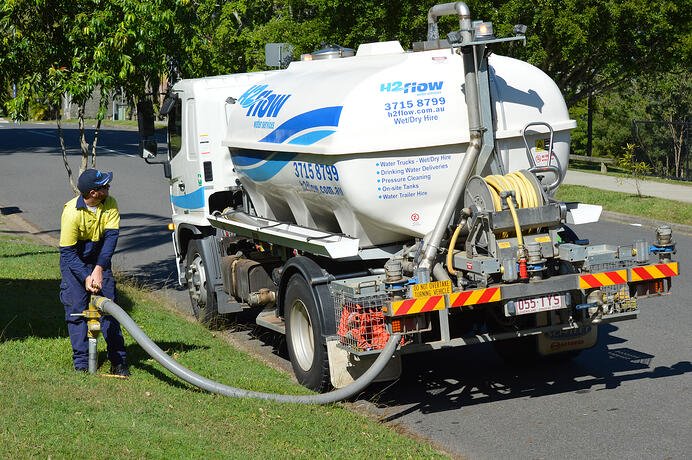 Image: H2flow team member filling water truck
S: What would you like to see happen for the industry?

B: As previously mentioned, price alone is rarely a reliable indicator of value for money. Cheaper is not always better. There needs to be more industry recognition that benchmarks should not be based on rate alone. Clients are expecting higher levels of compliance, operational competency than ever before however current hire rates are lower than they were 7 years ago. The continued downward pressure on rates means that operators will look to cut corners which has a direct negative impact on quality of work & on site safety. Quite simply, this needs to change.
S: What was your a-ha moment for growing H2Flow's opportunities online?

B: We've used traditional marketing like project-to-project word of mouth, email data bases, yellow pages, foot leather and general web marketing. H2flow has trialed with a number of online plant portals, but recently decided to throw our marketing spend behind PlantMiner as they have been able to deliver quantifiable leads which led to confirmed work. We're four months into our PlantMiner subscription, and have already secured three contracts. Equally as important, PlantMiner has allowed us to develop our networking opportunities through their Business Development team, and increased our client base.
In this market, these benefits were a no-brainer for a hire company like ours.

H2flow's fleet and capability can be found on their website and on PlantMiner, listing equipment such as 4,000 litre water truck, 9,000 litre water truck, 13,000 litre water truck, 18,000 litre water truck, 28,000 litre water truck, 1,800 litre water trailer, site water tank container and potable water deliveries and services.
If you're involved in procurement, on a private or company level, it's a powerful tool to know how to get the best value rates for your project. But we agree with Ben, contractors should be looking at a wider variety of elements that make up a 'valuable' offer. To help you better understand the changing market, we've created this free eBook on the 7 Factors Affecting Plant Hire Rates. Simply click the button below!