The new Western Sydney International (Nancy-Bird Walton) Airport in New South Wales is closer to welcoming its first passengers as construction gets underway on the world-class passenger terminal.
The beginning of works on the airport terminal marks a major milestone on the once-in-a-generation infrastructure development for Western Sydney as well as the country.
"The delivery of the Western Sydney International Airport proves once again our Government's ability to get things done.
"We have made this happen. It is already delivering major benefits for Western Sydney, as we knew it would, and it only gets better from here.
"Our total $14 billion investment in the airport and transport links is transforming this powerhouse region, attracting investment and supporting jobs for generations to come," Prime Minister Scott Morrison said.
Approximately 11,000 jobs are set to be supported through this significant infrastructure project, with about one in two workers residing in Western Sydney.
The new airport is also set to create thousands more jobs once operational in 2026 and millions of travellers welcomed into Sydney through the Western Sydney International (Nancy-Bird Walton) Airport each year.
In addition, the airport will play a vital role in Australia's future in aviation by providing global connections as well as open more possible new routes and services.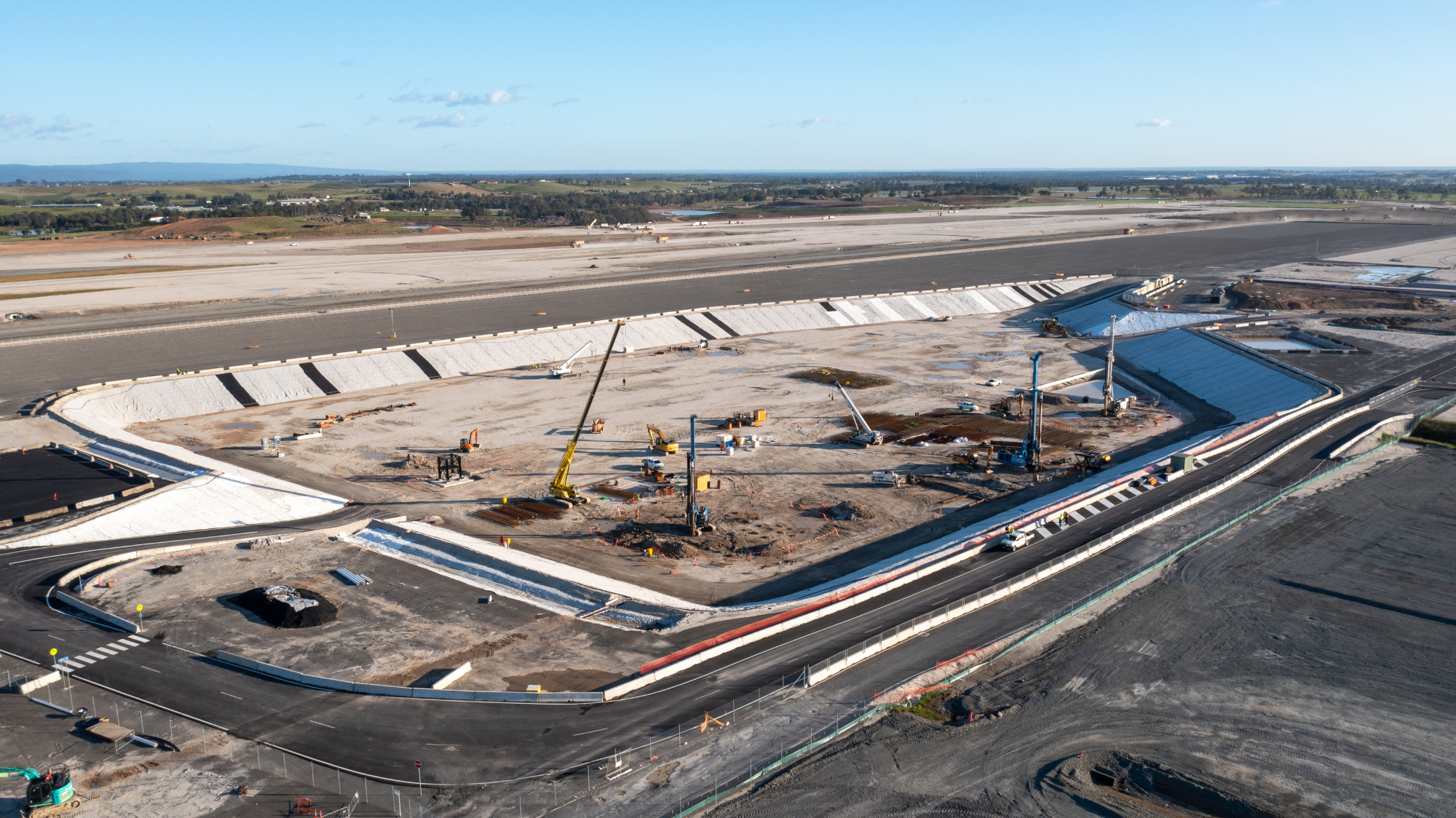 Project site (source: Western Sydney Airport)
To date, construction on one of the country's most significant infrastructure projects is one quarter complete.
Almost 22 million cubic metres of earth has been moved despite challenges brough about by the global COVID-19 pandemic, keeping the airport on track to opening its doors in late 2026.
"Today we announce another important milestone has been reached, with work now underway on the new state-of-the-art integrated passenger terminal, which will have the capacity to handle up to 10 million passengers a year once open.
"With this unique opportunity to build an airport from the ground up, we are able to roll out cutting-edge technology to make the passenger experience smoother and easier than at existing airports, and the security systems more effective but less intrusive.
"The new airport will not only be a state-of-the-art piece of infrastructure but is an integral element of the surrounding aerotropolis and the broader Western Parkland city," Minister for Communications, Urban Infrastructure, Cities and the Arts Paul Fletcher said.
Construction on the airport terminal alone is expected to create over 1,400 direct jobs and more indirect jobs through flow-on benefits to local suppliers and the economy.
Minister for Finance Simon Birmingham said that construction on the new airport had "hastened its seatbelt and was ready for take-off".
"Economic stimulus and job creation in Western Sydney is critical right now. Start of construction on the world-class terminal will see more jobs begin to flow in the coming months.
"Acting to build a second Sydney airport has been in the too hard basket for many years but our government is delivering this critical piece of infrastructure that will lift productivity and growth for decades to come," Minister Birmingham said.
The new airport has already exceeded its target for local employment and it will continue to create much-needed local jobs while construction progresses.
More than $100 million has already been injected into Western Sydney businesses, providing a significant boost in the local economy.
"This will drive more job creation for generations, particularly in the emerging industries recognising Western Sydney is at the forefront of fields including advanced manufacturing, research, and space, as a result of the Morrison Government's investment," Federal Member for Lindsay Melissa McIntosh said.
The passenger terminal will feature specialty retail, restaurants and cafes along with an outdoor plaza that has the capability to host event such as local food festivals, markets and community celebrations.
Sustainability is a key consideration for the new terminal, with its roof design to include a productive roof that will generate solar power and harvest rainwater. Throughout the terminal, sustainable and recycled materials are going to be utilised, including the structure, finishes and furniture.
A Sydney Metro station is going to be located at the terminal plaza, which will connect the Western Sydney Airport to Sydney's broader train network, as well as connections to Sydney's motorway network via the new toll-free M12 Motorway.
In June of this year, Multiplex was appointed as builder to deliver the new world-class passenger terminal. You can read more about it here.
Approximately $5.3 billion has been invested in Western Sydney International (Nancy-Bird Walton) Airport and the Australian Government has committed an additional $9 billion to deliver vital rail and road infrastructure that will help further transform the Western Sydney region.
The additional funding includes $3.5 billion for new major road infrastructure and upgrades delivered under the Western Sydney Infrastructure Plan and $5.25 billion to deliver Stage 1 of the Sydney Metro – Western Sydney Airport rail link.
Source: Western Sydney Airport (1, 2); Minister for Communications, Urban Infrastructure, Cities and the Arts