Excavators are one of the most popular bits of gear on both mining and construction projects. Whether driving by a job site, or even operating the machine, most have seen excavators ranging from 0.5 tonnes all the way to over 500 tonnes.
In recent times, excavators have diversified to meet different site conditions and all different types of excavators now exist. However, with so many options now available to the market, it's easy to become confused by which is which, or what does what.
For your convenience, we've created a comprehensive list of excavator types and their uses below.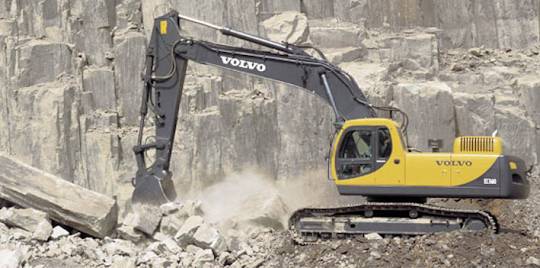 40 tonne Standard Excavator from PlantMiner supplier AJK Contracting
You will be most familiar with the standard excavator as it features on most job sites. The standard excavator ranges from 6 tonnes to over 500 tonnes. A standard excavator is used on projects ranging from a small construction job to a bigger digging job on a mining site. Other than digging, the standard excavator is also used for material handling, demolition jobs, dredging, forestry works, and even snow plowing. The excavator truly is a versatile piece of equipment.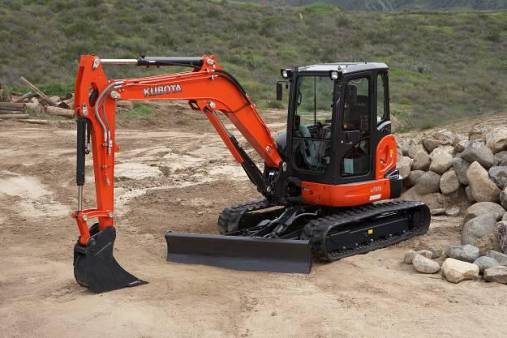 Mini excavators are a smaller version of the standard excavator – their tonnage usually ranges from zero to 5 tonnes. These mini diggers are perfect for small or tight access areas. A good example would be in your backyard – if you need to dig for a swimming pool, the mini excavator is the perfect equipment for the job as it can navigate through the limited space around your house.
5 tonne Mini Excavator from PlantMiner supplier John Kirby Excavations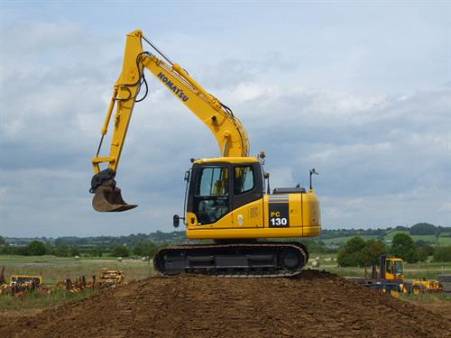 The defining factor of a knuckle boom excavator is that it has an extra joint on its arm. The extra joint that can also swing right and left gives it more versatility when digging and this allows the excavator to dig with more precision. The knuckle boom excavator also works like a standard excavator but because of the extra joint on its arm, it can easily reach areas that a standard excavator can't reach. It is also ideal for jobs on sites that has a cramped space or excavating around obstacles.
13.5 tonne Knuckle Boom Excavator from PlantMiner supplier Rob Iacconi Earthmoving & Demolition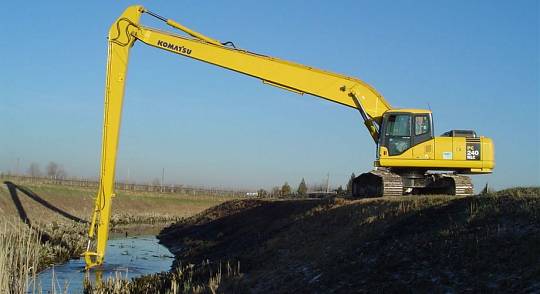 25 tonne Long Reach Excavator from PlantMiner supplier Conways Earthmoving
The long reach excavator has a longer arm compared to the standard excavator. The long reach excavator's arm has a reach than ranges from 39 feet up to a maximum length of 95 feet, whereas the standard excavator only has a minimum reach of 12 feet and a maximum reach of 41 feet. The longer arm makes it ideal for dredging and demolition jobs as this allows the excavator to reach certain depths or heights that the standard excavator cannot reach.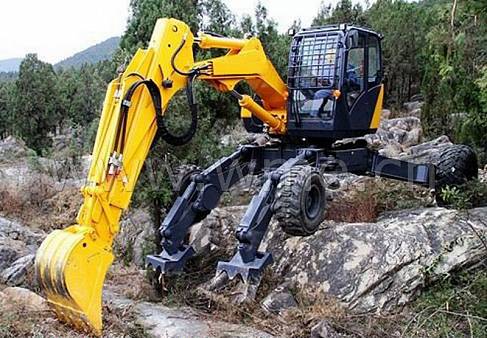 The spider excavator is considered niche equipment as this type of excavator was specifically made to work on all kinds of terrain, whether it be uneven ground, narrow ditches or any steep, inclined surface. Also known as the "walking excavator", the spider excavators special feature is it's undercarriage which consists of legs instead of tracks and these legs allow it to walk on certain environments - like the side of a small hill - that would be difficult for a standard excavator.
Spider Excavator from PlantMiner supplier Dredging Systems
Also known as an amphibious excavator, the swamp excavator is also considered specialised equipment as it was made to work in environments that involve water. The swamp excavator has a special kind of track that allows it to float on water, which makes it perfect for dredging jobs.
15.5 tone Swamp Excavator from PlantMiner supplier M.J. Latham Contracting
The zero swing excavator has a limited swing capability. It can only swing within the width of its tracks, which makes it ideal to use in tight, confined spaces.
13 Tonne Zero Swing Excavator from PlantMiner supplier K.A.B Earthworks
Excavators are the most utilised equipment in the industry and that's the reason why they are so diversified – you can even have a special attachment added to it, like the Clamshell attachment which makes it useful for grabbing debris and dirt.
Now that you're familiar with the different kinds of excavators and the type of jobs they can do, it will be easier for you to find the right excavator for your projects. All you have to do now is find the right supplier with the best rates for your excavator hire. We've developed this free eBook - 7 Factors Affecting Plant Hire Rates - to help you navigate through your next quote or tender.