Heading into their first unreserved auction for the year, Ritchie Bros. Auctioneers continue to have their finger on the pulse as the world's largest auctioneer of the heavy equipment and trucks sector.
Ritchie Bros. Regional Sales Manager for Australia North, Dale Spedding, provided us with exclusive insights on the current climate of the construction, agriculture and aggregate industries and how they are affecting the buying and selling of heavy equipment and trucks throughout Australia in 2019.

Key insights across major industry sectors
Spedding's insights into the heavy equipment and auction sector in early 2019 indicate that industry barometers are accurately reflecting not only the environmental climate, but the political climate in terms of machinery availability, demand and price.
"The transport industry has seen a recent increase in in-line haulage equipment availability, coming from a competitive market and decrease in rates, which has lead to a responding increase in haulage equipment off-loading and a drop in sales price at auction," comments Spedding.
The agriculture industry, in particular, has been hit hard due to environmental impacts over the past few years.
Spedding projects that this is due to a downturn in equipment availability as farmers hesitate to trade in equipment for hopes of a turn-around in work levels, saying that "dealers are sitting on an increasing amount of trade-in machinery leading to a mounting pressure to off-load inventory."
In contrast, Spedding forecasts that the aggregate and major construction sectors will continue to hold steady in terms of project and equipment demand. "Whilst concern over the political climate changing and leading to a decrease in civil works is allegedly on the minds of major contractors throughout South East Queensland specifically, already approved and awarded contracts are contributing enough demand for the next 2-3 years," says Spedding.
In particular, Tier 2 and 3 contractors are projecting to continue on an upwards scale, with the Queensland Urban Utilities' Southern Treatment Plants Project already being awarded and in line to commence work later this year.
With major construction works like the $10bn Surat Gas Project being approved to being development, the aggregate sector is thought to follow suit; with aggregate materials needed for all major works to provide roads and transport abilities whilst projects go ahead, the auction industry will continue seeing a demand in aggregate equipment including dump trucks and conveyors.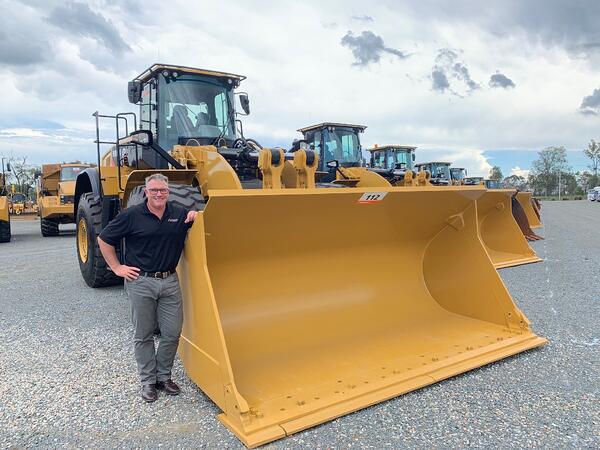 Source: (Ritchie Bros. Regional Sales Manager Australia North, Dale Spedding on-site)
Auction demands in early 2019 changing following new stock increase
Looking at how Original Equipment Manufacturers (OEM's) stock levels have changed within the auction landscape; Spedding discusses the excitement in an increase in new stock levels presented at auction from leading OEM's.
"The public will benefit from a jump in late model and low hour machines available at upcoming auctions after last years reported increase in costs for older machines due to low stock levels from OEM's." - Dale Spedding, Ritchie Bros. Regional Sales Manager Australia North
Major players including Hastings Deering and Hitachi have led the shift into new stock levels for auctions, receiving new gear ready to sell. Heading into the first auctions of the year, Spedding predicates the industry will see a decrease in demand for 5-6k hour machines that previously dominated the sector buying wise, and a steady competitiveness in 2k hour machines and new models.

Further predictions by Spedding include Kenworth and Mack Trucks decreasing their wait times to compete with other big contenders, Volvo Trucks and Scania, who are known to be more affordable in running costs and who's inventory is currently sitting low due to high demand.
Source: (Ritchie Bros. Brisbane Auction)
Ritchie Bros. kicks off with first unreserved auction for 2019
With their first unreserved auction being held on Thursday March 21st in Brisbane; Ritchie Bros. are expecting high interest in both excavators and low-loader equipment in particular. With an increasing amount of civil construction across major cities Sydney and Melbourne, the truck and dog market is predicted to pull particular interest across auctions, comments Spedding.
The auction, located at their Brisbane headquarters in Yatala, will be one of 4 auctions the Brisbane market can capitalise on in 2019, with Geelong holding another 4 auctions throughout the year for local buyers and sellers. For those who can't make it to the auctions, Ritchie Bros. also holds 11 monthly auctions on their online platform Marketplace-E, which also has a daily market sales channel for all your industry news.
Notable packages for the market to take interest in include Grain Harts' expectedly large grain transport package, SEE Civils' eagerly awaited offloading of gear following a recent purchase of a new earthmoving fleet and Darren Powell Transports package, all featuring at next Thursday's auction.
Highlights from the long awaited live auction are set to include over 300 completely unused items, 31 excavators, almost 100 trailers and close to 20 containers among hundreds more pieces of equipment and machinery.

Providing unreserved auctions for buyers and sellers within the heavy equipment and truck industries since 1958, Dale Spedding describes Ritchie Bros. key strength as their focus on holding unreserved auctions and giving the industry a voice to say where the market currently sits;
"We are allowing people to give us a market representation of what the gear is worth and where the market sits. They can tell us what it's worth and what the standard is."
- Dale Spedding, Ritchie Bros. Regional Sales Manager Australia North
With "no gimmicks or after-gavel negotiations, only the certainty of a sale" Dale Spedding says this brings forth loyal and repeat buyers who know they can be confident in what they are buying and how much for, and sellers who are given accurate estimations of their equipment and can easily off-load when the time comes.
Ritchie Bros. first unreserved auction for 2019 is being held Thursday, 21 March at their Yalata headquarters, 1-57 Burnside Road, Yatala, QLD, Australia 4207.

You can find PlantMiner at the upcoming Ritchie Bros. Auction next week in the Partners section, ready to discuss how you can capitalise on your recently purchased equipment.