Our Feature in Focus webinar series are designed to give you an in-depth look into Felix, so that you can better use its features and functionality to derive the most value from the platform.
On Tuesday, 26 September, we launched our first webinar of the series, which took a closer look at the Felix Contracts module so that attendees could learn more about How smart contract storage begins with Felix.
You can watch the full webinar here or take a look at what was covered in the recap below.
Introduction: How Felix is building a better way
Kristy Dale, our Product Marketing Manager, welcomed attendees and provided some insight into the customer problems we were hearing that led to Felix Contracts being created.
"At Felix, we continuously talk to our customers to understand their problems and help to solve them through Felix by building a better way.​
One of the problems we were hearing was that the strategic procurement functions in organisations were working hard to execute strong agreements for them to sit in filing cabinets or shared drives. As a result, team members didn't know what contracts had been executed and who with, what the agreement details were, and key dates and milestones were being missed. We heard it was a duplication of effort as teams unknowingly went back to a supplier at project time to start a conversation when all the work had already been done. ​
And that's how Felix Contracts was born. Enter a purpose-built contract repository designed for Felix users, where you can have contract information centralised within a vendor's profile." 
Participants were asked: How does your organisation currently store contracts?
As a user research activity, attendees were presented with a quick poll and asked to tell us how their organisations currently store contracts.
Interestingly, the results showed that: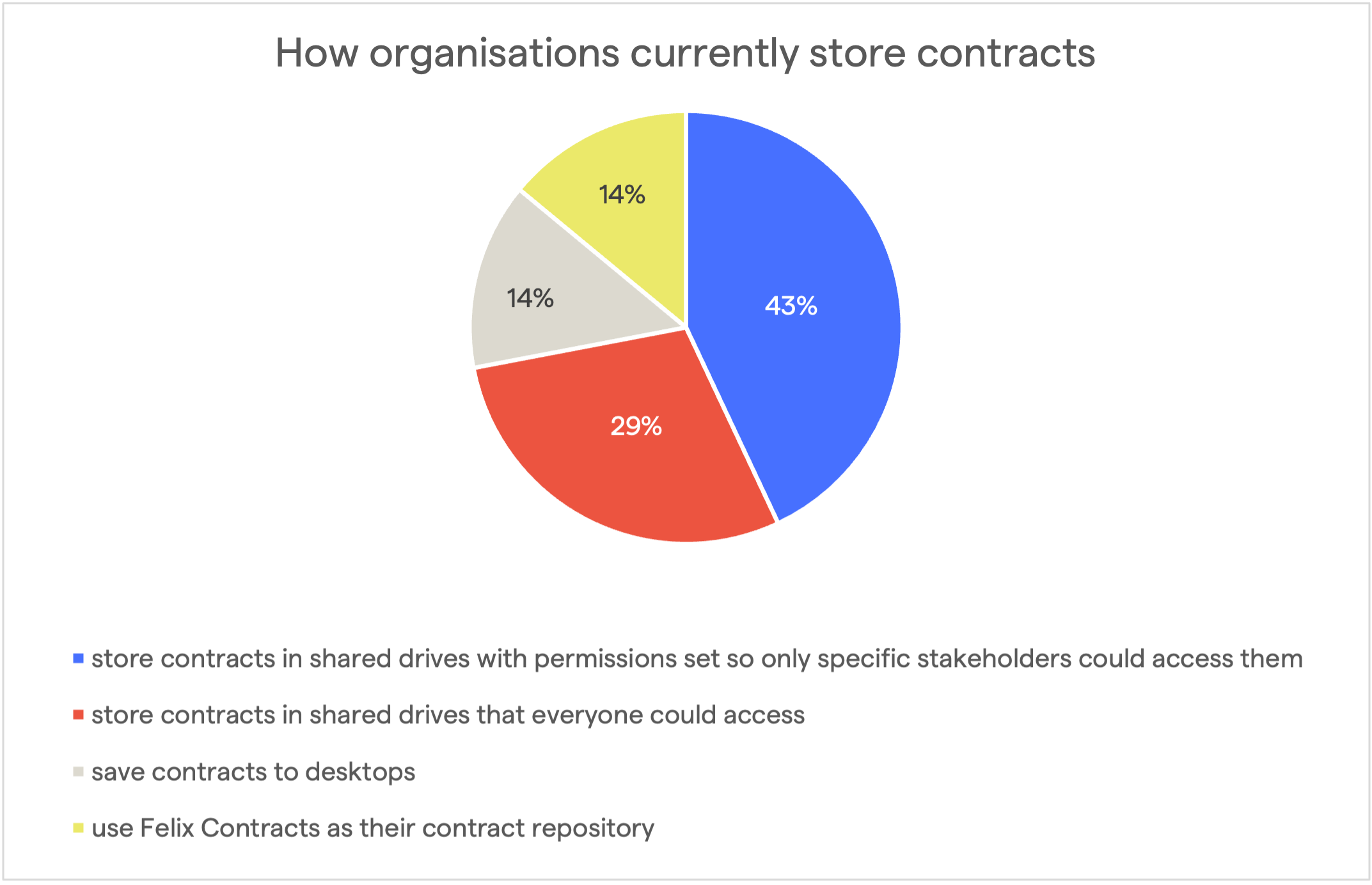 This was a great exercise for us to learn more about the common practices organisations are using to store contracts, but it also presented us with a strong opportunity to showcase Felix Contracts as the ideal solution to store contracts, working from a tool they already know and use so that they can negotiate smarter, unlock more value from Felix, and build even stronger vendor relationships.
Felix Contracts: Helping procurement teams position themselves as strategic champions
Kristy then provided an introduction on Felix Contracts, explaining how the real power of Felix Contracts comes in when used alongside other Felix modules to help procurement teams easily share contractual insights with their commercial teams.
"Felix Contracts allows you to centrally store agreements and supporting documents within Felix, providing one source of truth for you to manage contracts. ​
You're already using Felix's Vendor Management module to better manage your vendors. Harry will soon show you how Felix Contracts allows you to have contract information centralised within a vendor's profile, allowing you to access contract information in a matter of clicks.  ​
By using Contracts alongside our Sourcing module, you can link contracts directly to projects for a better view of what agreements support the tender process. ​
By centralising all this information, we are helping procurement teams position themselves to give them a seat at the table. Procurement teams are a strategic function and are where you make margin.​
The ability to demonstrate to your commercial teams what strategic suppliers you have existing standing offer arrangements or master services agreements executed with and be able to share that information is easy with Felix. The work previously done to negotiate strong agreements has sat in filing cabinets post-execution – you can bring this to life in Felix, and by doing so, we're helping procurement teams set themselves up as strategic champions.​"
Module spotlight: Using Felix Contracts to centrally store agreements in Felix to easily find, track key dates and report on contracts
Harry Lincoln, Customer Success Manager at Felix, then provided a closer look at the Felix Contracts module by giving an in-platform demonstration and speaking to the value that Felix's contracts repository offers.
As Harry demonstrates an in-depth look into Felix Contracts, we recommend tuning into his segment at the 7.15 minute mark in the webinar recording.
In summary, Harry showcases how you can:
Centrally store contracts in Felix to stay on top of compliance and make smarter procurement decisions. ​

Track key dates and add reminders to stay on top of deliverables and manage key contract events for better procurement outcomes. ​

​Understand how you can benefit from using Felix Contracts alongside other modules with a purpose-built contract storage solution.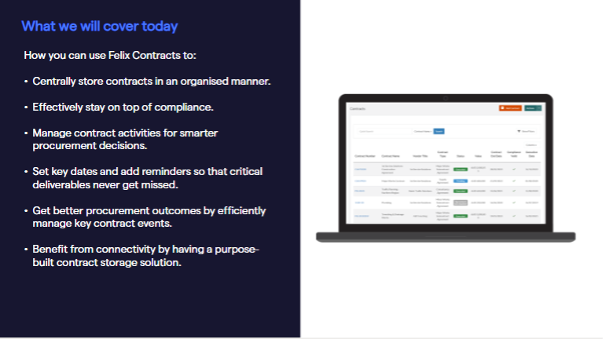 You can also get a recap of the questions asked throughout the webinar in our Webinar Q&A recap.
Next Feature in Focus webinar: Felix Vendor Onboarding – A step-by-step walkthrough
Don't miss our next Feature in Focus webinar that takes a closer look at vendor onboarding in Felix.
We get a lot of questions from our enterprise customers about the process vendors go through when they onboard – about what they see in Felix and what they need to do. So, we've put together this webinar to help Felix enterprise users gain a better understanding of vendor onboarding and prequalification in Felix, as we walk through this process from a vendor's perspective.
This is available on-demand, so you can watch a time that's convenient for you. Watch on-demand now.