The Australian Constructors Association recently launched their 2023-30 Strategic Plan, highlighting their vision for a future of increased productivity and improved environmental sustainability.
This vision is defined by two key goals and is supported by three focused objectives.
The first goal is to enable the construction industry's productivity growth to exceed that of other major comparable industries.
The second goal is to ensure the construction industry's contribution towards the national net zero ambition is fulfilled.
Whilst these goals are ambitious, they are grounded by three pivotal objectives.
"The three crucial elements necessary for an enduring and sustainable construction industry are a good culture, equitable commercial frameworks, and sufficient capability and capacity. Consider them as the three legs of a stool—if one of these legs is missing, the entire structure becomes unstable. To increase productivity and better manage environmental impacts, we need to work on improving all three of these areas," said ACA President, Annabel Crookes.
The first objective is to ensure contractors make a reliable return on the capital they invest in that is equivalent to other comparable industries. These reliable returns will allow the industry to increase its investment in research and development.
The second objective is to improve the construction industry's culture so that its diversity and inclusivity encourage all stakeholders to work collaboratively and are committed to improved outcomes for people and projects.
The third objective is to alleviate the skills shortage by promoting the construction industry as an industry of choice for workers of all ages, genders, and backgrounds.
ACA CEO, Jon Davies said, "If we get this right, we will close the productivity gap between construction and other major industries. Construction insolvency rates will finally reflect business participation rates and we can address the challenges currently faced by ongoing skills shortages. We can also ensure the industry's contribution to the national net zero ambition will be fulfilled."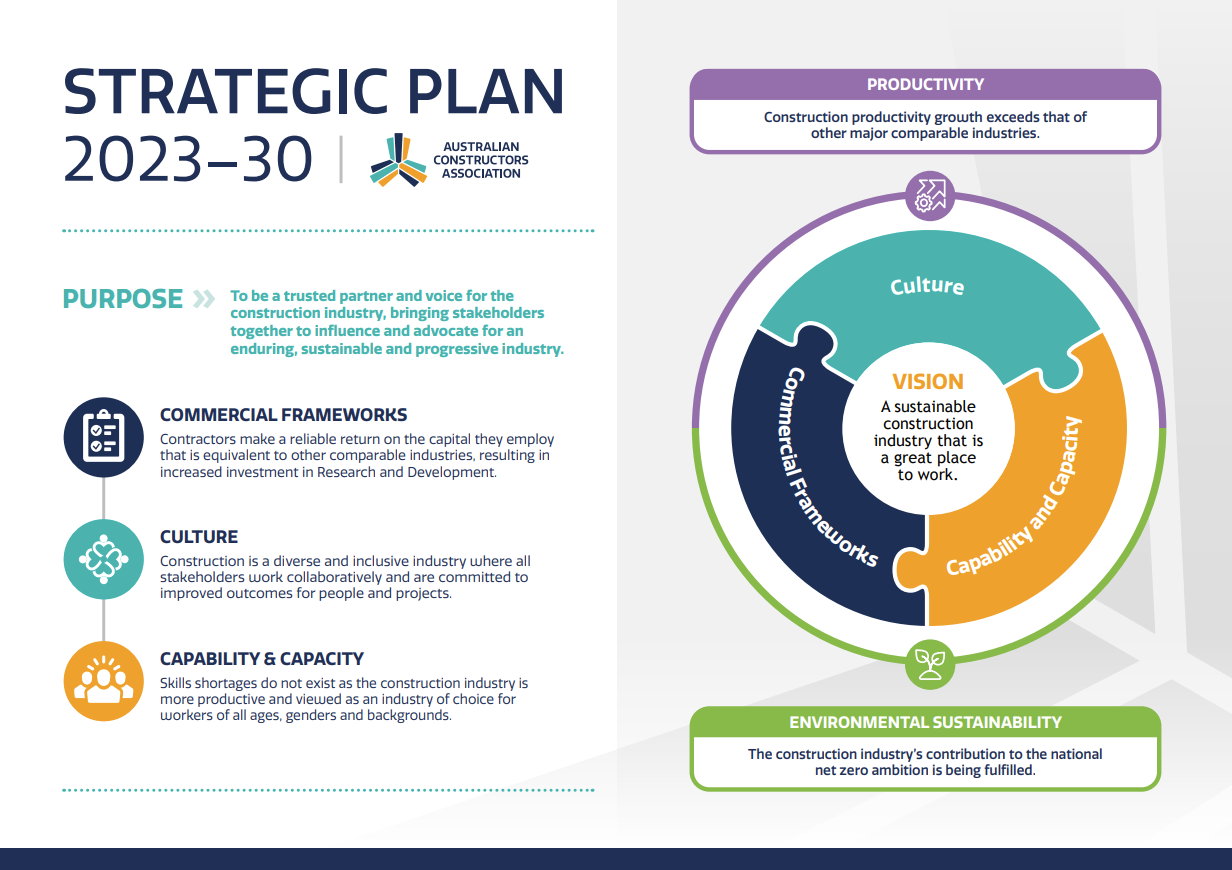 Source: Australian Constructors Association 2023
With financial stability and labour shortages at the forefront of the construction industry's mind, these objectives will deliver the outcomes the industry needs and cement ACA's role in bringing together stakeholders to create an enduring, sustainable and progressive industry.
At Felix we are in full support of driving the construction industry forward towards a more sustainable future, and we help by improving efficiency and mitigating risk. With a centralised vendor management platform, procurement processes are streamlined and ESG compliance can be better managed throughout the supply chain.
----
Want to see Felix in action? Feel free to request a demo here.