Procurement and supply chain management can be incredibly complex and critical for project success, especially in construction – where there are layers of subcontracting parties.
Why a procurement strategy?
When dealing with complexity it always pays to take a strategic approach. A documented strategy demonstrates that a thorough assessment of the available options has been conducted, it guides decision-making, improves productivity, increases efficiency and provides a framework for evaluation and benchmarking.
Defining the procurement strategy your organisation adopts helps deliver more predictable outcomes on time and on budget.
Which strategies have proven to be effective?
The two broad strategies we'll discuss here are Project Procurement and Category Management. As with any procurement exercise both strategies aim to optimise time, cost and quality, but their approaches differ.
A project procurement strategy performs procurement activities on a project-by-project basis. Requirements are planned, budgeted, sourced, approved and received for each project individually.
A category management strategy looks at procurement across several projects and takes advantage of economies of scale by consolidating procurement activities on a category-by-category basis. Similar requirements across projects are aggregated into a category, then vendors sourced to meet the requirements for the entire category.
How does strategic sourcing fit in?
Strategic sourcing is often discussed as a procurement strategy, but in this context it's considered an essential process that should be part of any procurement strategy.
Strategic sourcing is a formalised, data-driven approach to the upstream activities of procurement: needs and spend analysis, vendor discovery and RFx, negotiations, contract award, and lastly optimisation.
The strategic sourcing process should take place in both project procurement and category management and will help identify where and when each strategy should be adopted.
Project Procurement
A project procurement strategy focuses on managing compliance, risk, cost and quality within the constraints of a particular project. Once the design and requirements for a project have been specified, the procurement team will strategically source vendors.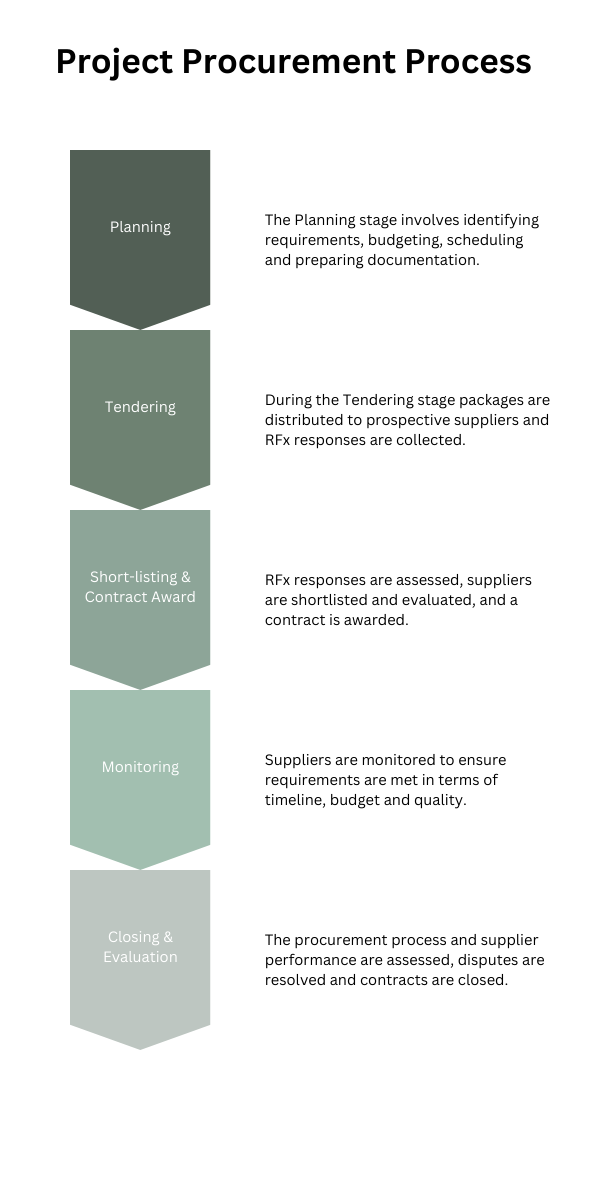 Benefits of project procurement
Project procurement is fast, flexible and can easily adapt to changing circumstances or irregular requirements.
Flexibility and agility
Projects that have specific requirements will benefit from a project procurement strategy which is able to deal with ad hoc situations and change. Tendering and negotiating are more flexible because materials and components are sourced independently rather than part of a larger order.


Risk mitigation
With vendor diversification risks are limited to specific projects rather than shared across a contractor's portfolio.


Bespoke solution
Not having to integrate with category orders allows a project procurement strategy to tap into specific expertise, specialised suppliers and access the best available resources for a project.


Assessment of new vendors
Project procurement is an effective way to trial and assess new vendors by ring-fencing the risk before exposing them to multiple projects or taking them on as a category vendor.
Category Management
A category management strategy aims to consolidate procurement activities and vendors by aggregating products or services with similar characteristics. If spend analysis indicates that there are opportunities for category management, relevant categories are created and their procurement follows a category management process.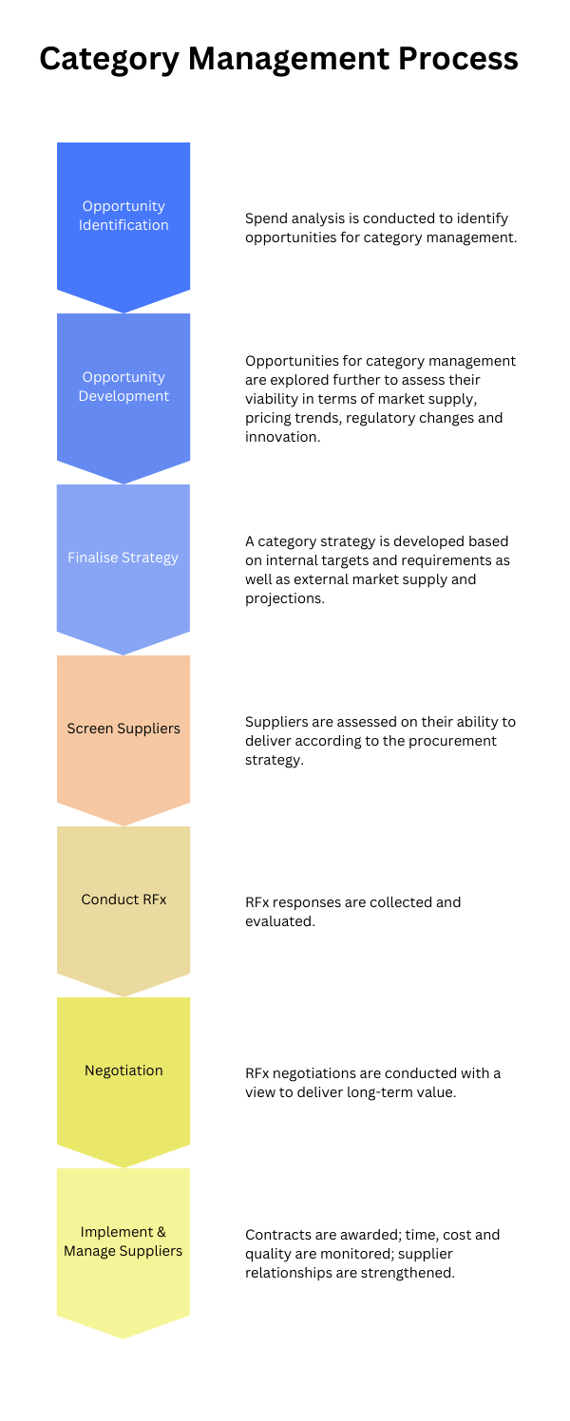 Benefits of category management
Category management allows procurement professionals to develop category expertise, creates economies of scale and fosters stronger relationships with suppliers.
Economies of scale
Aggregating spend and consolidating suppliers leads to increased negotiating power, better pricing and more favourable terms and conditions.


Holistic view of spend
Consolidating spend into categories allows for greater insight into how and where spend is being allocated, with which suppliers and helps to identify opportunities for improvement.


Better supplier relationships
Giving a category vendor a single point of contact enables stronger relationships, helps avoid conflict between projects and improves administration efficiency by reducing the number of contracts. With larger orders and longer-term relationships contractors can more easily create strategic partnerships with suppliers.


Supply chain expertise
Category managers develop deep market expertise which allows for better communication with suppliers and a more nuanced understanding of project requirements. Identifying key suppliers and developing competencies within a category helps to create competitive advantages.



Risk awareness and improved governance


Market expertise and insight help assess and manage supply-chain risk. Rogue spend is reduced and governance improved by centralising and consolidating procurement.
When to use each strategy?
While there are strategic benefits to category management there are operational considerations to take into account when deciding how to plan and structure procurement activities. It's important to note that these strategies aren't mutually exclusive, categories can be created and managed where there are opportunities and project procurement can be adopted elsewhere.
Through strategic sourcing, organisations can document the nuances of categories and develop insights into how to strategise procurement processes.
Number of projects
The greater the number of concurrent projects the more relevant category management becomes. With fewer projects there is less opportunity to create categories and the gains from category management become more difficult to realise without the bargaining power that comes from consolidation.


Types of projects
The nature of the projects (client type, industry and deliverables) will play a large role in determining if there are opportunities for category management. Having similar projects with common materials, products, services and ESG requirements allows for categories to be created and managed. With highly differentiated or multi-stage projects it may be more practical to utilise project procurement.


Procurement team structure
If procurement is centralised it's easier to implement category management as the procurement team will already have an overview of requirements across projects. If procurement teams are assigned per project some restructuring will be needed, and justified, to implement category management. Mature organisations who adopt a hybrid procurement team structure can enjoy the benefits of both category management savings as well as the flexibility of project procurement.


Procurement data aggregation
Linked to procurement team structure, if procurement data is centralised and aggregated it's easier to conduct spend analysis, develop a spend taxonomy and identify opportunities for consolidation.


Risk profile
The organisation's risk management strategy can play a role in determining which products and services should fall under category management. Lower risk items are generally safer to consolidate and procure categorically, whereas higher risk items can be better managed by diversifying vendors through project procurement.



Business strategy


The broader business strategy and the industries being operated in can dictate whether it's more beneficial to be lean and agile or large and powerful when negotiating.
How does Felix help execute procurement strategies?
As enterprise level vendor management software, Felix is robust and can be customised to support any procurement strategy. Felix can be configured to suit a wide range of procurement processes and integrates with ERPs and third-party applications to enhance existing capabilities.
The Vendor Management module helps with:
Streamlining vendor pre-qualification processes for more efficient onboarding.
Centralising data to better facilitate vendor performance evaluation and risk assessment.
Managing compliance and relationships with suppliers.
The Procurement Schedule module provides procurement visibility across projects to help with project procurement, budgeting, planning and reporting.
The Sourcing module helps with:

Rapid sourcing (or panel arrangement): procurement teams can quickly raise sourcing requests from vendors in a pre-negotiated rates panel.
RFx: tendering processes are conducted in-platform. Centralised and dynamically updated data make RFx administration simpler, improves efficiency and makes it easy to track progress.
With the various modules working together seamlessly to create a single source of truth, stakeholders - from operations to finance and executives - benefit from connected procurement planning and execution.


By capturing all related data in Felix, you can then export this to business intelligence tools. Having a view of procurement across different projects within an organisation helps conduct spend analysis, identify opportunities for consolidation and make more informed and strategic purchasing decisions.
----
Want to see Felix in action? Feel free to request a demo here.