We're very happy to say that our very first Product Showcase webinar was a great success, with a highly engaged audience tuning in to learn more about the customer problems we are solving through our product releases.
In case you missed it, our product showcase webinar covered:
What we've released in Sourcing, including an in-depth look at the InEight Document integration and new functionality that allows you to respond to an RFQ on behalf of vendors

How we've enhanced the Contracts module so that you're provided with more assurance in delivering value

A sneak peek into upcoming releases in 2023
If you want more insight, you can watch the full webinar, or if you want to hear about the key highlights, you can read our Product Showcase February 2023 webinar recap.
Let's recap some of the questions that were asked from our audience.
Questions about Vendor Management
Q: When onboarding a vendor, is there a way to identify the mandatory compliance document uploads from the optional documents? Often suppliers are confused as to what documents are required prior to pressing the submit button.
A: Vendors can see any mandatory compliance documents, these are labelled as "required".
As a staff user, you can go to Settings > Compliance Document Settings to see what documents are mandatory based on rules. Learn more about how to configure compliance document rules in our Help Centre.
Questions about Sourcing
Q: When adding a quote response on behalf of a vendor, is there an audit trail of what staff member or user has manually added a quote?
A: Yes, once you've added a quote on behalf of a vendor, their status will say Manually Quoted. When you click on this status, it will open up the details of the quote including who from your organisation added it, what time and what date. These details will be updated with any subsequent changes made.
When adding a quote on behalf of a vendor, you can also add any additional details in the response notes, which helps in record keeping and collaboration across the team.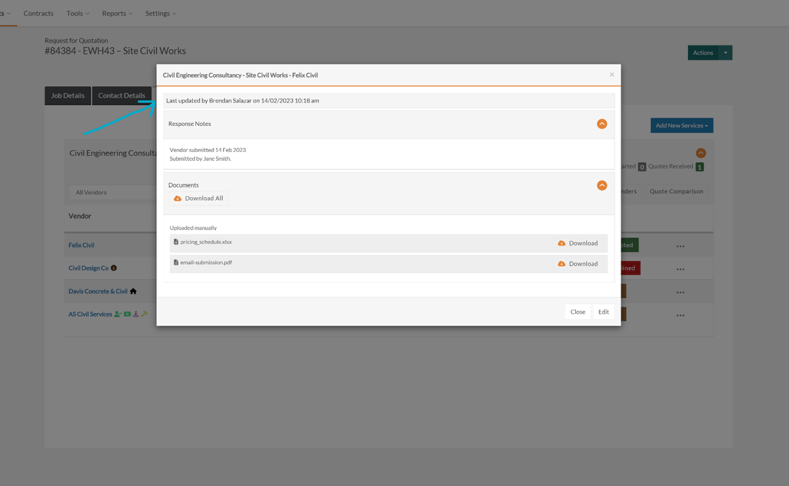 Questions about Contracts
Q: A new feature in the Contracts module allows you to set key dates and add reminders for compliance documents - what do you mean by compliance documents exactly?
A: Our Contracts module is used alongside and integrated with our Vendor Management module – when a vendor onboards through our Vendor Management module, there are a number of pre-qualification and compliance documents that a vendor needs to submit, which relate to the services they provide. For example, to have a license there would be certain insurances a vendor would need to have.
In the Contracts Module, we have a contract owner who, in most cases, is different to the owner for vendor onboarding and vendor master data management. There are scenarios where the contract owner is interested to know if insurances or licenses are pending expiry or have expired, as the timing of these doesn't always align with the contract expiry.

Q: How does the Contracts module integrate with RFQ's and RFA's?
A: The Contract module is currently linked via the Procurement Schedule.
Any contract that you create can be linked via the Procurement Schedule. In the Procurement Schedule you then have live visibility of a package's status as well as direct links to RFQ (Request for Quotation) and RFA (Request for Award) plus Contracts for clients using the Contracts Module.
Further integrations between our Sourcing and Contract modules are being continually investigated; we welcome your feedback on the highest priority workflows for you and your teams.

Q: In relation to the Contracts module, is there a way to push dates to Felix, for example from P6 or with an API?
A: Not at this stage, but there are long-term plans for this Contracts data to connect to other systems through our API in the future. Our API currently is available for interacting with data in our Vendor Management and Sourcing modules.

Q: Are there any plans to integrate third-party tools with the Contracts module? For example, it would be great to have the ability to send a contract to a supplier to sign-off internally to execute it?
A: We've done a lot of research around contract creation and the ability to then move it through and have it signed off with the help of third-party tools, such as DocuSign. This aspect of enhancement to contracts is further along than other parts of our research, and the more we hear from customers about requests like this, the more it helps our team prioritise.
Questions about the InEight Document Integration
Q: Do revisions get issued to vendors automatically when updated in InEight Document?
No, documents are not issued automatically to vendors. Felix will automatically detect if there's a revision to a document and we give you, the RFQ owner, the control on whether to release that document to vendors or not. This is an intentional design as want to prevent any errors, and also not all revisions warrant a full addendum that might distract vendors from the quoting process. For example, sometimes minor corrections are made to fix up spelling errors in documents, which may not require resubmission of that document to vendors.
Questions about the Product Roadmap
Q: Do you have any plans to integrate with vendor verification and compliance databases? It would be useful for vendor profiles to be linked to things like sanction databases and adverse media.
A: We are currently investigating opportunities for integration with 3rd party due diligence tools, such as Moody's and CreditorWatch.
We would love to learn more about customer needs in this space. You can participate in User Research with our Product Team, allowing us to understand more about the value seen in this type of integration and if there are preferred providers.
If you have any other questions about what we covered in our Product Showcase webinar, or about Felix in general, we would love to hear them. Reach out to us, and we will get the right person to respond to you.