We're excited to present to you our second webinar in the series – Evolving Felix, a Product Showcase.
At Felix, we strive to build a better way for our customers to make smarter, more efficient, safer and socially responsible procurement decisions. As our passionate team continues to evolve Felix to help you do so, our Product Showcase webinars take you along the journey so that you can see the latest enhancements and learn about what's in store next.
You can watch the full webinar here or take a look at what was showcased in our recap below.
Feature spotlight: Australian Business Number verification for vendors
Kristy Dale, our Product Marketing Manager, showcases a new integration with the Australian Business Register (ABR) to help reduce the risk of incorrect vendor data when onboarding.
Kristy explains the problem we were hearing from vendors and our enterprise customers.
"Forms can be annoying and time-consuming, and when completed manually, mistakes can be made. When vendors onboard, we're asking them to fill in an online form. This is subject to human error, especially when entering business information during onboarding mainly due to the effort involved in entering the correct ABN and Entity Name as per the ABR record.
We wanted to make the process easier for vendors, while also ensuring vendor data accuracy for Felix enterprise customers. ​We also want you to rely on Felix as your source of truth when managing vendors and therefore we want vendor business details to be accurate."
The solution? We have introduced an integration between Felix and the ABR:
A vendor enters their ABN and Felix will check this against the ABR record

Felix will then automatically populate business details in the required fields.
This helps to streamline vendor onboarding, solves the problem of vendors not having to complete these details manually, and our enterprise customers can be assured that new vendors added to Felix will have the correct Entity Name.
If you want to see the ABR integration in action, watch the webinar recording and tune into Kristy's segment from the 02:30 mark.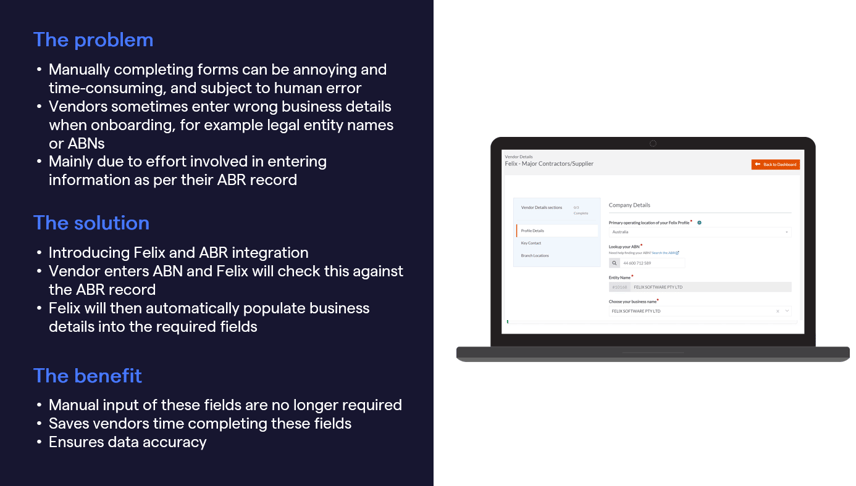 What's new in Felix. A snapshot of recent releases from the last six months.
Reducing the risk of incorrect vendor data with an integration with the ABR
Feature spotlight: Comparing RFQ evaluations
Steve O'Keeffe, our Chief Technology Officer, takes you through the updates to the Evaluation feature, providing more visibility when comparing RFQ evaluations.
"We were hearing from key decision makers that they were wanting an easier way to digest information in RFQ evaluations, while also wanting to leverage all that data collected so that it's part of the decision-making process when naming a preferred tenderer or awarding a contract.
We've introduced an enhanced tender evaluation screen that brings all that key evaluation information into the one place, and we've optimised the experience for when there's multiple evaluators who don't all contribute evenly and equally to an evaluation process."
The benefits to this new functionality:
Get a complete picture of evaluations in one view




Use drill-down options to understand the make-up of totals

Score definition, comments and attachments are easily accessible

All while using a familiar layout to other table-based comparison view screens in Felix
Hear about this more in detail, while getting an in-depth look at how this works, by tuning into Steve's segment from the 11:05 mark in the webinar recording.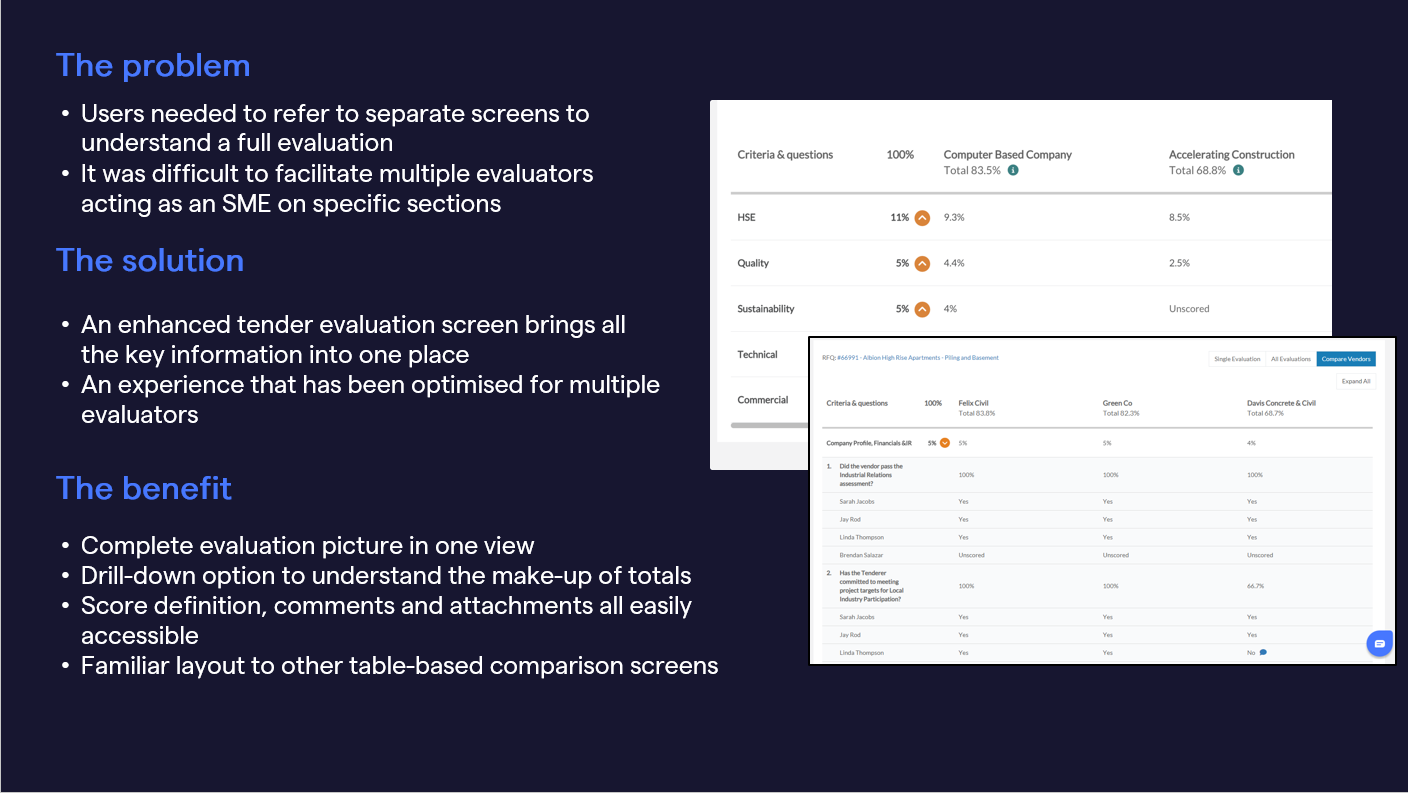 Providing more visibility when comparing RFQ evaluations
Feature spotlight: Customer-facing product roadmap
Hot off the press – the customer-facing product roadmap was released the day before the live webinar, allowing Steve to provide a first-look at how to access and use the portal to not only see what we're working on, but have a voice by voting on features, providing feedback on ideas that we are exploring, and make your own suggestions as to what you would like to see in Felix.
See this for yourself. Steve provides an insightful overview of the customer-facing product roadmap from the 16:00 in the webinar recording here.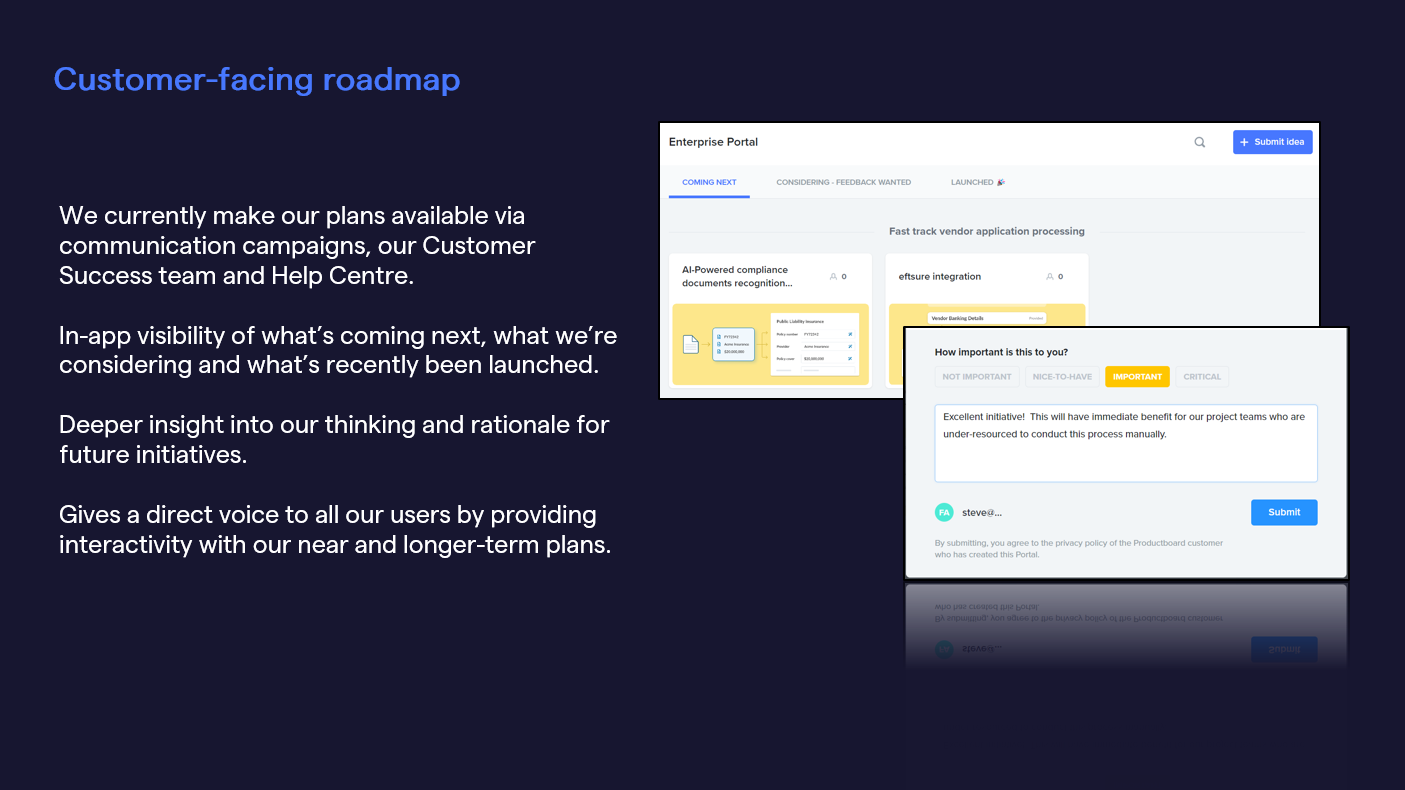 Learn what's next for Felix in our customer-facing product roadmap
Sneak peek: coming soon to Felix
In the second half of the webinar, Kristy and Steve take you through what features and functionality are coming soon to Felix:
Eftsure integration:
Eftsure is an Australian fraudtech company that provides a range of tools to prevent payment fraud and manage the accuracy of existing vendors' payment details.

With a growing number of Felix customers harnessing eftsure as a separate process to validate vendor-supplied bank details, we will soon be integrating eftsure and Felix to streamline the collection, validation and ongoing management of bank details.
Multi-Factor Authentication (MFA) for vendors:
With a continued focus on security, the team at Felix wants to provide our growing database of vendors with additional tools to protect their accounts. We will soon be implementing MFA as a staged roll out - a simple and highly effective security control as a free add-on to help vendors secure their accounts.

Vendors will have the option to set up MFA as an SMS or a Temporary One-Time Password (TOTP) through a third-party authenticator app.
AI-powered compliance document recognition:
As an experimental project, we're exploring opportunities around using AI-powered technology to process the most common types of insurances uploaded by vendors, extract the medadata from those files and pre-populate these fields in Felix to avoid manual data entry.
If you want the finer details for the above three items, tune into the segment for what's coming soon to Felix from the 29:40 mark.
You can also get a recap of the questions asked from our audience throughout the Product Showcase in our Webinar Q&A recap.
That's it for now – until the next Product Showcase!

Watch the full webinar here.