Unprecedented, uncharted, and uncertain. These words describe the global situation we are in right now with the novel coronavirus (COVID-19). The World Health Organization has officially classified it as a global pandemic, with the latest number of confirmed cases being nearly 200,000.
National, local and business leaders alike are facing incredibly difficult decisions. And they have to make these decisions against the backdrop of constantly changing data influenced by global factors well beyond our control.
The ripple effects may soon be upon organisations that build, own or manage assets. The sectors with affected supply chains could include construction, infrastructure, resources, utilities, and government bodies. The impact is likely to hit subcontractors first as the supply of materials wanes. As subcontractors cannot obtain and install building materials, further up the line, head contractors cannot construct installed products. Ultimately, they will also not be able to meet their contractual obligations.
Business as usual (BAU) disruption also shows through the fact that major procurement, supply chain, and construction industry conferences are being cancelled, postponed or moved online following the government's ban on large gatherings. These include Sydney Build Expo, the Green Building Council of Australia's TRANSFORM, and PASA's CPO Exchange.
Lessons from the past
Some may recall the March 2011 earthquake and tsunami in Japan, which also put global supply chains to the test. Many businesses learned about their hidden weaknesses the hard way.
Fast forward to today, it seems the lessons of Fukushima still apply as businesses scramble to identify which of their "invisible" lower-tier suppliers are impacted. Dun &Bradstreet estimates that 90% of active businesses in China are in the affected regions of COVID-19.
As we navigate today's uncertainty, we need to remember that the world has been through world wars, global recessions, natural disasters and health scares. The building and construction industry with its cyclical nature has also shown resilience through peaks and troughs.
For instance, the 2008 global recessions following the US housing market crash didn't send the Australian building and construction industry into turmoil.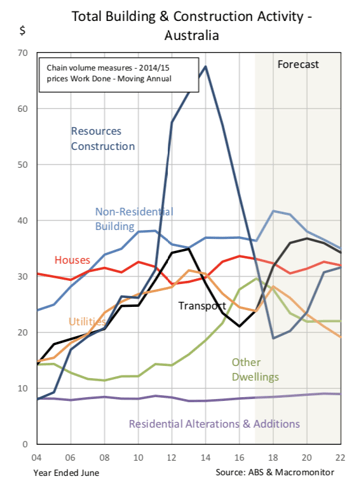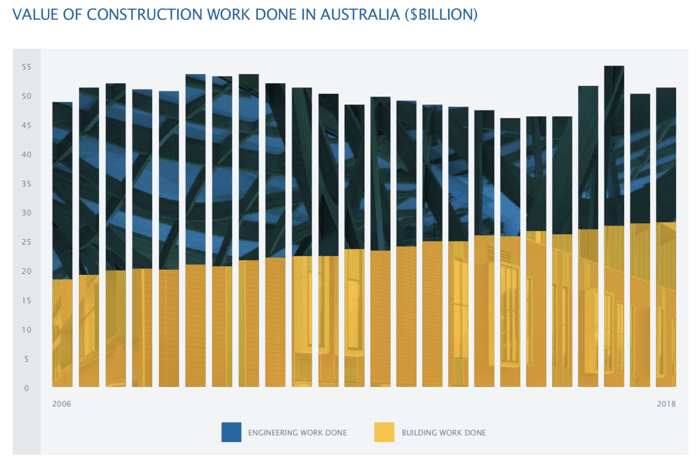 Source: Master Builders Australia and WT Partnership
We don't say this to minimise the current challenge we face together. We believe in the collective ability to bounce back by building resilience and investing in risk mitigation. And history has proven that to be true.
Staying agile through different crisis stages
In these times of social distancing and supply chain stress test, the most successful ones weather the storm by using new technology to solve unprecedented challenges. The innovations and initiatives born of necessity can make businesses stronger.
Immediate measures: Employee/community safety and business continuity
Many organisations around Australia, including Felix, have asked their staff to work from home. We feel that this decision can help ensure the safety of our employees and their families.
Still using us as an example, to ensure business continuity, we have the processes and systems in place to serve our customers no matter how the situation develops. Our technology supports us to work remotely, along with the ongoing rollout of ISO27001 to ensure the highest standards of security.
In times like this, those with on-premise IT infrastructure or systems that have low availability (less than 99% uptime) might struggle. This will morph into the discussion of long-term investment, which we'll go into later.
Across the board, we are seeing face-to-face meetings being replaced with video or phone calls. After all, we are practicing social (physical) distancing, not anti-social behaviour.
Conferences can still be held online via livestreaming. Businesses are still building and forging relationships. Nothing has changed apart from the means of communication.
For those who find the concept of working from home foreign, there are now free resources to help make the transition. For example, LinkedIn has recently opened up various LinkedIn Learning courses on productivity while working remotely, including tips on using virtual meeting tools to build relationships in a new working environment.
For those that still need to turn up to job sites, following WHO and the government's guidelines around hygiene and social distancing is the bare minimum.
Short term measures
Working with existing suppliers
With the panic buying phenomenon out there, it is crucial to foster a collaborative, not adversarial approach to crisis mitigation. Here are a few things you can do:
Supply chain intelligence: sen

d

out further questionnaires

about business continuity plans

through a vendor relationship management platform like Felix

K

eep an open line of communication

as you solve the challenge together

C

onsult your legal team

about the need to

investigate

f

orce majeure

or contract frustration

(last resort)
Supply

diversification
Whilst the effect of disruption cascades over different regions, organisations can act swiftly by going back to their database to onboard and pre-qualify suppliers, ready for action when needed. They can even consider expanding the supplier pool by sourcing from suppliers previously not thought about, e.g. social enterprises, local businesses.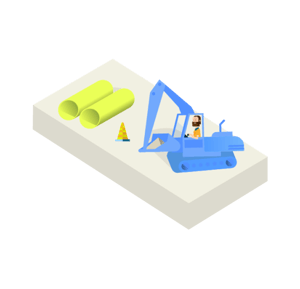 In addition, there are platforms for locational workforce and services such as this online construction marketplace. The idea is to tap a wider market for short-term hiring needs. If all goes well, you can even onboard these new vendors in your enterprise procurement platform for future engagements.
Yet another creative solution is reaching out to business partners – and even competitors – to "pool resources in extreme scenarios, to assist the effective operation across multiple geographic areas."
Long term measures
BIS' head of macroeconomics has anticipated that in Australia, recovery and normalisation won't happen till the second half of 2020. However, the anticipated negative growth for this quarter is "nothing to panic about."
Now is the time to invest in risk mitigation strategies, processes, as well as modern technology infrastructure. The learnings from those swift and reactive measures above will help businesses fine-tune their technology use cases and inform rollout decisions once in the BAU phase.
There is a fundamental trade-off between costs or return, and risk. In the pre-supply chain disruption period, businesses are tempted to go after the lowest cost supplier or consolidate their supply chain. With the tipping point towards risk mitigation, they may need to hedge their bets and have a diversified supplier base more than they would have in the past.
To fully implement this takes time and investment, and many are afraid to think beyond the near term. But this quote from Warren Buffett might give you some food for thought:
"Be Fearful When Others Are Greedy and Greedy When Others Are Fearful."
Parting words
Supercomputers have recently joined the race against time to help find the coronavirus cure. This is only a taste of what's to come when scientists combine the power of AI and these extraordinary computing devices.
Meanwhile, businesses that still depend on spreadsheets, email, and manual ERP updates to stay on top of supplier engagements, will most likely struggle to get through this historical crisis. Shifts in demand and supply will continue in the months ahead. But there will be a rebound.
Technology exists to help you through it all by modernising how you find, source and collaborate with suppliers. More than 2,200 enterprise users use Felix to engage with over 16,500 suppliers, and you can too.
Please reach out to our team today and we'll show you how we can help, virtual handshake included.
---
You may be interested in our recent webinar on risk mitigation with Bank of Queensland's former Chief Risk Officer. Check it out here.