At the end of November, the team here at Felix celebrated an exciting milestone as we launched our first native integration between Felix and Aconex Document Management System (DMS).
Making life simpler through innovative integrations
This integration means that Aconex can be used as one central source-of-truth for RFQ document management, allowing you to seamlessly and securely import documents, drawings, photos and other project files that support the tender process, directly from Aconex into Felix.
Available to Felix enterprise customers, you need to be subscribed to the Sourcing module and also use the Projects and RFQ feature, as well as have a separate Aconex subscription.
If you're unfamiliar with Aconex, it's a cloud-based operation management solution for managing information between companies on construction and engineering projects. One of its functions includes a DMS, used to receive, track, manage and store documents with version history tracking.
As we're always listening to customer feedback here at Felix, we know that Aconex is commonly used to host project documents, so we are delighted to simplify processes for our customers through a direct integration.
Keep an eye on this space, as there are big plans to come
While I can't reveal the fine details of what's on our Product Roadmap, what I can tell you is that we are continuously looking at how we can maximise the use of existing functionality to improve efficiency and productivity, and make the lives of customers easier.
Connecting existing data through integrations is a great path forward, as it extends the value of what we already have in Felix with new technologies and ecosystems. Embracing integrations also accelerates the speed of development as it's connecting already existing software with the Felix platform. Not to mention that Felix already offers a collection of API endpoints you can leverage to create efficiencies and automation for your sourcing workflows.
Our integration-first approach starts with you, our customers. It's our customers that help us decide what functionality is needed so if you do have feedback for us, we would love to hear it.
Integrations also enables partnerships and unlocks incredible business opportunities, so if your company supports construction project management through cloud-based technology, there may be an opportunity for us to work together. So feel free to reach out to us here.
Want to know more about Felix?
We know that managing various vendors or suppliers is often manual, time consuming and can take focus away from getting the job done. That's why there's Felix – connecting all the right people, tools and information you need in one platform.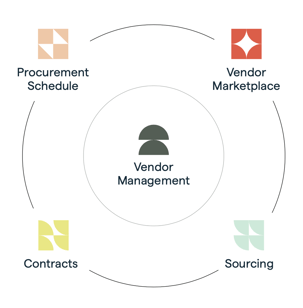 Felix helps construction companies in Australia and beyond to centralise and streamline their Vendor Management and Source-to-Contract processes, providing them with a deeper understanding of their supply chain while driving compliance and simplifying procurement activities. All while enhancing transparency and collaboration for those parties involved.
Learn more about Felix's range of solutions to help you manage risk, increase productivity and reduce costs.