Research has found that nearly 90% of spreadsheets have errors. These are mainly human errors, as we know people make mistakes, especially when under pressure. Couple this with the fact that spreadsheets are difficult to maintain and manage, and tend to become more complicated as projects grow.
So I ask you, can you trust spreadsheets to manage your multi-million dollar projects without exposing you to risk?
Digitising the planning and execution of your procurement activities is a great way to reduce the risk of spreadsheet errors and their associated consequences, all while adding a level of security to keep your information safe.
And if the above statistic wasn't enough to make you second guess how your organisation is managing procurement and projects, here are some ways that using Felix's Procurement Schedule module is easier, more secure and better than using manual, legacy spreadsheets:
1. Spreadsheets expose you to more risk
Spreadsheets are a generic and common tool used to manage everything from your holiday planning to financials for the biggest of companies. While such a broad, flexible tool can be incredibly useful, it can also be risky. Most spreadsheet users are self-taught, and we've already touched on how they are subject to human error. Just one small, trivial mistake can end up being doomsday for any business – spreadsheet errors have been the reason for some of the biggest financial fiascos.
Using spreadsheets for procurement activities puts your organisation at risk of making the same mistakes, which can be costly. Using purpose-built software such as Felix and Procurement Schedule ensures your organisation adheres to best practices; the same can't be said for spreadsheets.
Felix created Procurement Schedule for the sole purpose of helping organisations effectively and transparently manage the planning, execution and auditing of construction projects. Having one central source of truth for all project information promotes transparency, while security is enforced through controlled permissions that allow for the right stakeholders to access and manage relevant information. Procurement Schedule also features an audit trail to reduce the risk of error, allowing you to see any updates to the schedule as they are made, ensuring team member accountability.

Export an audit log to view who updated the Procurement Schedule, what was updated, and when
2. Spreadsheets are siloed
Construction organisations can scale across divisions, regions and even across the globe - and so should the sharing of information. Using spreadsheets to manually manage procurement activities can lead to data silos as information is often controlled centrally by that one department and isolated from the rest of the organisation, leading to sub-optimal procurement decisions. For example, if you have one vendor who has been red-flagged in a particular project, it's critical that this information is shared with the rest of the organisation so that you don't risk the chances of awarding them work again on a different project. Siloed information can lead to poor decisions being made, and increases the risk of having incomplete, outdated or missing information that could lead to disaster for a project.
This can be avoided by having one central source of truth solution for your procurement activity. Using Felix's Procurement Schedule centralises the management of your sourcing activities and ensures organisational alignment by providing one real-time view of what is happening with procurement on any project – including RFx events, deadlines and budgets.
Transparency is provided across an entire project, as team members can simply login to Felix to view the Procurement Schedule. Provided they have been given the appropriate access permissions, stakeholders can log into Felix regardless of their department or location access shared information to benefit their procurement planning. If there's sensitive information contained within Procurement Schedule that's meant for some users and not others, a recent release now allows you to restrict access so only those who have the correct permissions can view or edit sensitive columns. This ensures that everyone continues to work from the same Procurement Schedule, providing one centralised view with any confidential information kept for the eyes of certain stakeholders only.
3. Spreadsheets don't provide the whole picture
Spreadsheets often start out as an easy, quick document for storing and calculating information, however when it comes to managing projects, they turn into an important document that holds core information to deliver on successful project outcomes. Due to their siloed nature and high probability of errors, it's unlikely that they provide all the comprehensive and accurate information that's needed to empower you and your teams to make smart procurement decisions.
As Procurement Schedule is a connected procurement management tool, it gives a holistic view of projects and packages to provide better insights. Team members from operations to finance and executives (with the appropriate permissions) can access data from the Procurement Schedule to manage sourcing activities and make informed decisions leading to a project's success.
For example, you can use Procurement Schedule to observe key dates to ensure projects are on-track and meeting deadlines, reducing the risk of delays or overrun costs. You can monitor performance against budget across an entire project and get an accurate picture of spend that can impact wider business decisions. You can get an idea of how projected values or dates are tracking against actuals, or identify unplanned RFQs that fall outside the schedule, to see the warning signs early and make decisions to rectify before it's too late. Regardless of the scenario, digitising procurement planning with Procurement Schedule gives a full view of activities across all projects, allowing for better insights and meaningful decisions to be made along the way.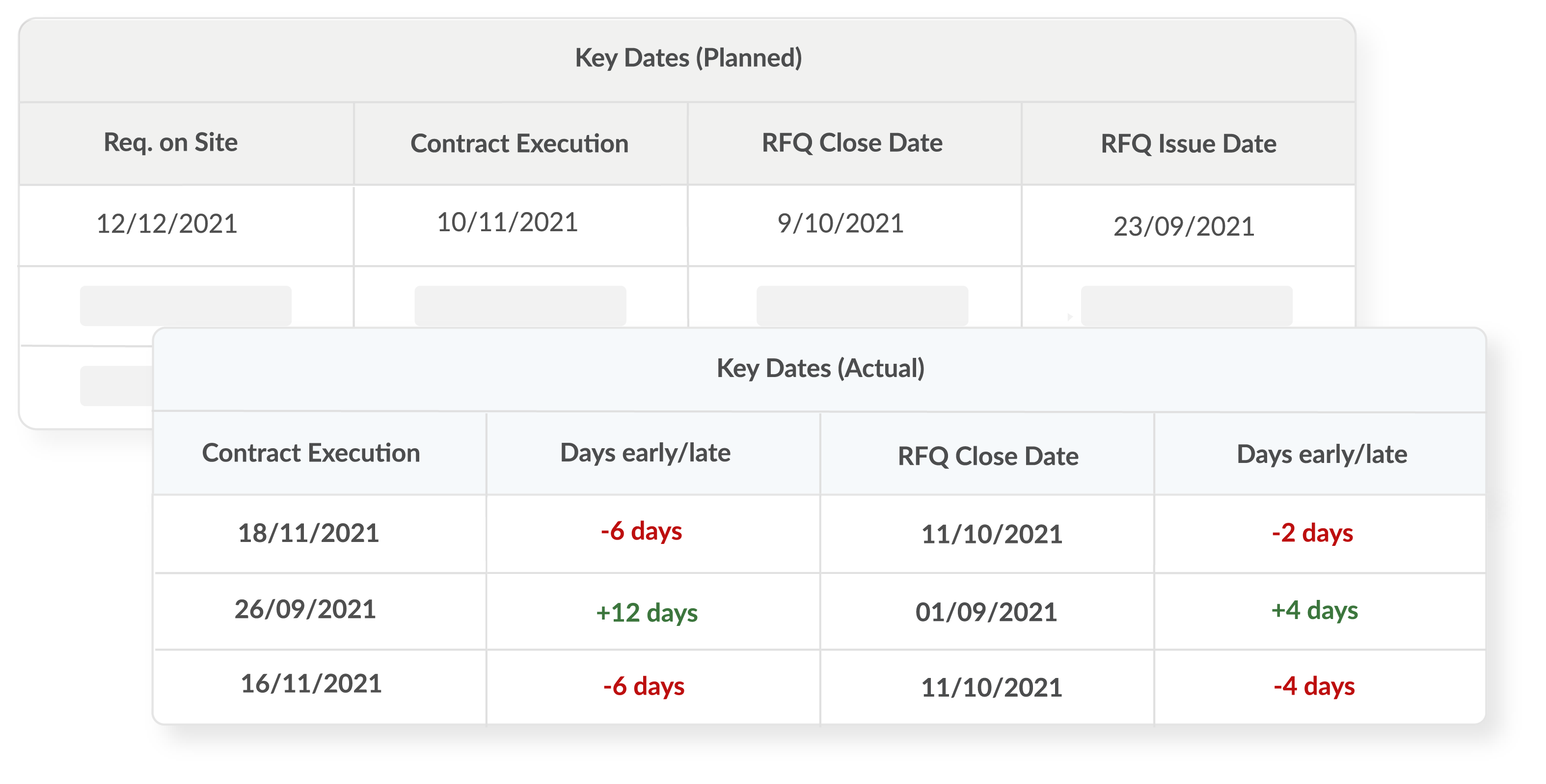 Easily monitor how key dates are being tracked against actuals
4. Manual processes waste time (and money)
As Procurement Schedule is linked to projects and packages within Felix, as well as other modules, this connected solution makes life so much easier and saves a lot of time compared to doing tasks manually with spreadsheets.
For example, colour-coded labelling allows you to easily see if a vendor is approved, invited or suspended simply by looking at the colour of the vendor label. You can quickly and easily identify if there is an issue just by seeing a red label, instead of having to reconcile and collect multiple spreadsheets to track the status offline and waste a lot of time.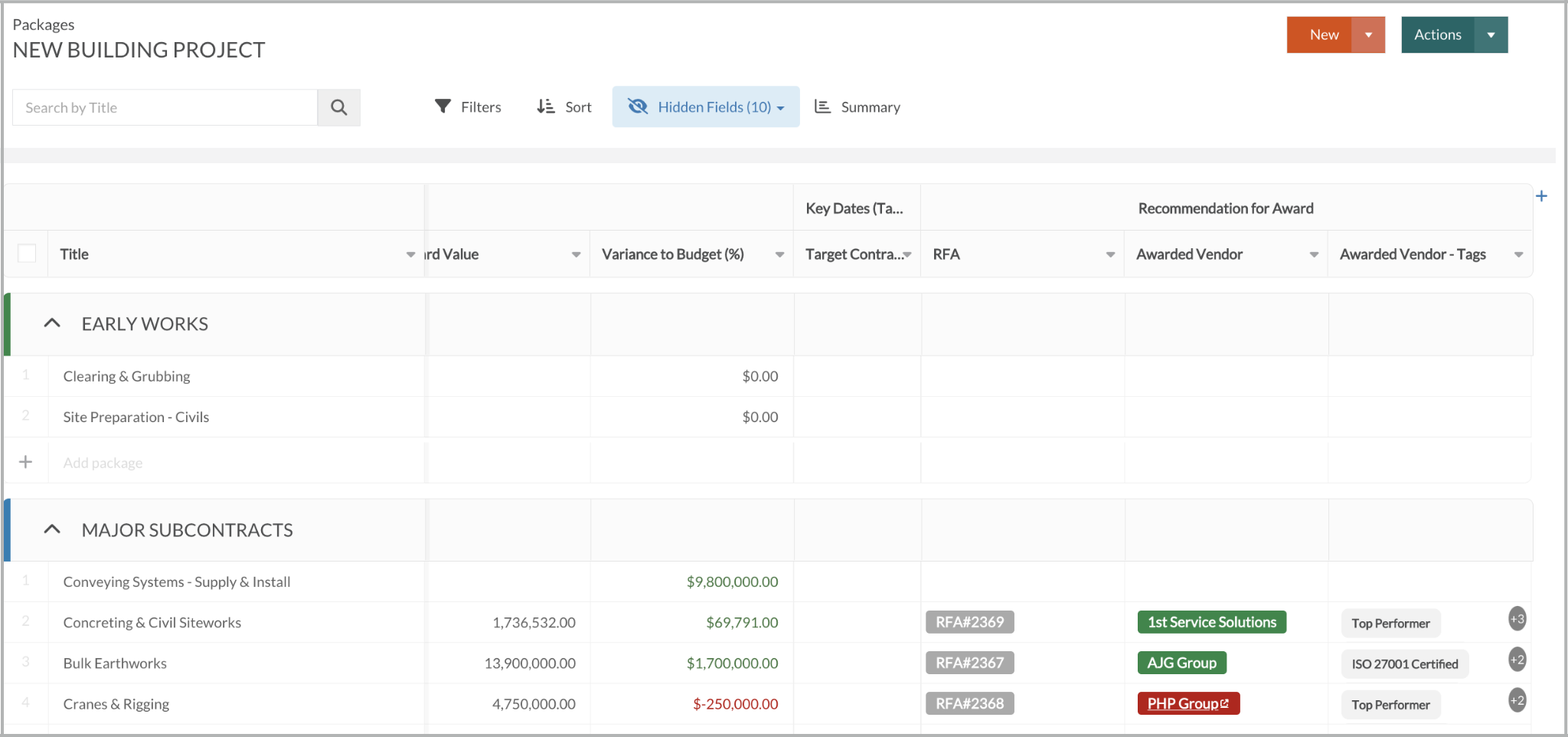 Easily observe approved vendors labelled in green, and suspended vendors labelled in red
As data in the Procurement Schedule is in real-time, information and updates are automatically pushed through to other Felix modules. Instead of having to update various offline spreadsheets for every change, data is seamlessly synced, which saves duplicating efforts and time.
Having digitised processes also means you can rely on automation to save you a lot of stress. In Procurement Schedule, you can set up a Weekly Digest where package owners receive an automated, weekly email summarising upcoming and important dates across all projects in Felix. Whether it's an RFQ deadline or a reminder to complete an evaluation, this feature within the Procurement Schedule allows you to easily keep on top of deadlines for the packages that you are assigned too.

The Weekly Digest email reminds you upcoming important dates so that you never miss a deadline
We all know that time saved also leads to cost savings. The longer it takes to complete work manually, means wasted resources and focus taken away from more value-added tasks. Using a purpose-built tool like Procurement Schedule creates cost-saving efficiencies as it streamlines processes and reduces the administration burden placed on teams.
5. Spreadsheets lack customisation
If you're a spreadsheet wizard you might know of all the tricky formulas to create workarounds and make spreadsheets work for you. But a lot of users don't, which means spreadsheets can be quite limiting. Even then, there are certain levels of customisation that spreadsheets can't do compared to having a purpose-built procurement solution.
For example, with Procurement Schedule, you can create common Views to get summarised information at a glance, instead of having to look through the full schedule and apply multiple filters. If you're in the process of planning out the financial information for packages you may want to create a view for financial planning. Once you've started on a tender, you can create a separate view for tendering. Views allow you to focus on what's important, saving you and your team time and hassle.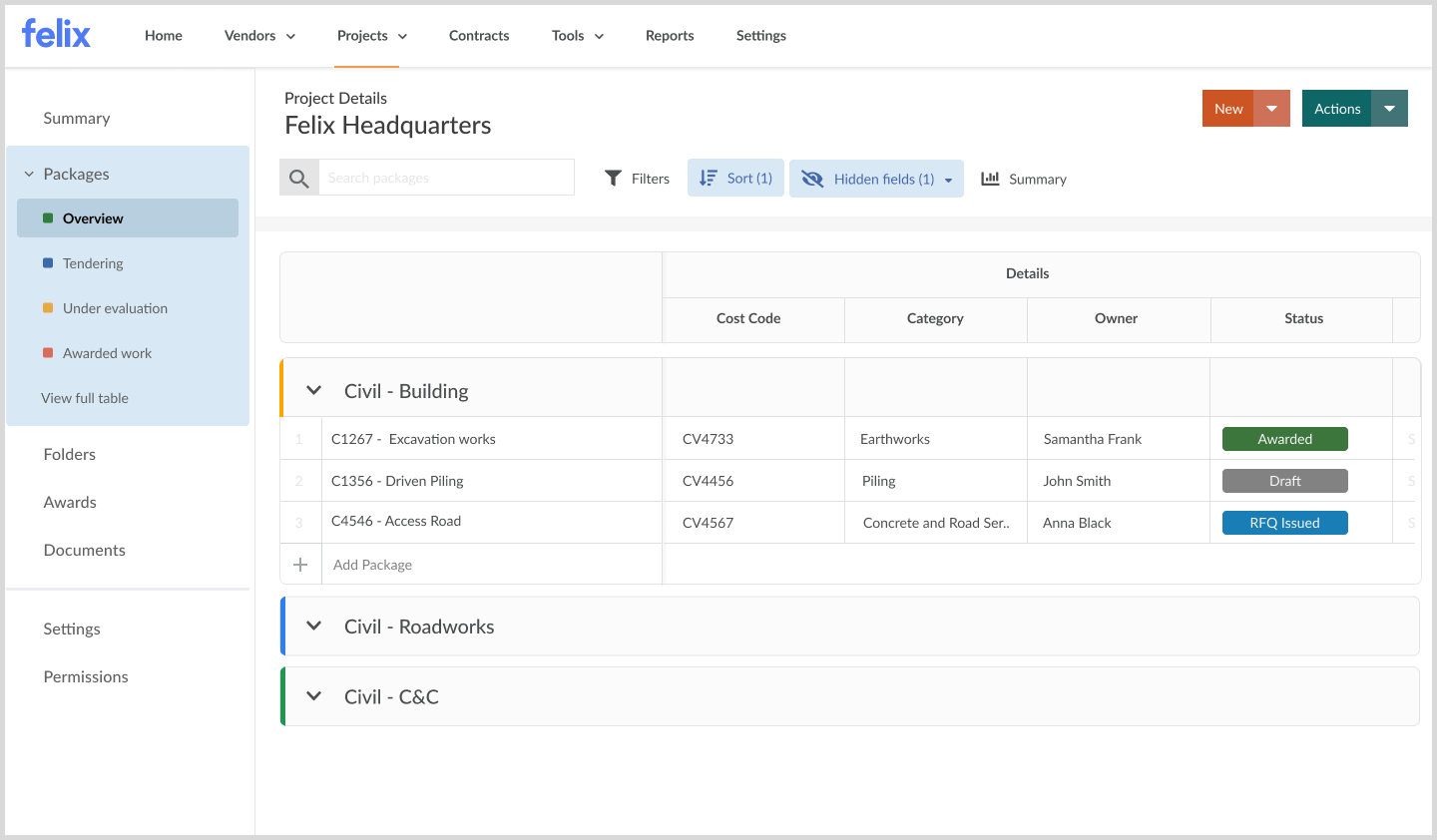 See views created in Procurement Schedule for 'Overview', 'Tendering', 'Under Evaluation' and 'Awarded' work
Another big to-do item that comes around every week or month is feeding into your organisations reporting cycle. Using technology means that you can customise how you use Procurement Schedule with other business tools by connecting APIs for cross-project reporting. For example, you can plug into Tableau or Power BI for data visualisations that provide holistic insights at an organisational level. Getting an understanding of the bigger picture is simpler and more accurate with the use of technology, and saves you having to duplicate information across multiple sources. You can't say the same for spreadsheets!
Unlock more in Felix with Procurement Schedule
As we've established, while spreadsheets might be the simplest solution out there as they are readily available, they aren't the most effective tool available to maximise efficiencies and lead to cost savings.
They have a high potential for human-error which can expose you to risk, and their siloed nature doesn't always paint the full picture, leading to decisions that can be costly. Using spreadsheets means a lot of time and resources are spent doing things manually, that then negatively impacts your bottom line.
If your organisation still uses spreadsheets to manage projects and packages, then it's time to say goodbye to manual processes and disconnected schedules. Add Procurement Schedule to your Felix solution to streamline the planning, execution, reporting and auditing of your sourcing activities all within a single tool. Get an obligation free demo today.